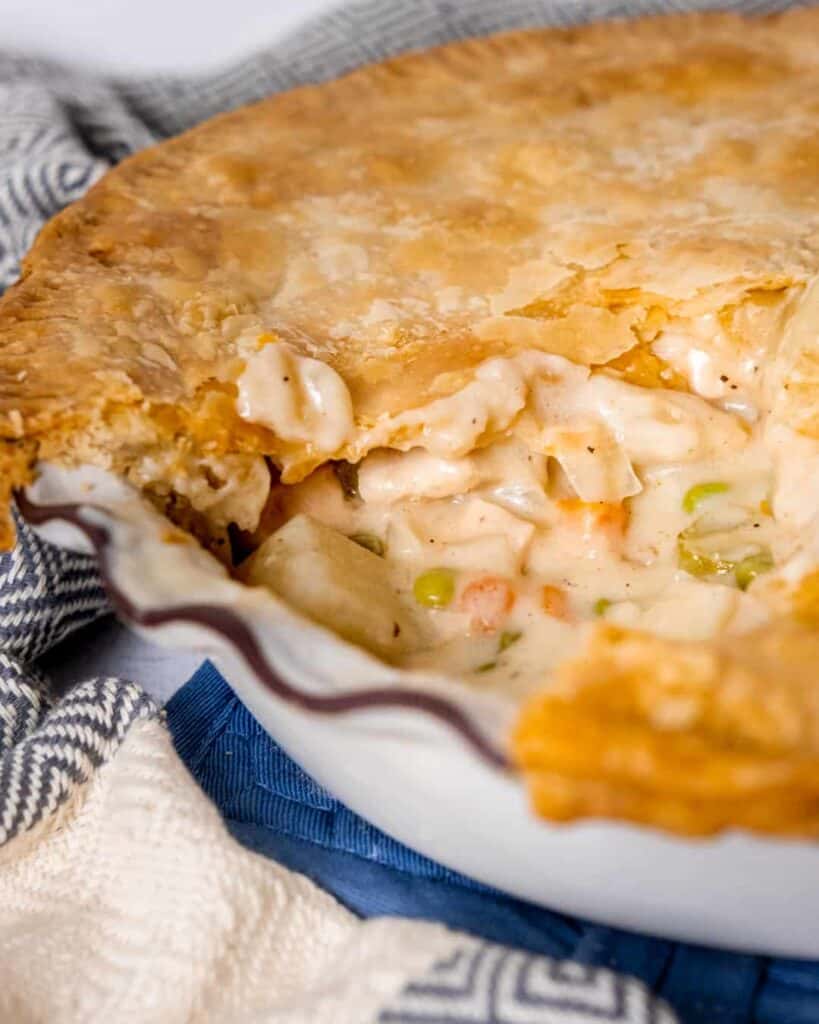 Looking for an easy and creamy chicken pot pie recipe? You've come to the right place! This homemade dish can be made in one pot on the stove in less than an hour! It's full of chicken, vegetables, and delicious spices! You can make it with store bought or homemade pie crust and fresh or frozen chicken. It's the best comfort food!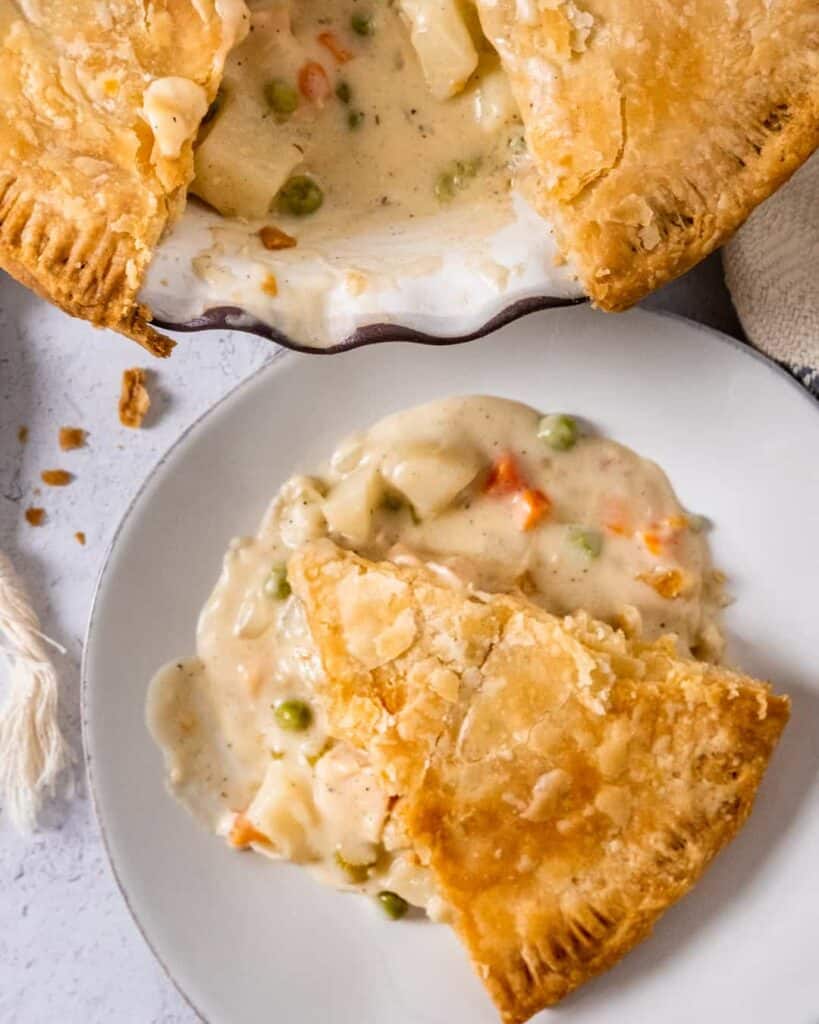 I have been a huge fan of chicken pot pies my entire life. They're my go-to Trader Joe's meal and since they were completely out in the beginning of the quarantine (with the exception of the lone opened one that was left), I had to make my own! It was a blessing in disguise, really. I will always love my TJ's chicken pot pie, but fresh and homemade is definitely the winner!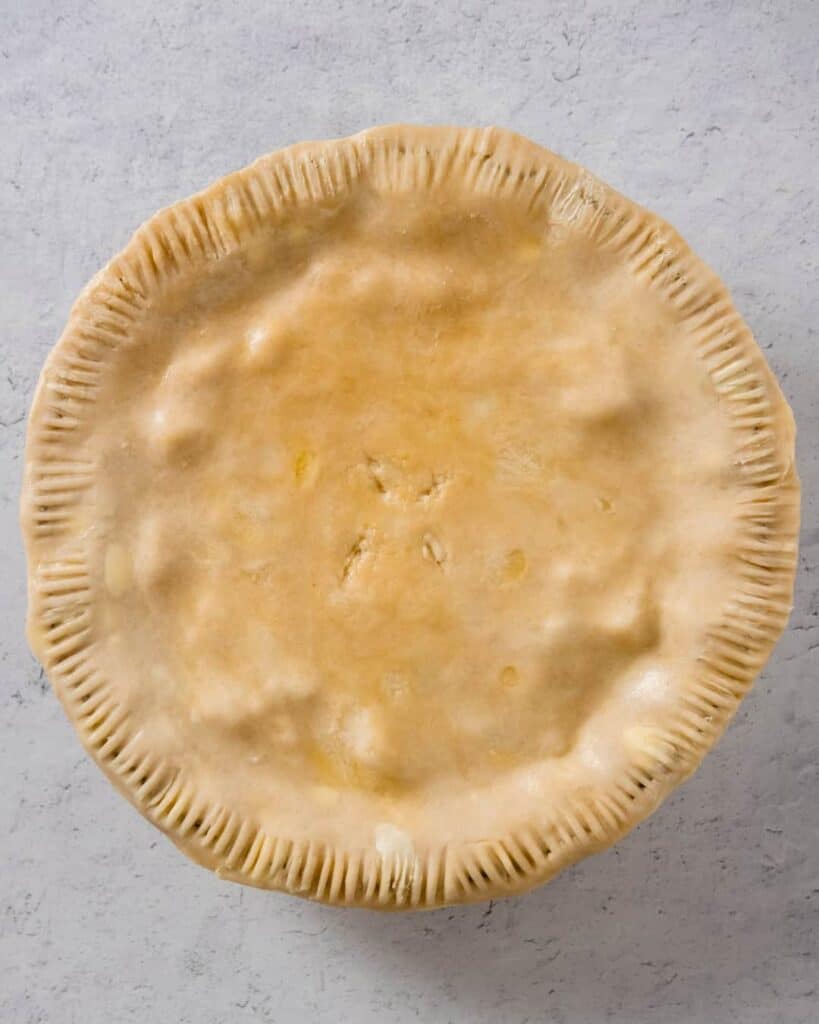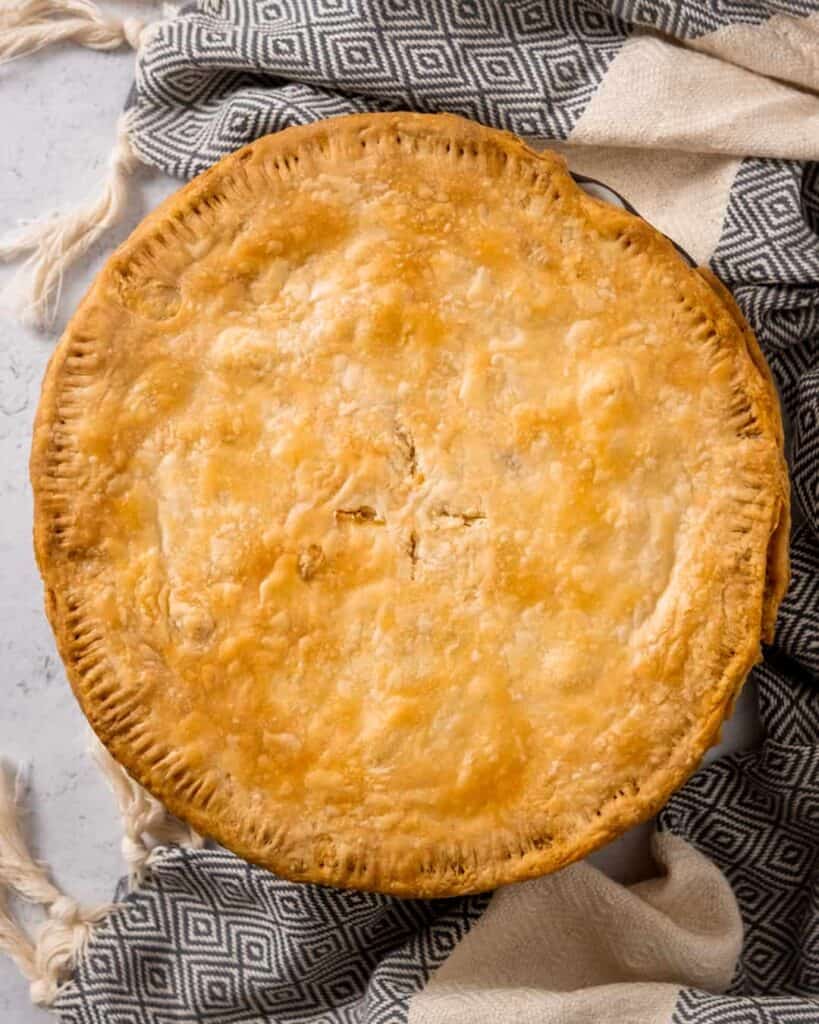 Tips & Storage:
You can use fresh or frozen chicken to make this pot pie! Either way, you'll want to cook and dice the chicken breasts before adding them to the pot.
Don't forget to add a few slits to the top pie crust so that steam can escape while it's baking.
Place the dish on a baking sheet that's larger than the dish. This is just to be extra careful in case crust falls off or any of the filling breaks through the crust and spills over.
The chicken pot pie is best served right away, but it's easy to store and reheat! You can store it completely covered in the refrigerator for up to 5 days, or wrapped up well in the freezer for up to 2 months.
The best way to reheat the pot pie is to place your slices in a baking dish, and heat at 400F until the center reaches 165F (around 30 minutes for refrigerated leftovers).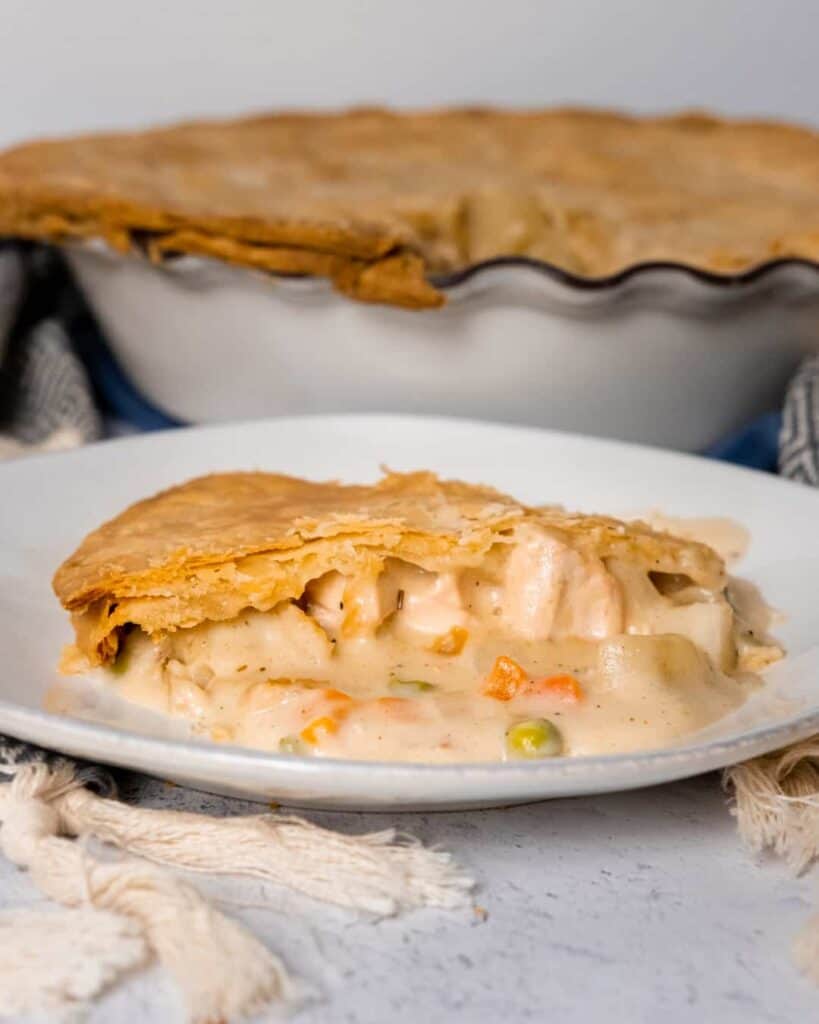 More Recipes You'll Love:
Rate & Comment Below!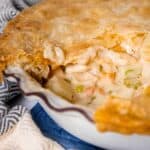 Print Recipe
Easy Chicken Pot Pie
This easy chicken pot pie recipe is full of creamy chicken and vegetables wrapped in a flaky pie crust! It's so comforting and delicious!
Ingredients
1

pie crust

⅓

cup

unsalted butter

1

medium

white onion

diced

1

medium

potato

washed, peeled, and diced

1-2

celery stalks

diced

⅓-½

cup

all-purpose flour

1¾

cups

chicken broth

¾

cup

half & half

1

cup

peas & carrots

frozen

2

cups (2-3 medium breasts)

chicken breasts

cooked & diced

¾

teaspoon

salt

¼

teaspoon

black pepper

¼

teaspoon

poultry seasoning

⅛

teaspoon

paprika

⅛

teaspoon

onion powder

⅛

teaspoon

garlic powder
Instructions
Preheat your oven to 400°F.

Prepare your crust by placing the bottom crust in an 2-quart dish. Keep the crust refrigerated while you make the filling.

Sautee the onion, potato, and celery with ⅓ cup of butter in a pot over medium heat for ~10 minutes.

Add ⅓-½ cup of flour and mix well.

Combine 1¾ cups of chicken broth with ¾ cup of half & half and gradually add to the pot while stirring. Continue stirring until it's thick and creamy.

Add the frozen peas & carrots, chicken, and seasonings and mix well. (I recommend taste-testing to see if you prefer a little more seasoning).

Take the bottom crust out of the refrigerator and pour the filling into it.

Now, take out the top crust and place it on top of the filling. Pinch the top and bottom crusts together to create a seam. With a knife, cut a few slits on top so that steam can escape.

Place the dish on a baking sheet and bake at 400°F for approximately 40-50 minutes. The crust will be tan all over but a darker golden color around the edges.

Let the pie cool for a couple minutes, serve, and enjoy!