These no bake cheesecake bites are easy, creamy, and delicious! You can whip them up within minutes and the topping choices are endless. They're also super versatile and can be decorated for any occasion! See how I turned these cheesecake bites into Easter cheesecakes a little further down in this post!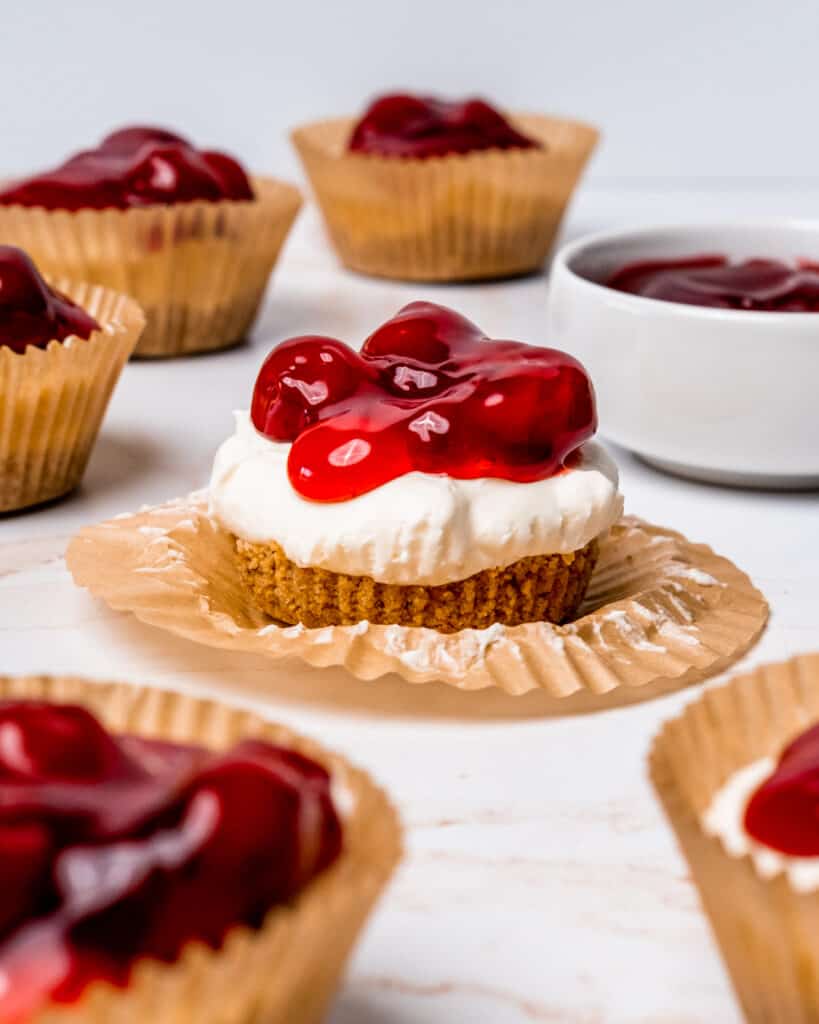 The graham cracker crust only uses 3 ingredients (4 if you like to add a bit of cinnamon like myself!) and the cheesecake filling requires just 5! I always make my crust with full graham crackers because that's usually what I have on hand. All you have to do is pulse them in a food chopper with the rest of the ingredients until they resemble wet sand! If you have graham cracker crumbs, you'd just have to mix the ingredients together in a bowl.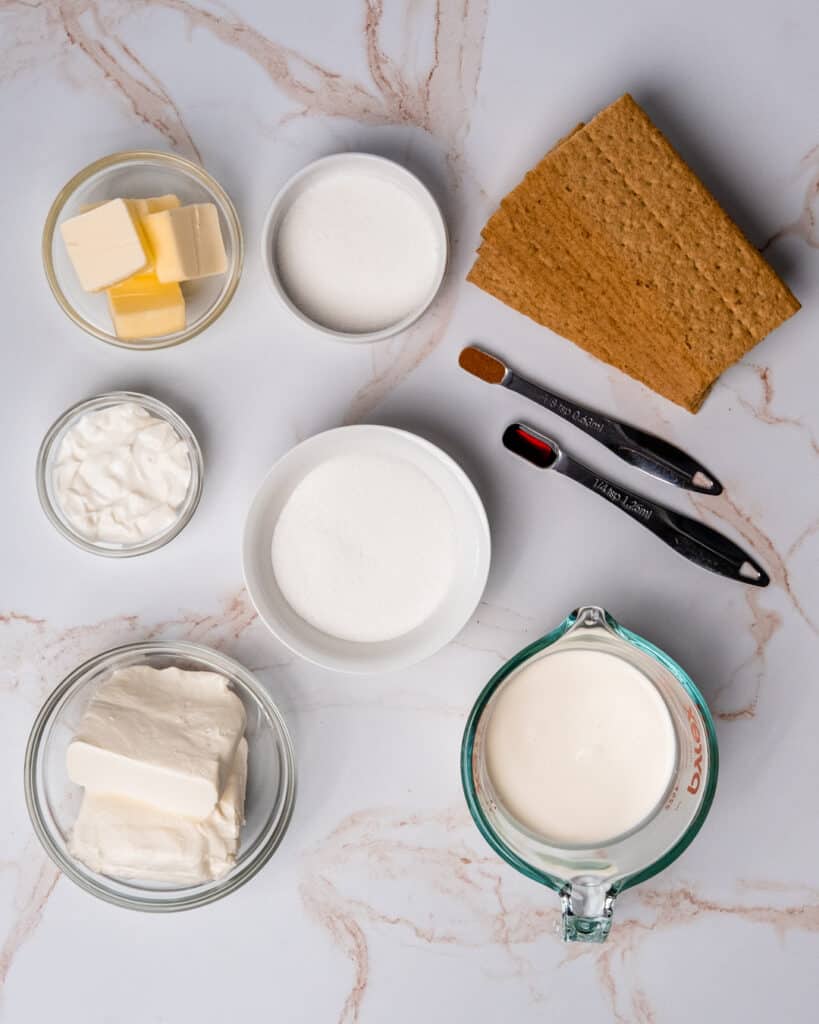 Before you make the no bake cheesecake filling, make sure your cream cheese has softened. If you let it sit out on the counter for about 20-30 minutes, it should be ready to go! You don't necessarily want to microwave it because it could curdle a little bit and leave small chunks in your filling. The first step of the filling is to beat the cream cheese alone, which also helps ensure your mini cheesecakes aren't clumpy! Once it's nice and smooth, go ahead and mix in the rest of the ingredients - minus the cream. The cream will need to be whipped to stiff peaks. Then, you'll gently fold it into the cream cheese mixture. Be careful not to mix it in too vigorously! You don't want the whipped cream to lose all of its air and totally deflate in the mixture. Folding it in nicely will yield delicious, creamy cheesecake bites!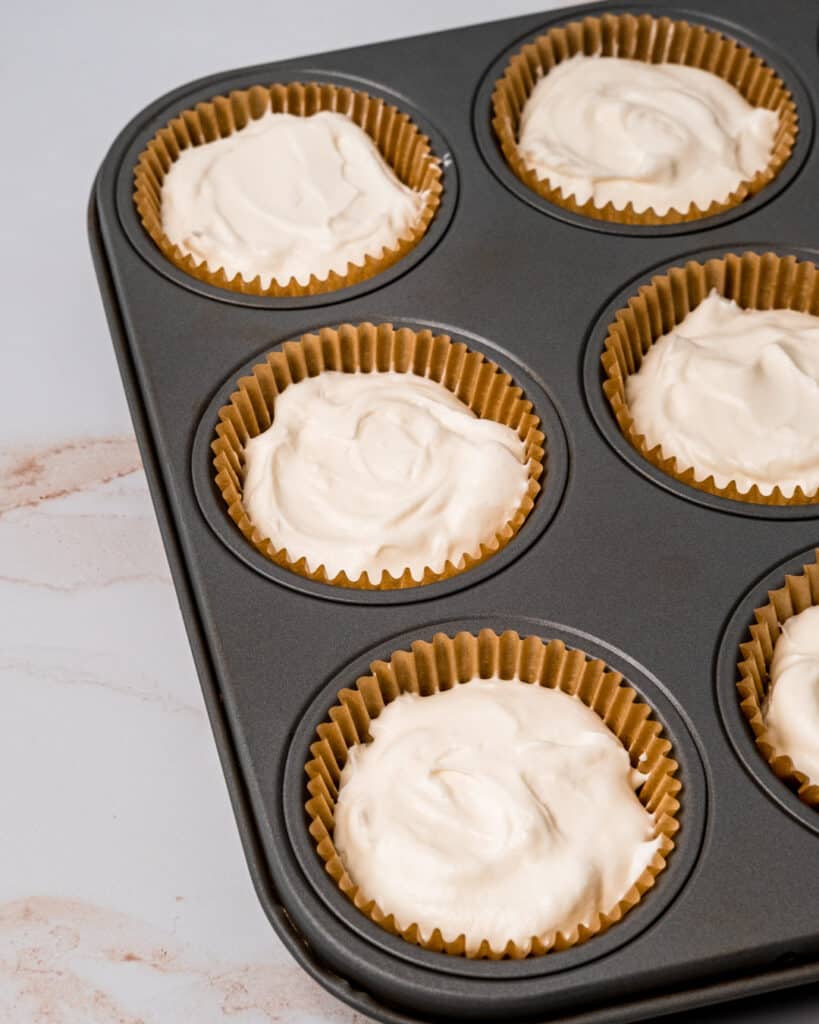 Cheesecake Toppings
There are so many tasty ways you can top these no bake cheesecakes! Here are some ideas of what I like to add to mine:
Cherry pie filling (or any other fruit)
Fruit preserves (raspberry is my favorite!)
Chocolate
Peanut butter
Caramel
Dulce de leche
Fresh fruit
Whipped cream
(This post contains affiliate links, meaning that I could earn from purchases made through them. It doesn't add any extra cost to you, but it does help support this blog!)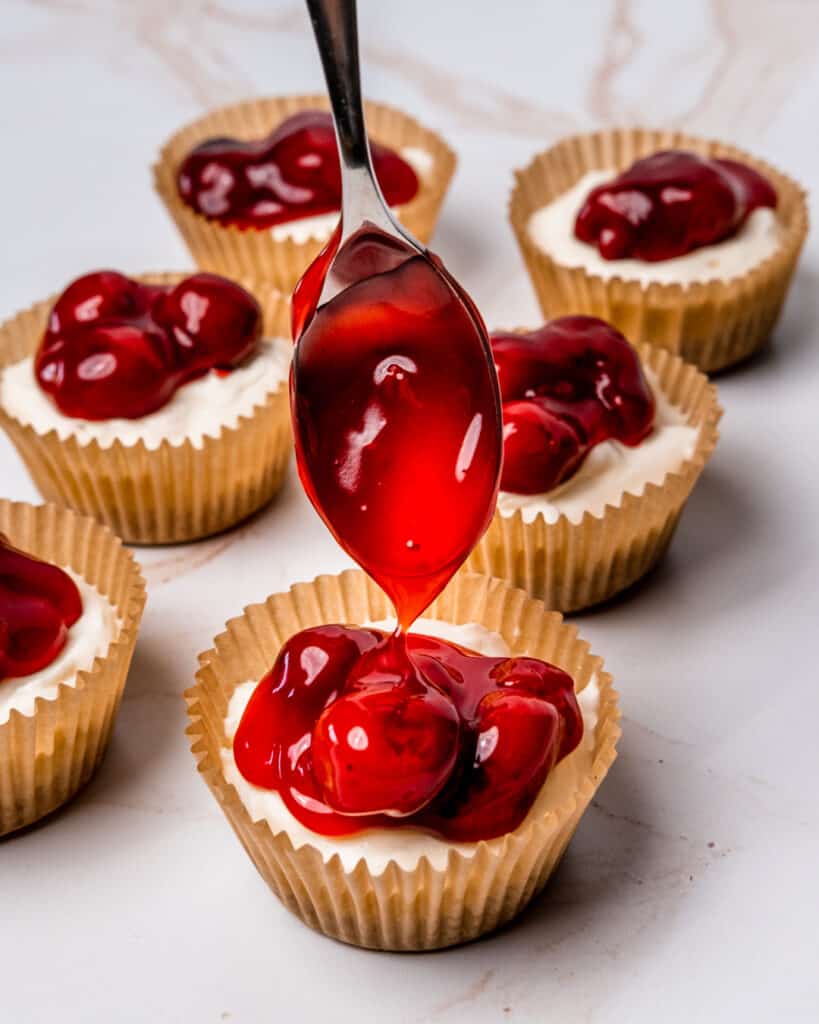 Easter Cheesecakes
I've been seeing so much Easter candy and decorations with it quickly approaching! When I saw caramel filled chocolate bunnies and caramel eggs, I was inspired! I had just shared my Samoa Brownies recipe, which are filled with coconut and chocolate caramel squares, so I got an idea for these cheesecakes. I dyed coconut flakes green and sprinkled them on top of the no bake cheesecake filling. Then, I sat some caramel chocolate bunnies and eggs in the "grass"! To create these, you'll need:
Shredded or flaked coconut (about 1 cup)
Green food dye
To make the "grass", place the coconut in a plastic bag with a few drops of green food coloring. Seal the bag and shake until the green has colored all of the coconut. Sprinkle it on top of the cheesecake bites and then add your Easter candy toppings!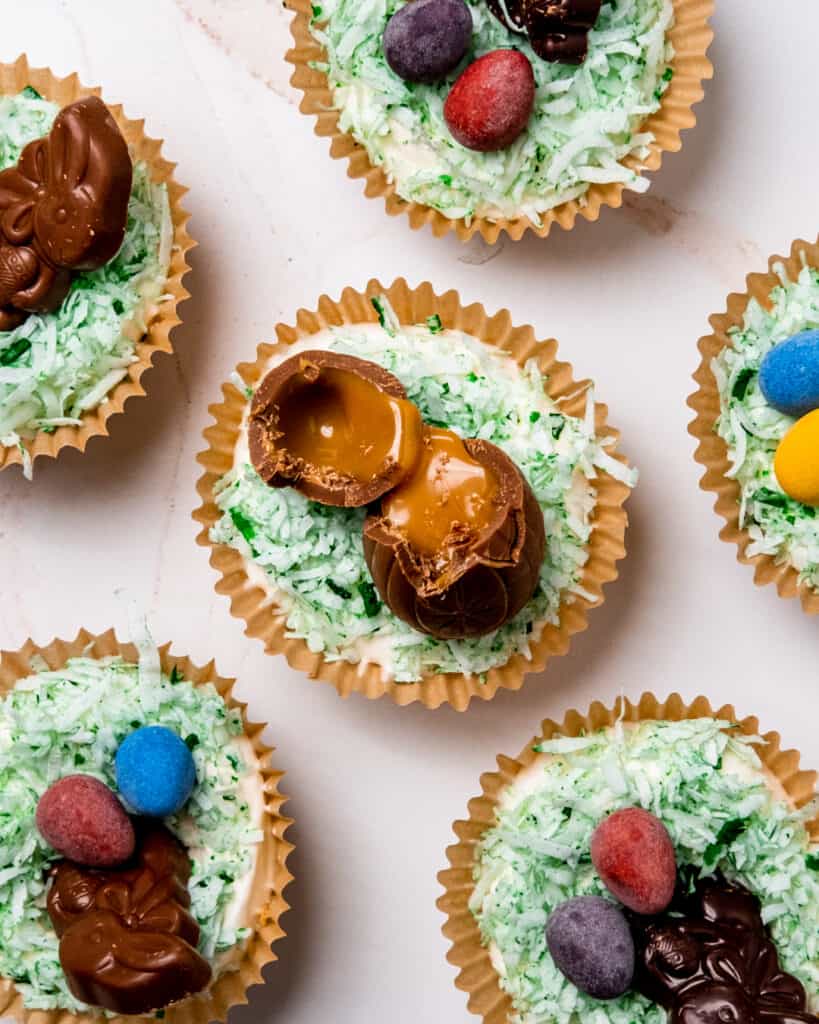 Tips & Storage:
Be sure to let the cheesecakes chill & stiffen for at least 1 hour before eating them. They'll still be fluffy and creamy, but they'll hold together better after chilling.
I recommend waiting to add your toppings until the cheesecakes are ready to be consumed.
Store in the refrigerator for up to 3-4 days. They hold up well for the first ~2 days, but after that the crust might start to get a bit soggy.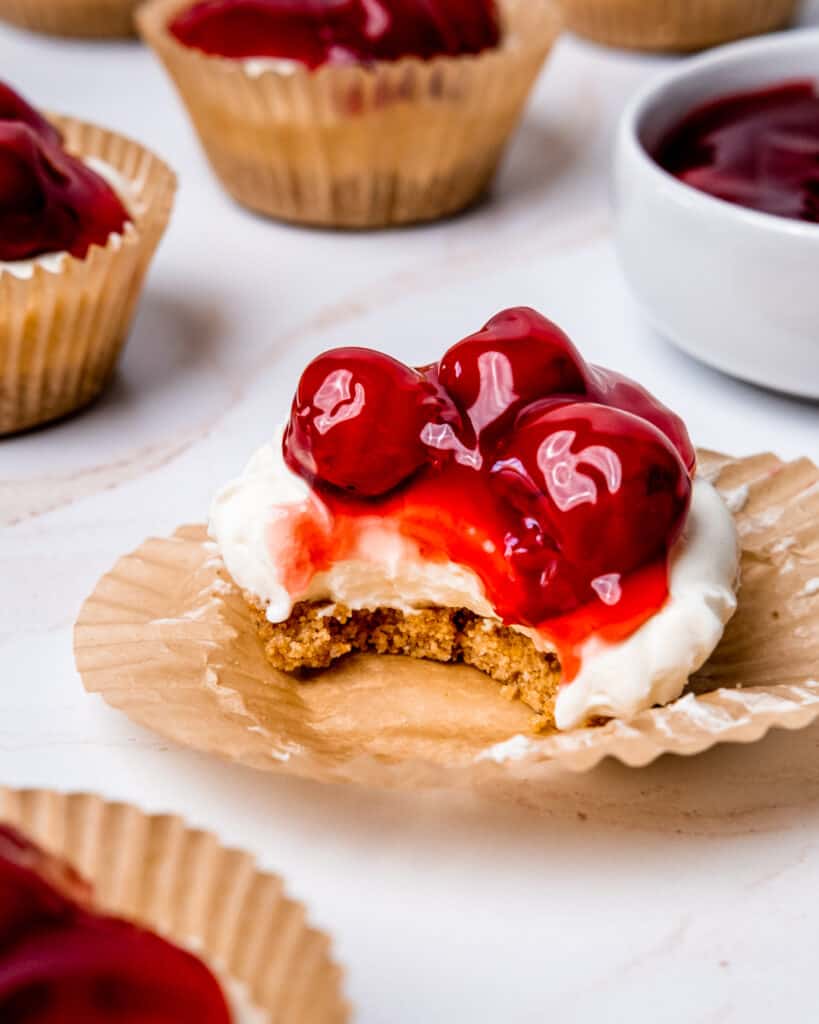 Did you try this recipe?
Tag @brokenovenbaking on Instagram and rate & comment below!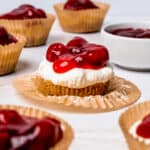 Print Recipe
No Bake Cheesecake Bites
These no bake cheesecake bites are easy, creamy, and delicious! You can whip them up within minutes and the topping choices are endless.
Equipment
Cupcake pan

Cupcake liners

Mixing bowls

Mixer (stand with paddle attachment or hand mixer)

Food chopper

Measuring cups

Measuring spoons
Ingredients
Graham Cracker Crust
8

graham crackers (crushed in food chopper)

~1¼ cup graham cracker crumbs (120g)

2

tablespoons

granulated sugar

⅛

teaspoon

ground cinnamon

optional

5

tablespoons

unsalted butter

melted
Cheesecake Filling
1

block (8 oz)

cream cheese

softened

3

tablespoons

sour cream

5

tablespoons (63g)

granulated sugar

1

teaspoon

lemon juice

¼

teaspoon

vanilla extract

¾

cup

heavy cream

1

can (12 oz)

pie filling

or other toppings
Instructions
Graham Cracker Crust
Fill a 12-cup cupcake pan with liners.

In a food chopper, puree the graham crackers, sugar, cinnamon, and melted butter until it resembles wet sand.

Evenly distribute the graham cracker mixture into the cupcake liners (~1 tablespoon per cup) and pack it down with the back of a spoon or bottom of a cup. When all 12 graham cracker crusts are flattened, put the pan in the freezer and move onto the cheesecake filling.
Cheesecake Filling
Beat the cream cheese in a medium-large bowl until it's smooth. Then, add the sour cream, sugar, lemon juice, and vanilla, and beat together until combined and smooth.

Pour the heavy cream in a separate medium-large bowl and whisk vigorously until it's thick with stiff peaks (this will take a few minutes or so).

Add the whipped cream to the cream cheese mixture and gently fold to combine.

Evenly distribute the cheesecake filling onto the graham cracker crusts until the liners are about ¾ full. Then, chill in the refrigerator for at least 2 hours (it'll still be pretty soft at this point though so preferably overnight).

When you're ready to eat the cheesecakes, add a spoonful of pie filling to the tops (or whatever toppings you like)!
More Delicious Recipes: