Sugar cookies and gingerbread cookies are essential holiday treats, and now I'm showing you how to turn them into Christmas Cookie Truffles! You only need 4 ingredients to make these easy truffles: cookies, cream cheese, chocolate, and sprinkles.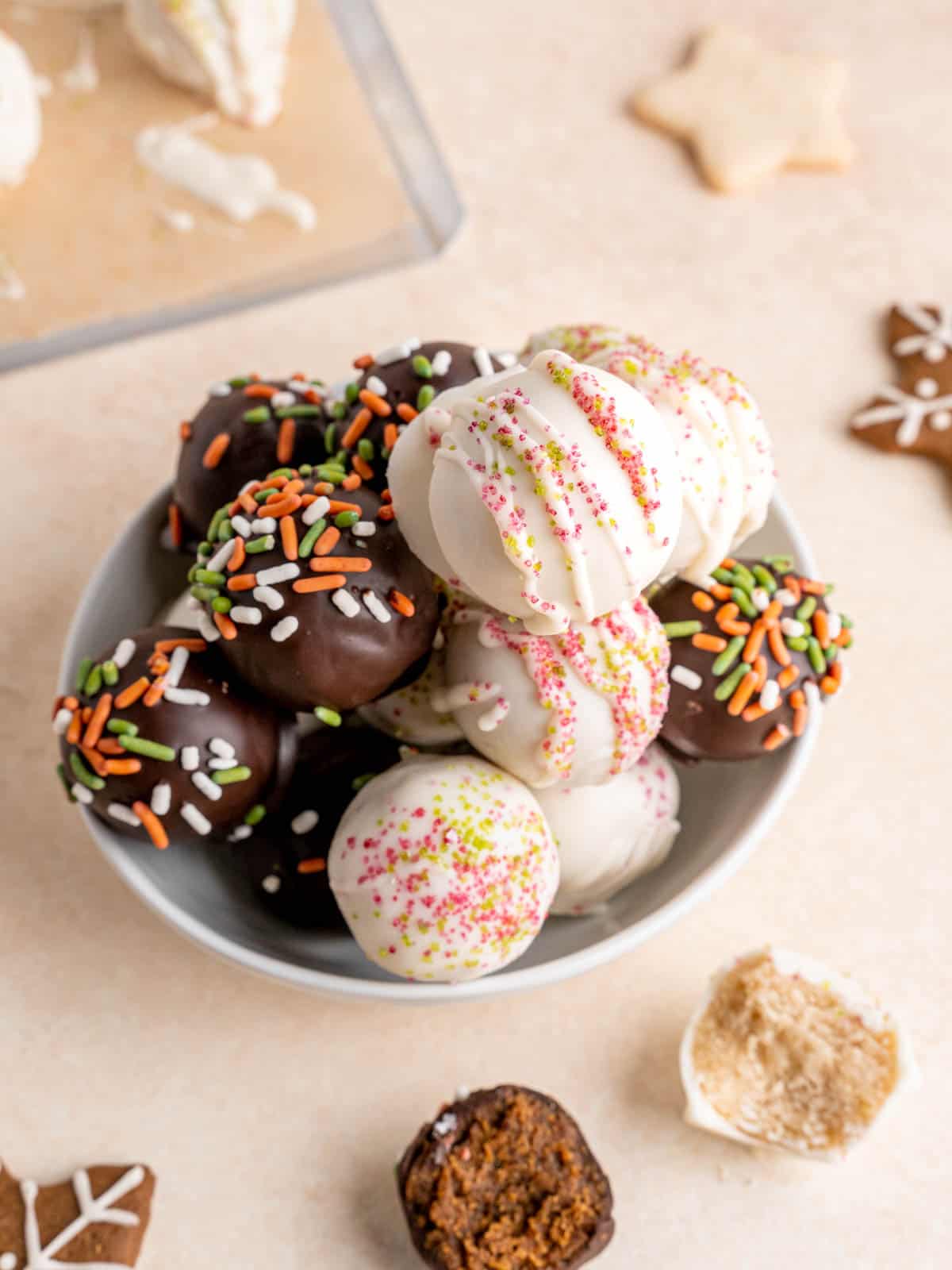 I am so excited to bring you these cookie truffles, created in collaboration with Watkins for their 2022 Holiday Gift Box! My midwestern family has been using Watkins products since I can remember! Whether I was making Christmas cookies with my grandma as a little girl or picking up groceries for my dad as a teenager, Watkins Original Gourmet Baking Vanilla and extracts were referred to as "the good stuff". I hope you enjoy them and their products as much as my family and I do!
Jump to:
Why You'll Love This Recipe
They use my favorite sugar cookies and ginger molasses cookies! My Christmas sugar cookie dough has hints of lemon and nutmeg, inspired by my grandma's recipe.
You can use this simple tutorial to make sugar cookie truffles and gingerbread truffles!
The cookies are flavored with the best Watkins spices and flavors, then covered in their beautiful sprinkles that are free from artificial dyes!
They're a fun holiday activity to do with little kids and adults alike!
Ingredients
1 batch of sugar cookies or ginger molasses cookies will be used to make these Christmas cookie truffles! They're best made with Watkins organic spices and flavorings.
Softened cream cheese is added to the chopped cookies so they're able to be packed into truffles. The amount may vary based on the cookies, so start with 1 ounce per batch and add more until you can form a smooth ball.
Chocolate melting wafers, also known as candy coating or coating chocolate, is a special kind of chocolate that hardens after being melted. It comes in all different flavors and is perfect for coating these Christmas cookie truffles! I like using white chocolate for the sugar cookies and semi sweet chocolate for the gingerbread truffles, but feel free to use whatever melting wafers you prefer!
Finish off these treats with festive sprinkles! Watkins has beautiful, all natural Holiday sprinkles and green and red decorating sugars.
See recipe card below for a full list of ingredients and measurements.
Substitutions & Variations
Make these truffles special for any holiday or occasion by using different colored or rainbow sprinkles.
If you can't get your hands on chocolate wafers, you can use high quality bittersweet chocolate. However, you will need to temper the chocolate in order for it to harden after coating the truffles!
Try adding crushed candy canes or extra cookie crumbs on top of the truffles!
For a pretty decoration, dip the truffles in chocolate and let them dry. Then, drizzle extra melted chocolate on top and add sprinkles to that.
Can't choose between sugar and gingerbread truffles? Make both cookies and double the amount of cream cheese and chocolate! You can even mix both cookie mixtures together for marbled gingerbread sugar cookie truffles.
This recipe has not been tested with other substitutions or variations. If you replace or add any ingredients, please let us know how it turned out in the comments below!
How To Make Cookie Truffles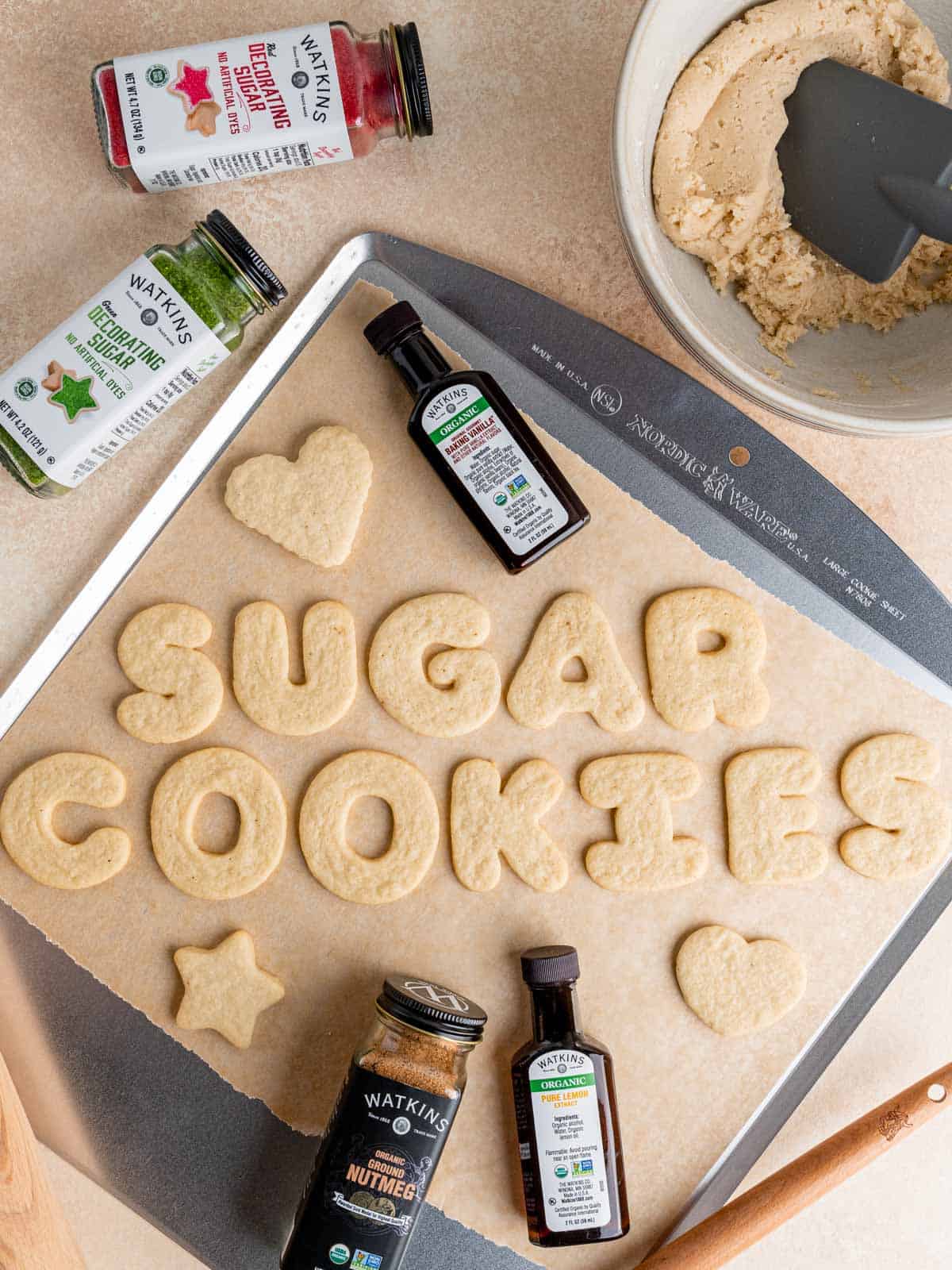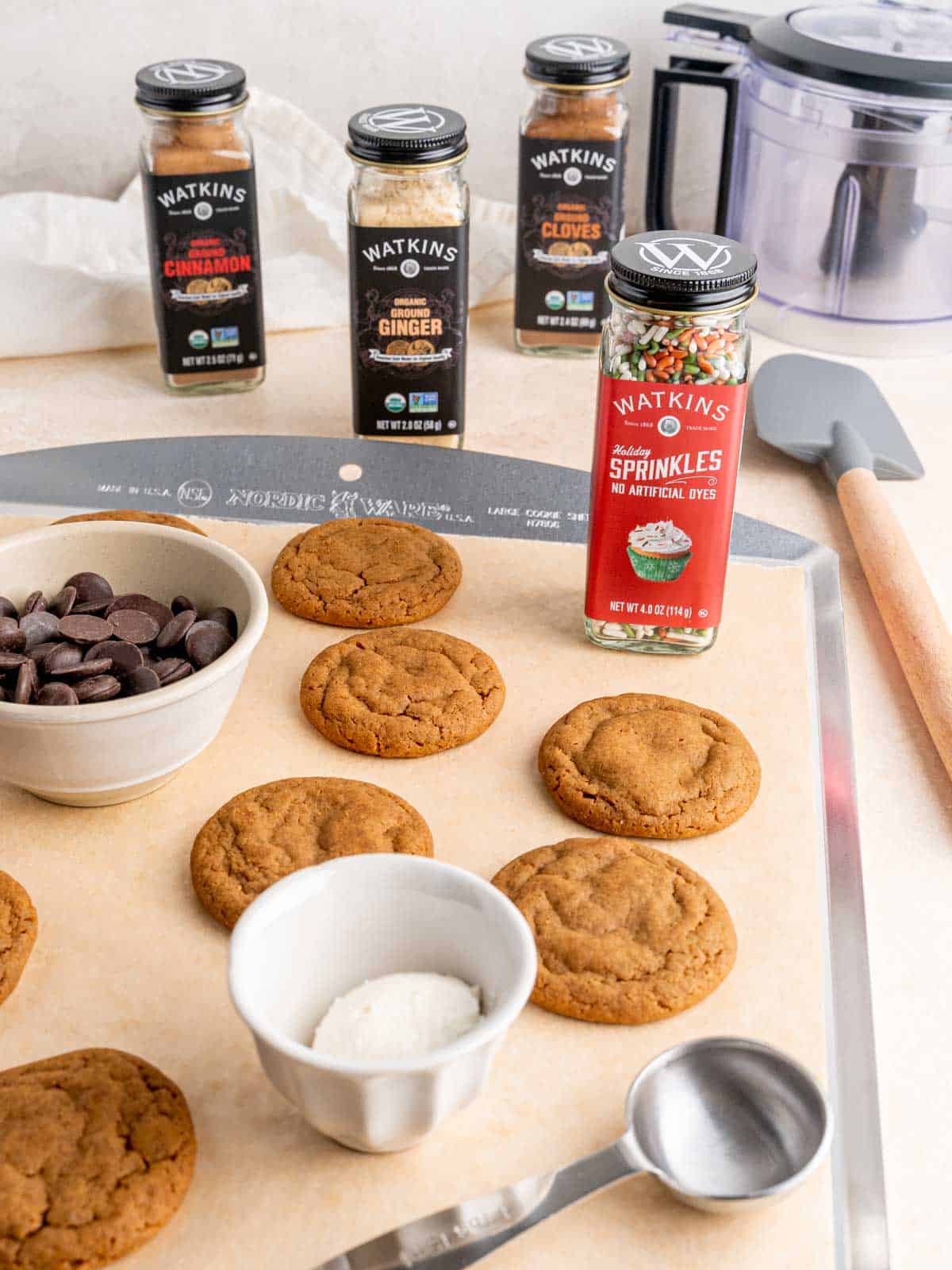 Step 1: Make the sugar or ginger molasses cookies and let them cool completely. If you're making the sugar cookies for these truffles, there's no need to chill or cut out the dough - just bake cookie dough balls on a baking sheet at 350°F until the edges just begin to tan.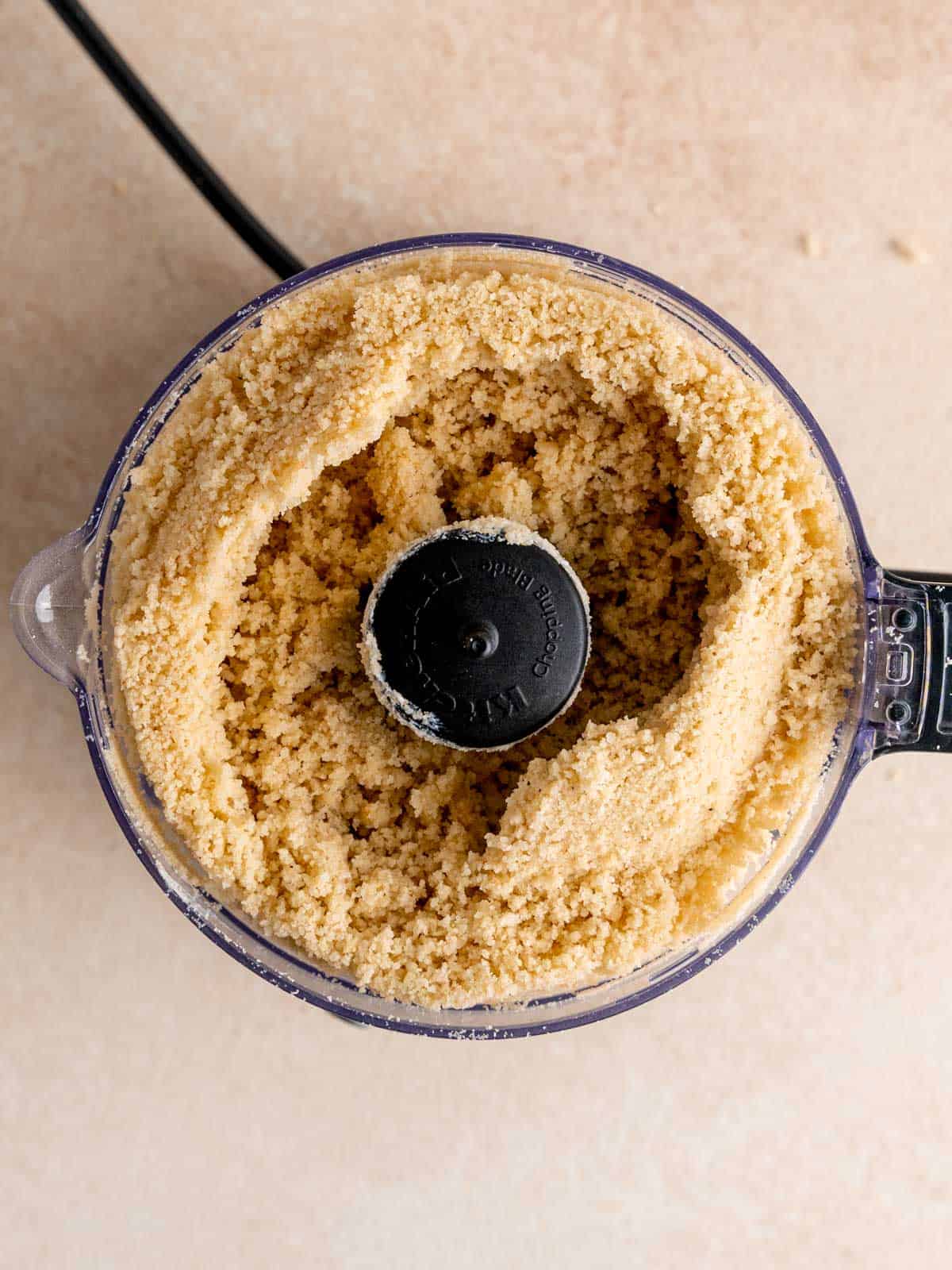 Step 2: Chop the cooled cookies in a food processor. Add cream cheese, 1 ounce at a time, until the mixture can be packed into a smooth ball without crumbs.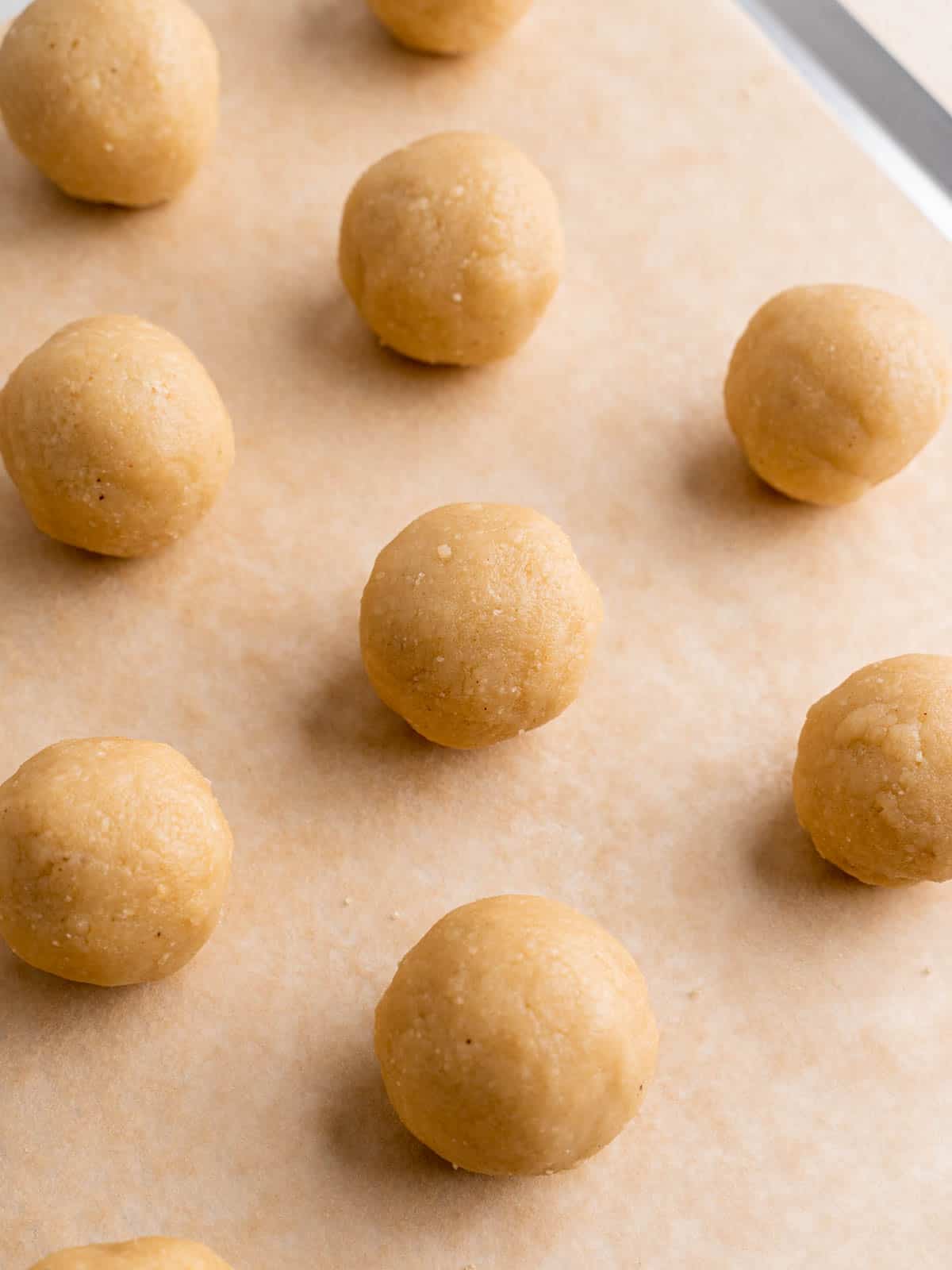 Step 3: Pack the cookie mixture into a tablespoon and roll it into a smooth ball. Place them on a baking sheet lined with wax or parchment paper. Refrigerate or freeze until cold and firm.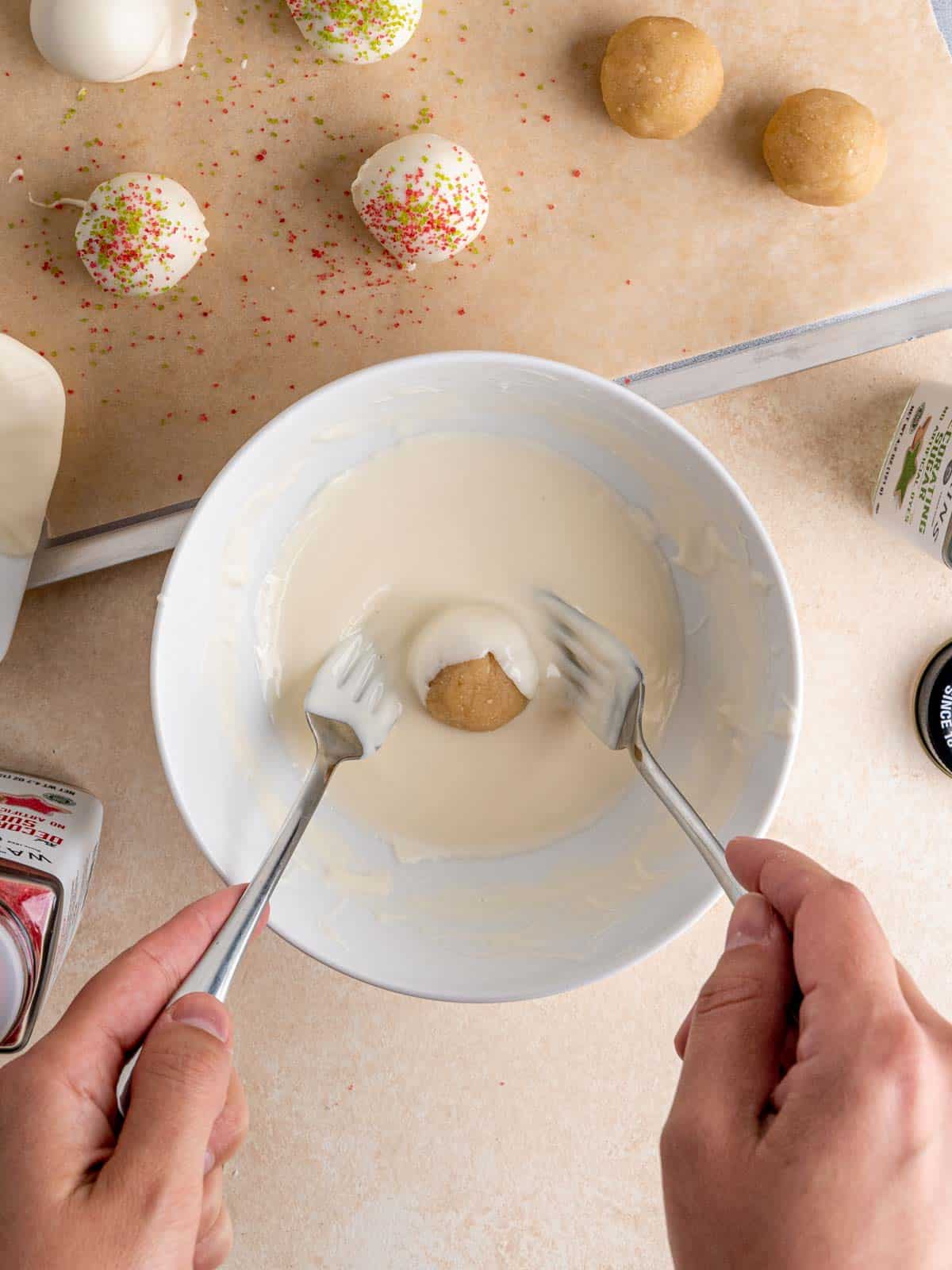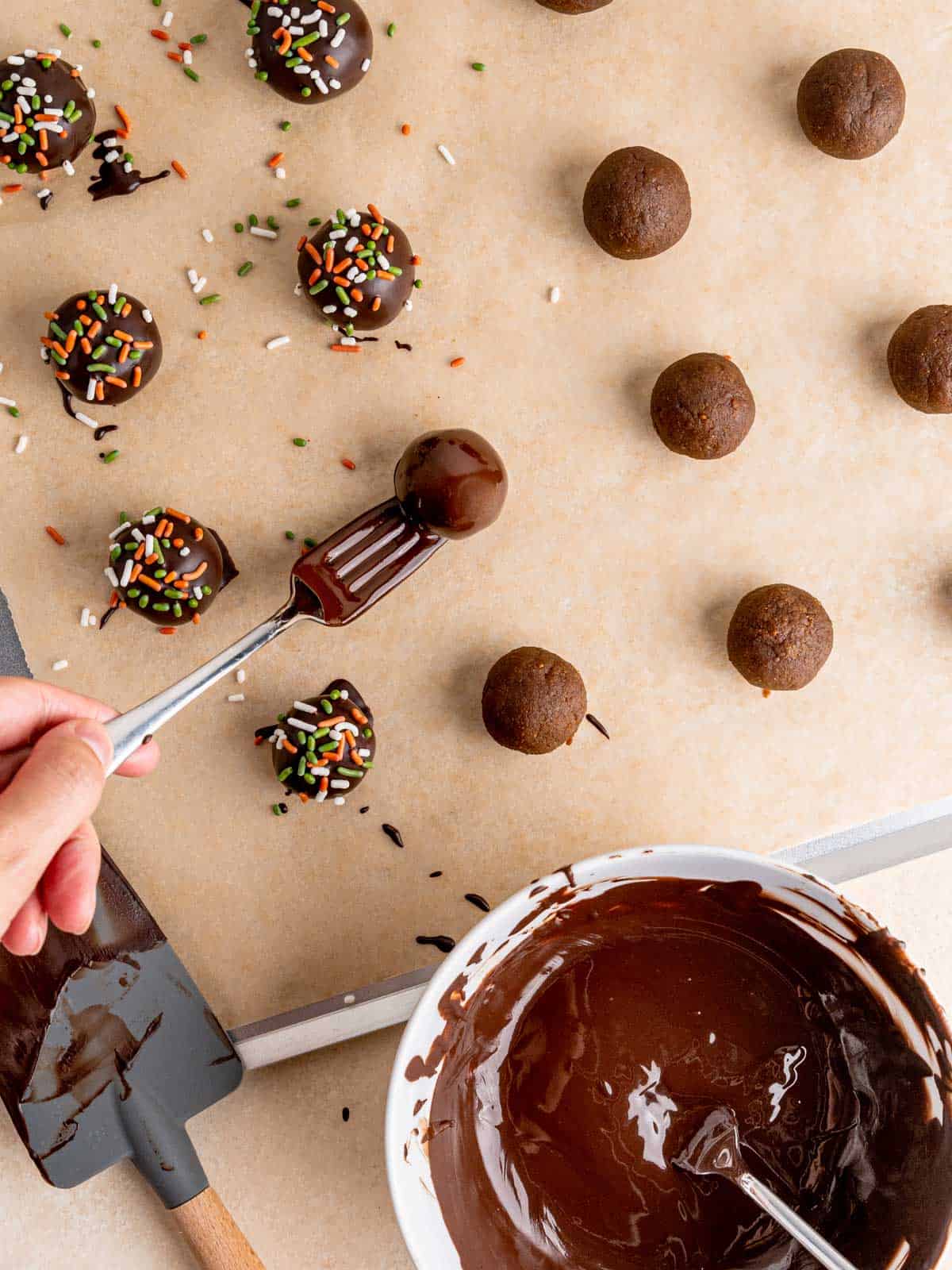 Step 4: Remove the sugar or gingerbread cookie truffles from the refrigerator so the outsides can warm to room temperature a bit. Melt chocolate wafers in the microwave or a double boiler. Dip 1 truffle at a time in the melted chocolate, then place it back on the lined sheet.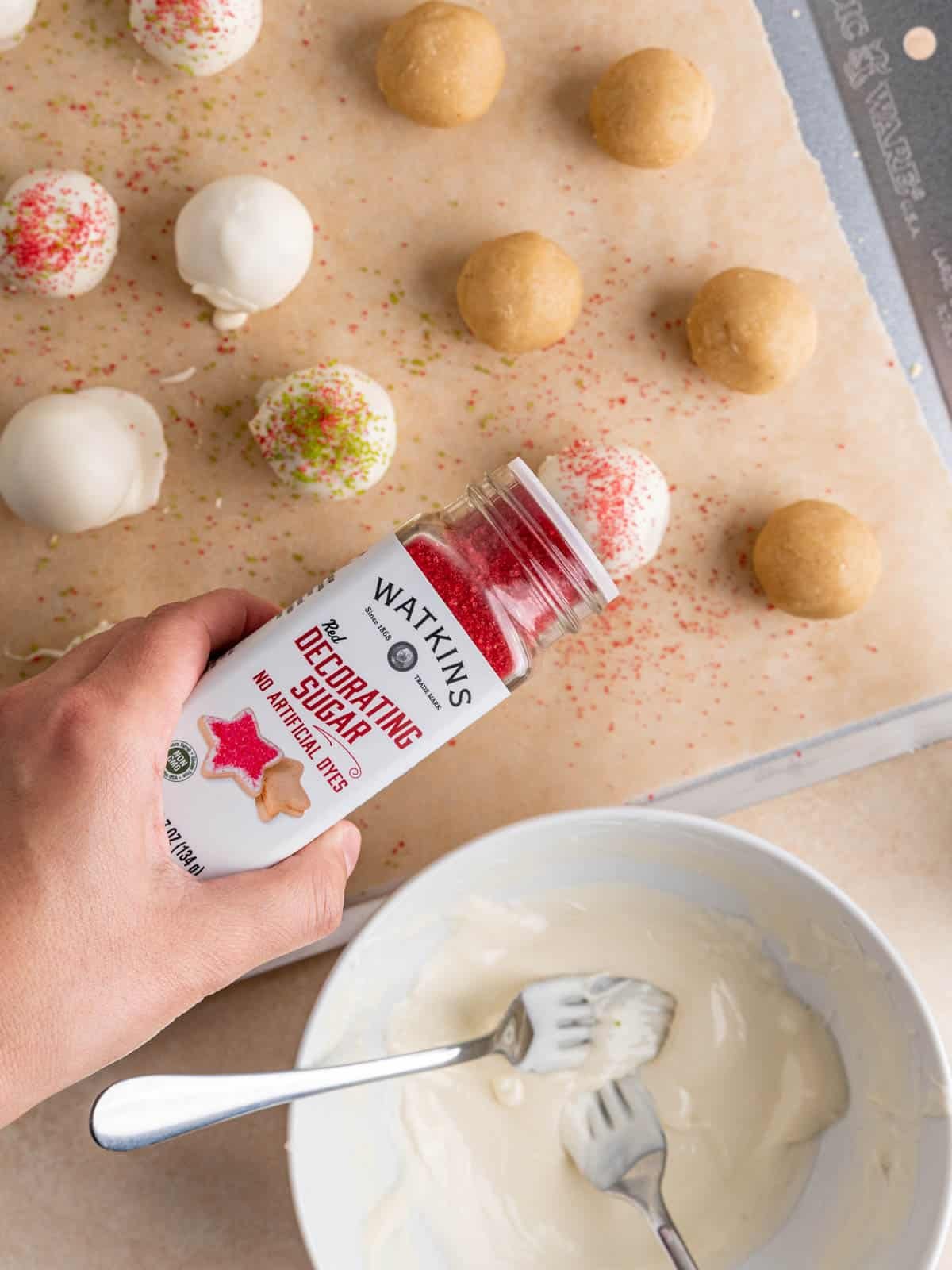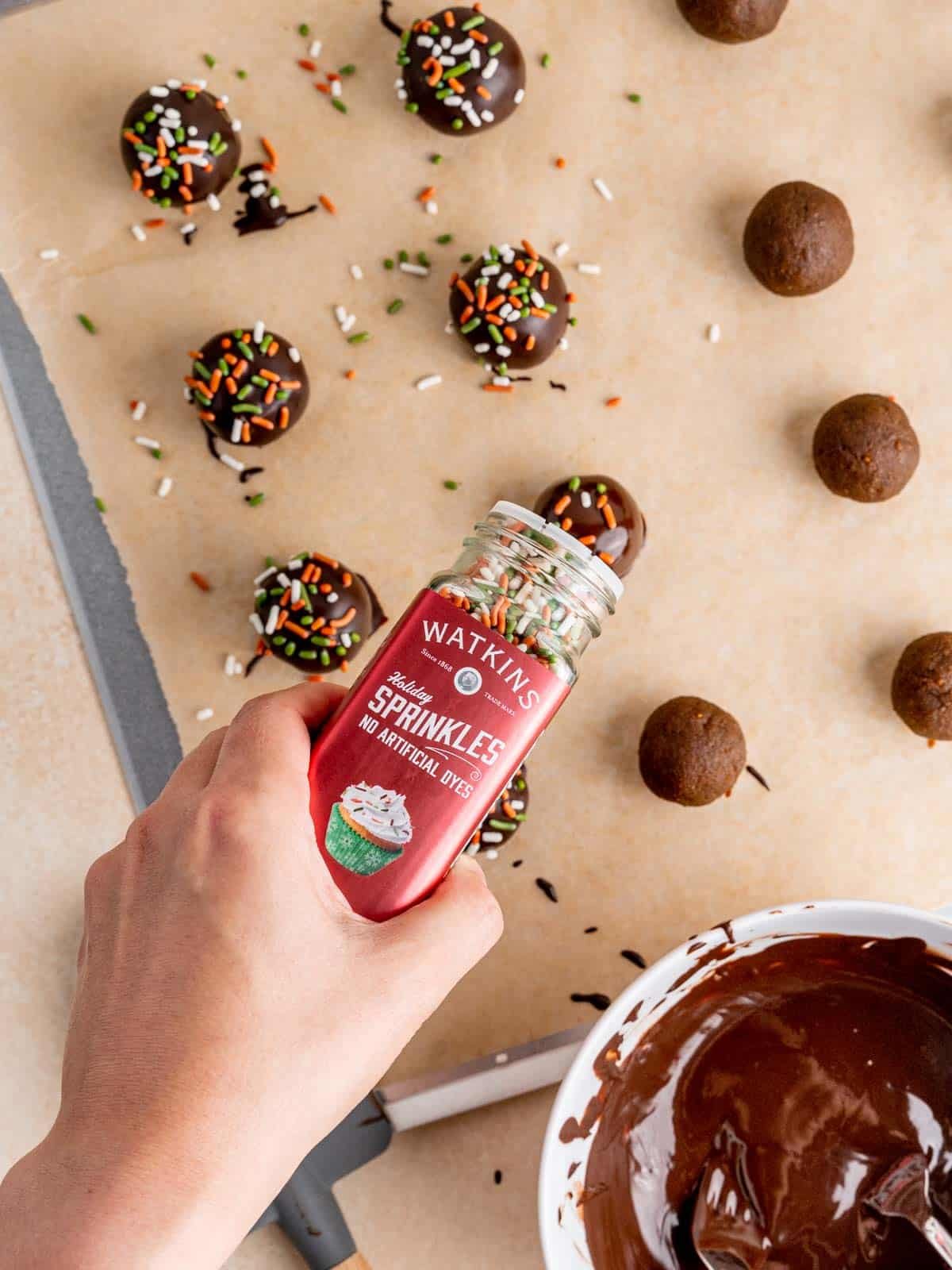 Step 5: Cover the chocolate covered truffle in Watkins Holiday Sprinkles immediately after placing it back on the sheet. Allow the Christmas cookie truffles to dry, then enjoy!
Expert Baking Tips
Don't skip the chilling step. Having the insides of the cookie truffles cold helps the chocolate coating dry faster.
Roll the truffles in your hands before dipping them in chocolate to warm the outsides a bit. This will help prevent the chocolate from cracking, but the insides will still be cool enough to dry quickly.
Don't wait too long to add sprinkles! The chocolate may dry very quickly and the sprinkles won't stick if it isn't wet.
Use a cookie sheet that has raised edges so that the sprinkles don't roll off and make a mess.
Recipe FAQs
Why is my chocolate cracking?
This is likely from a large difference in cookie and chocolate temperatures. I recommend rolling the cold truffles in your hands before dipping in the chocolate so that their outsides are closer to the chocolate's warm temperature.
Can I use store bought cookies for these truffles?
Sure! You may need to use less/more cream cheese depending on the cookies used.
Can I make the truffles a different size?
Of course, feel free to make them smaller or bigger than 1 tablespoon. This will change the quantity made.
Where can I find Watkins sprinkles, flavors, and spices?
Watkins products can be found in many grocery and retail stores across the United States and Canada (check their store locator here). They're also available online at www.watkins1868.com.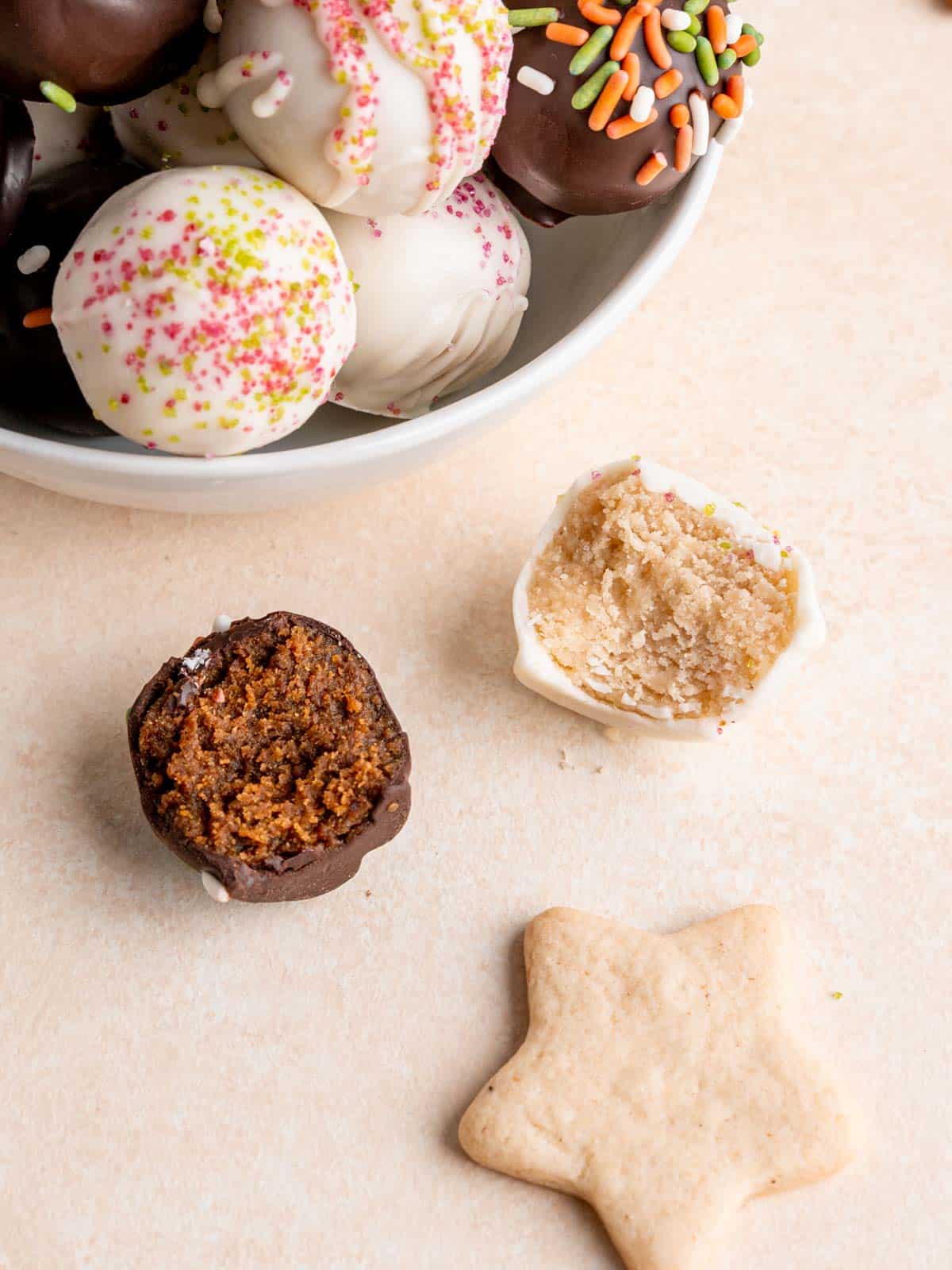 Storage
Refrigerator
Store Christmas Cookie Truffles in an airtight container in the refrigerator for up to 5 days.
Freezing Instructions
Gingerbread or sugar cookie truffles can keep in an airtight container in the freezer for up to 1 month.
Did you try this recipe?
Leave a ⭐️ review below and tag @brokenovenbaking & @watkins.1868 on Instagram!
📖 Recipe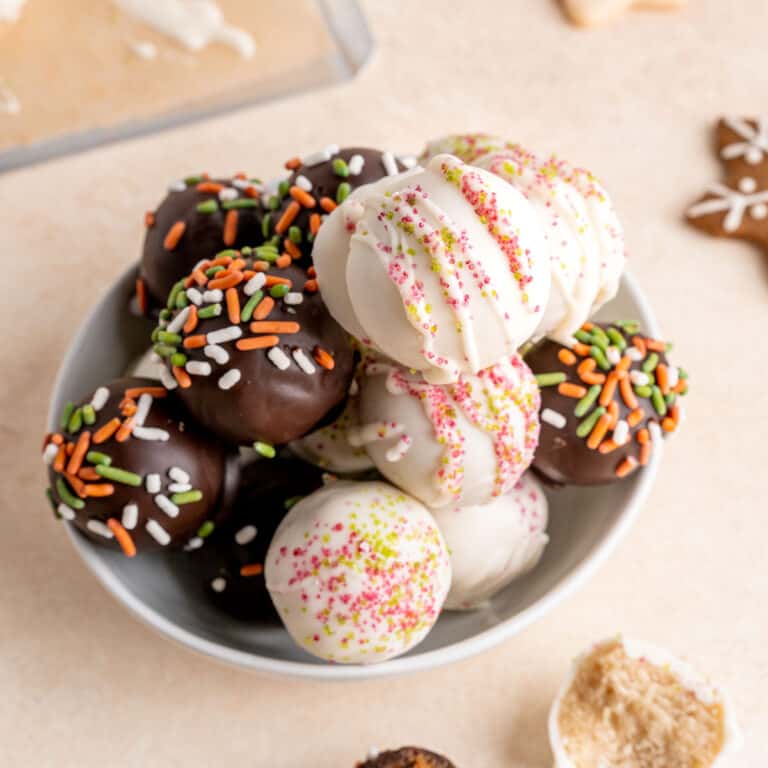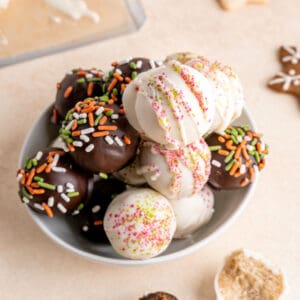 Christmas Cookie Truffles
Turn soft sugar cookies and ginger molasses cookies into delicious bite-size Christmas treats! All you need is cream cheese, chocolate, and sprinkles!
Equipment
Baking sheet

Wax or parchment paper

Microwave safe bowl or double boiler
U.S. Cups vs Metric
Toggle between US Customary and Metric measurements
Instructions
Make a batch of sugar cookies or ginger molasses cookies and let them cool completely.Note: If making the sugar cookies recipe, you do not need to chill and cut out the dough. After making the cookie dough, scoop and bake round dough balls at 350°F until the edges begin to brown (8-15 minutes).

Chop the cooled cookies in a food processor, then add 1 oz cream cheese and continue to pulse. Add up to 4 oz of cream cheese until the mixture can be rolled into smooth balls.

Place a sheet of wax or parchment paper onto a cookie sheet. Roll packed tablespoons of the cookie mixture into smooth balls and place them on the sheet. Refrigerate or freeze until firm.

Remove the truffles from the refrigerator and let them warm to room temperature slightly while melting the chocolate wafers in a microwave-safe bowl or double-boiler.

Working with one truffle at a time, place it in the melted chocolate and rotate with forks until completely coated. Place back on the cookie sheet and cover with Watkins Holiday Sprinkles or Decorating Sugars.
Notes
Storage: Store truffles in an airtight container in the refrigerator for up to 5 days.
Truffle Size: Feel free to make the truffles smaller or bigger than 1 tablespoon.
Chocolate Melting Wafers: Also known as coating chocolate or candy coating, these are made to harden after melting and coating truffles. Regular chocolate is not an equivalent substitution as it needs to be tempered in order to harden after melting.
Watkins: This recipe is sponsored by my favorite flavor and spices brand, Watkins, but all opinions are my own. Their organic spices and flavorings are the best in my sugar and ginger molasses cookies, and their decorating sugars and sprinkles are all natural and beautiful on these truffles!
The provided nutritional information is an estimate per serving. Accuracy is not guaranteed.