This Spiced Blueberry Pie is super easy to make and has so much flavor bursting in every bite! It is definitely an essential summer bake, just like my Lemon Blueberry Blondies. However, it doesn't have to be limited to summertime. You can make this recipe any time of the year with frozen blueberries! All you need is a pie crust (homemade or store-bought), pie dish, and a bowl to mix the ingredients in. It's so quick to whip up and whether you slap on the top crust or make a fun design with it, it'll taste amazing!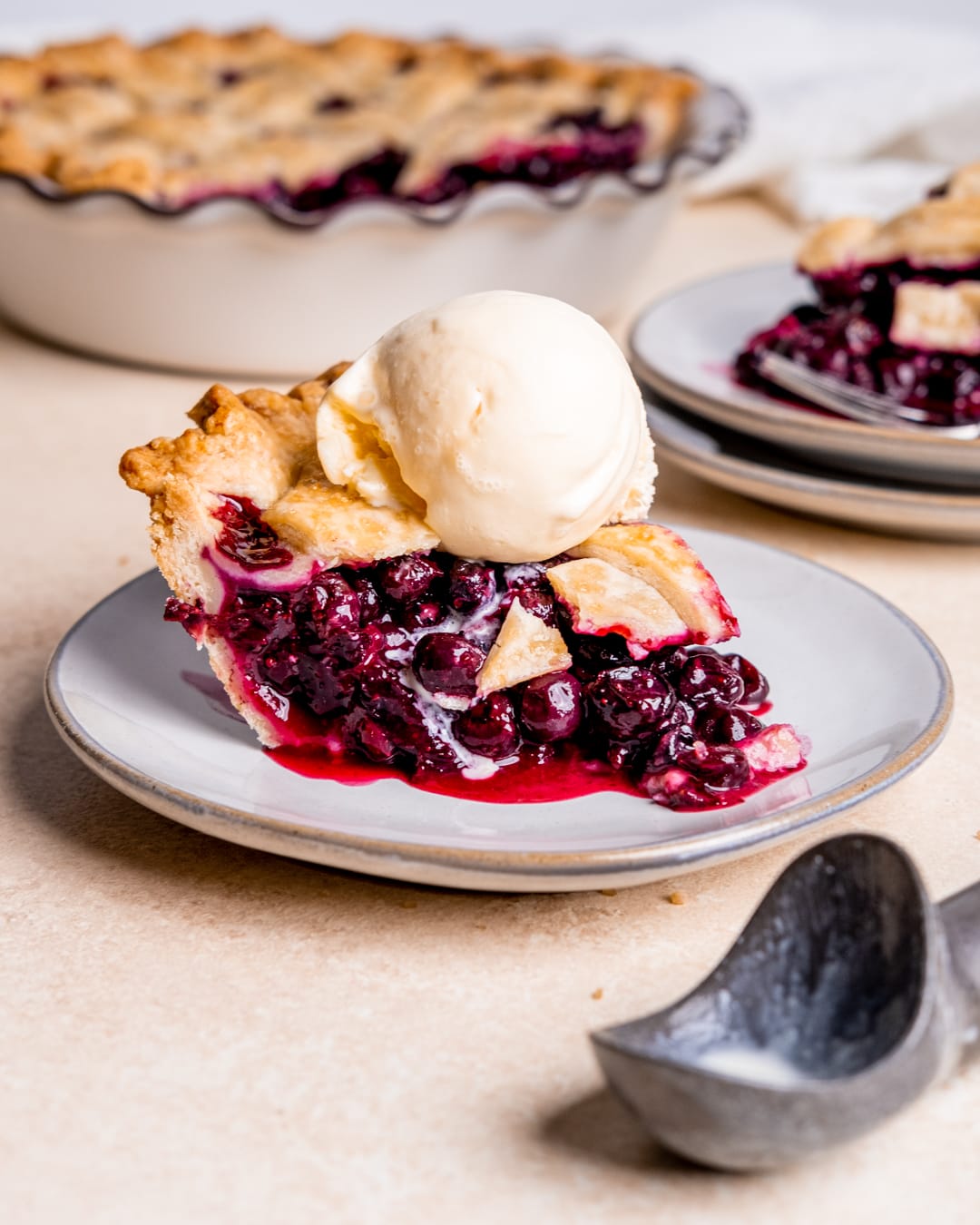 Have you ever been wild blueberry picking? I went for the first time in 2020 and had so much fun, I decided to make it a new summer tradition! Last year, I picked almost 2 whole buckets of blueberries! It was amazing. What I love about blueberry picking is that it gets you to look at things from different perspectives. When you look at the bush, you don't always see the blueberries. Sometimes you have to reach in, move the branches around, or look from another angle. I find it very fun and calming!
For another delicious summer blueberry dessert that's even simpler, try my Blueberry Peach Crisp recipe or Mixed Berry Galette!
Jump to:
Check out more fruity recipes you'll love!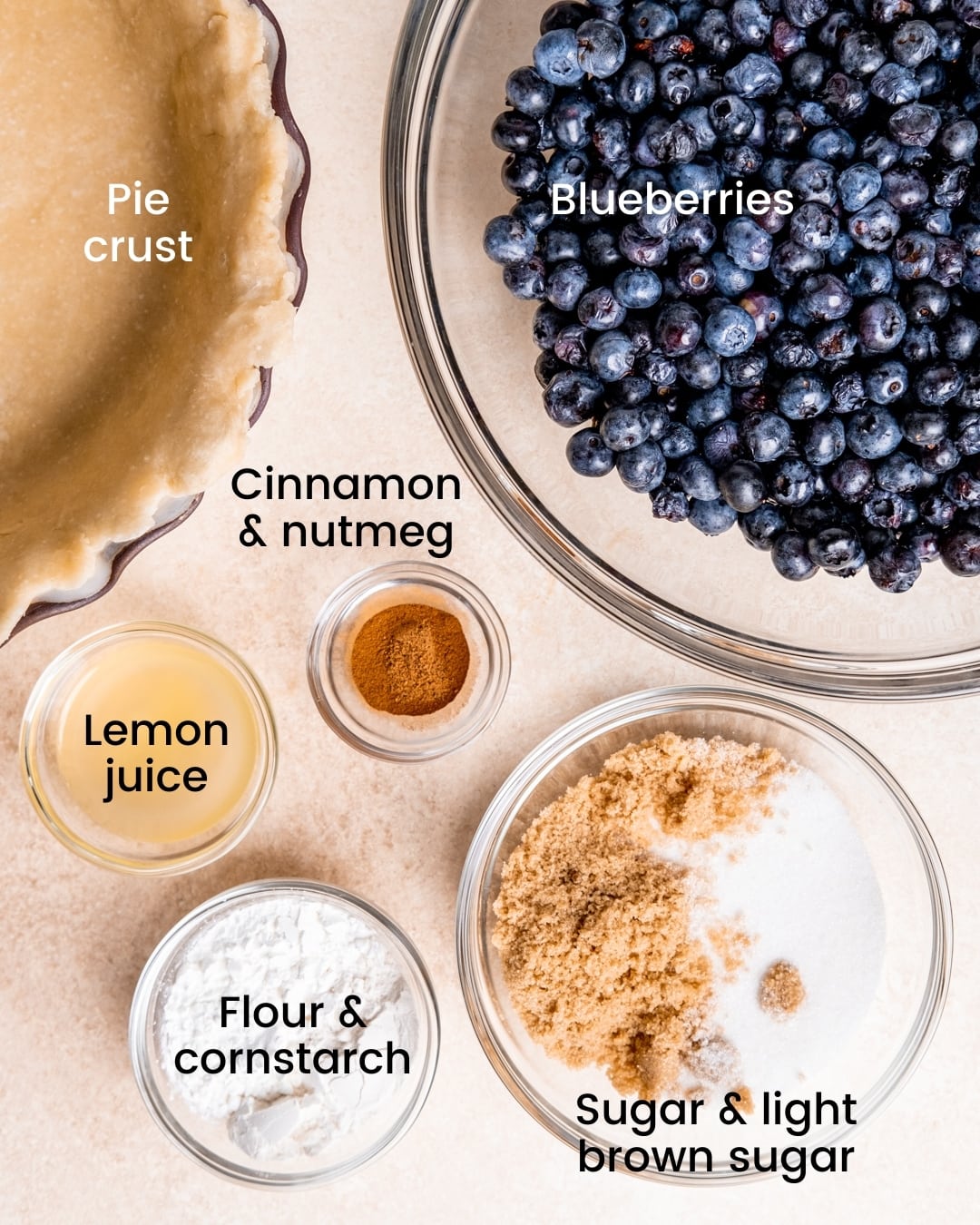 Recipe Notes
The pie filling is super simple! All you have to do is mix the blueberries, sugar, brown sugar, cinnamon, nutmeg, lemon juice, flour, and cornstarch together in a large bowl with a spatula. Then, let it sit while you prepare the crust so the flavors can combine a bit before baking. The great thing about this recipe is that you can use fresh blueberries or frozen ones! Where it gets tricky is the pie crust. You are more than welcome to use a store-bought pie crust! But, if you want to make one from scratch or lattice the top, I'll show you how I did so next!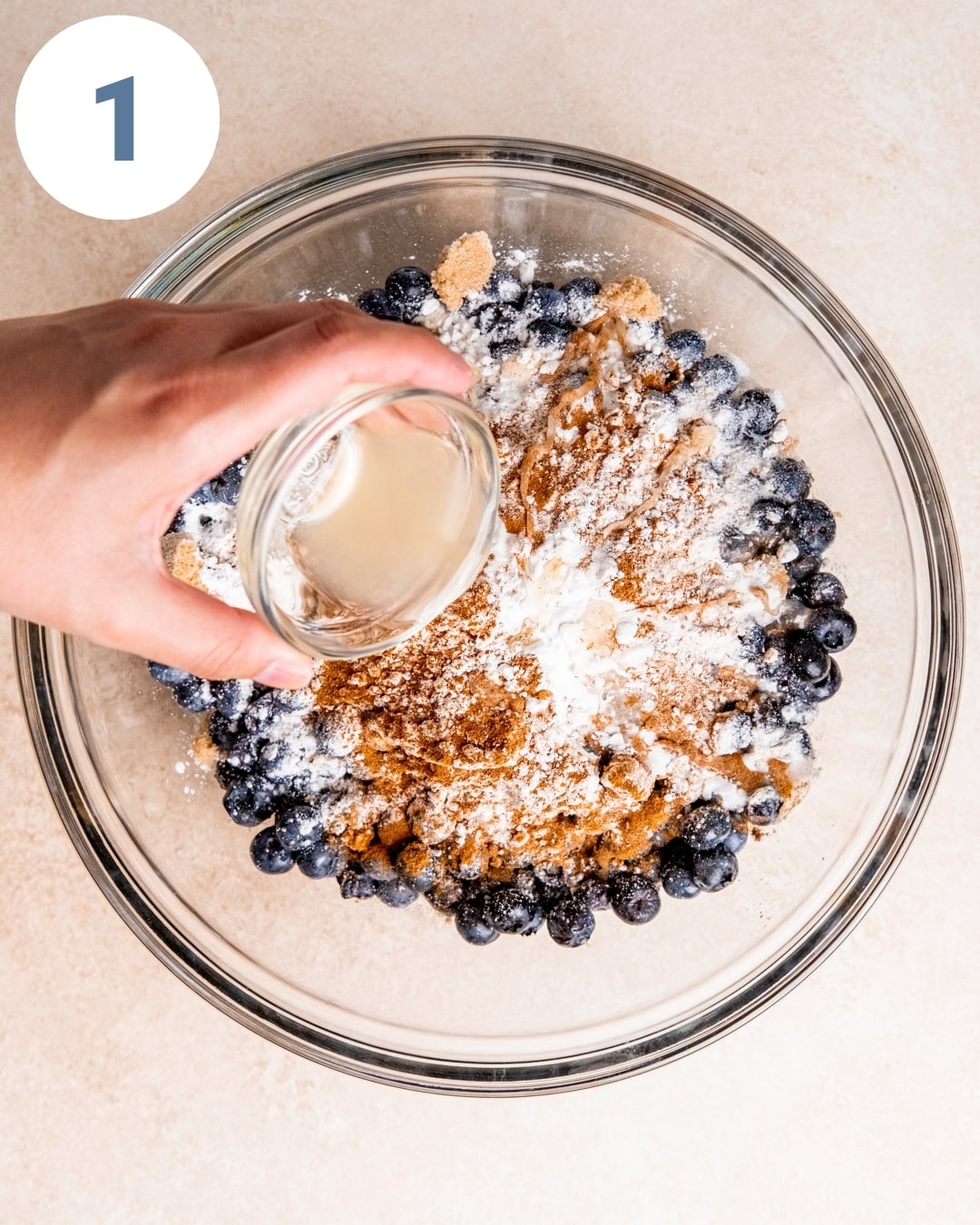 How to Make a Lattice Crust
Lattice pie crusts might look intimidating, but they're actually fairly simple! Crimping the edges is the harder part, in my opinion. However, I'm going to walk you through how I do both of those things and my [not-so-secret] secret to success!
Before we get to the top crust, I just want to note that the bottom crust should be snug along the pie dish and at least cover it to (almost) the edges (as pictured in photo #2 above).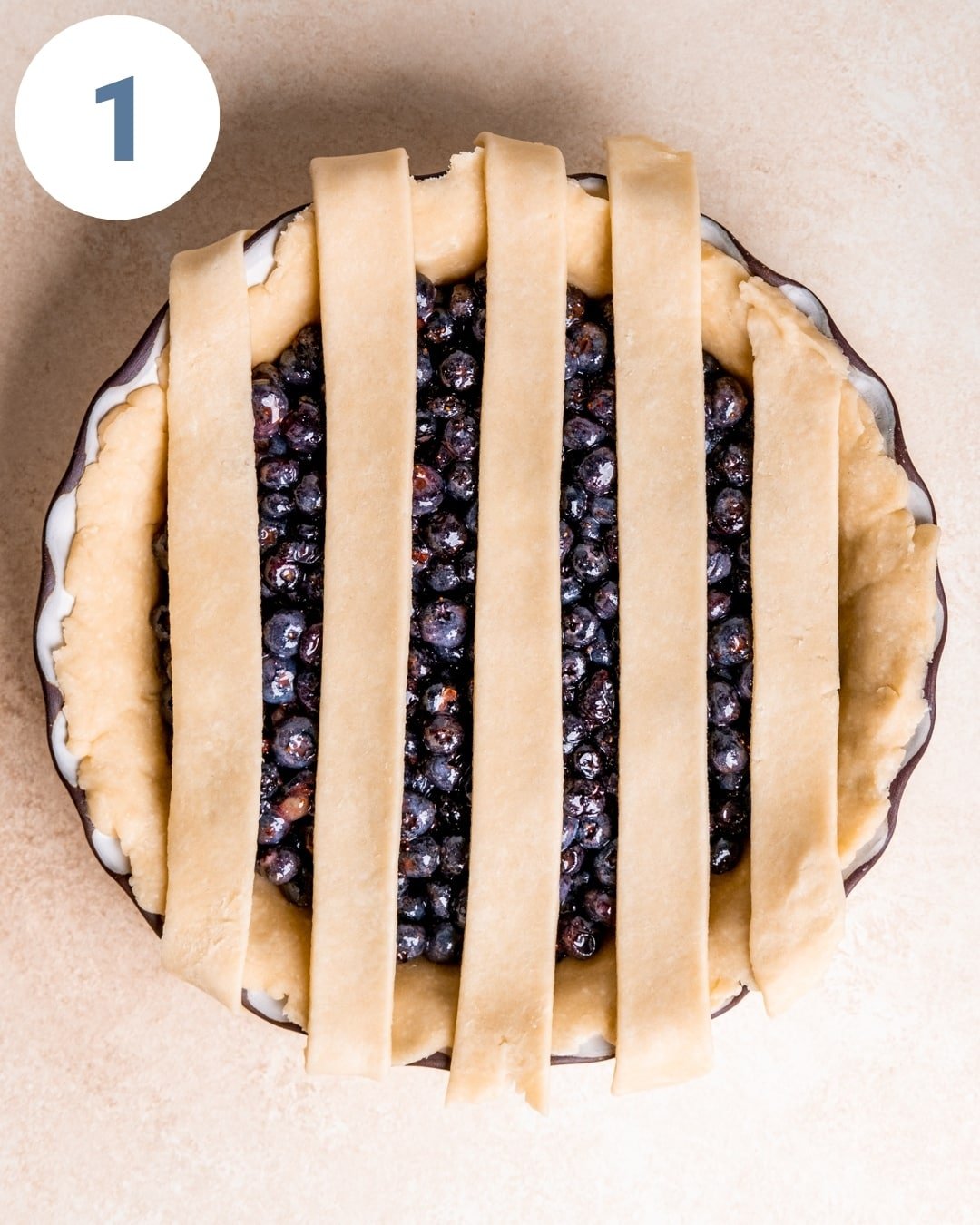 Okay so the #1 secret & key to a good pie crust is cold dough! The dough should be cold every single step of the way.
My first tip for this is to use a pie dough recipe that you can make with your stand mixer. The less you touch it with your warm hands, the better! I doubled this recipe and then cut it in half for the top & bottom crusts. It has you roll out & place the bottom crust in the dish right away. But first, wrap the top dough in plastic wrap and plop it in the freezer. Then, put the dish with the bottom crust in the freezer while you roll out the top crust. Basically, if you're not using it, keep it cold in the freezer or refrigerator.
All right, once your top dough is rolled out, cut about ½ inch off the sides so that they're straight. Then, cut 10 equal strips. Place 5 of the strips vertically and evenly spaced over the pie filling, like in photo #1 above. Of those 5, fold strips 2 & 4 back so that you can place another strip on top of strips 1, 3 & 5. Then, place strips 2 & 4 back down as they were (photo #3 above). Continue to do this while alternating strips until you've placed them all in a lattice.
Again, make sure the crust stays cold! If you need to put the pie or the strips into the freezer for a few minutes, that's totally okay! Take a break while they chill and come back to it.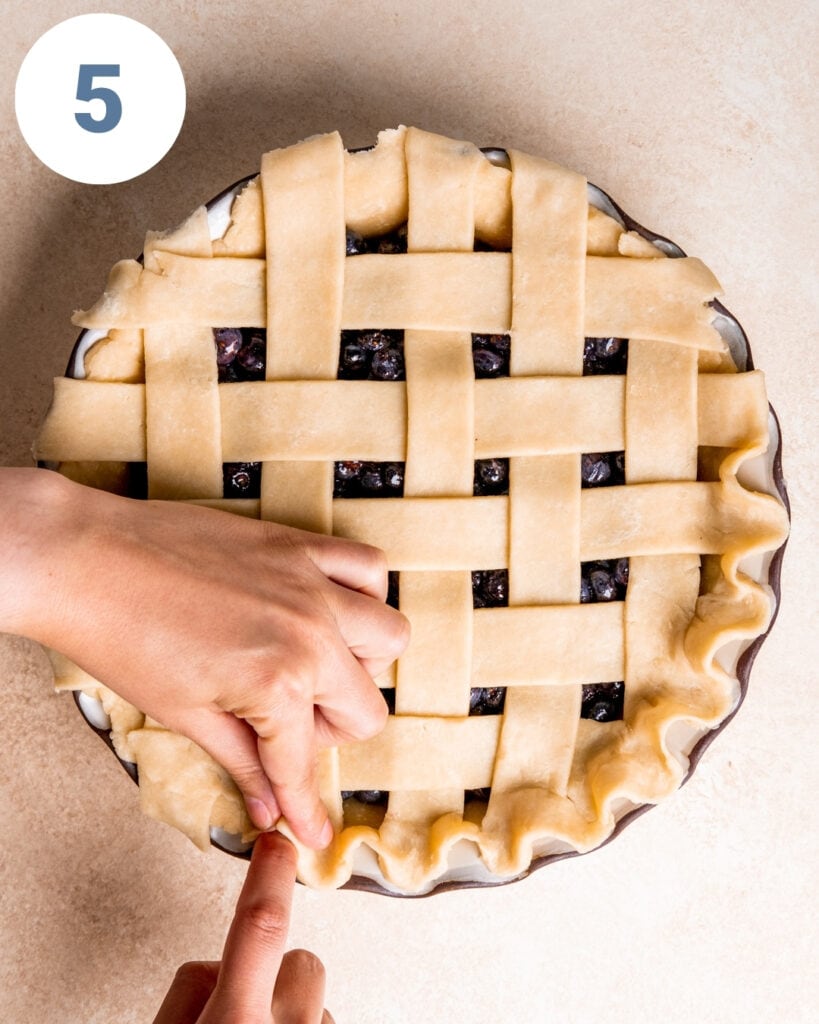 Now for the crimping! Cut off any excess dough from the strips that go more than ½ inch past the bottom crust edge. Fold the ends of the strips under the bottom crust and press them together so they're even and smooth. Then, go around the edge and push the crust against one hand's thumb and pointer finger with your other hand's pointer finger (photo #5 above). To flatten & secure the crimp against the dish, push down on it with your pointer finger (photo #6 above).
Lastly, chill the pie before you bake it! The crust needs to be cold and firm before you put it in the oven in order for it to keep its shape. If you want the crust to be crispy and golden, brush an egg wash and sprinkle demerara sugar on top right before you bake it!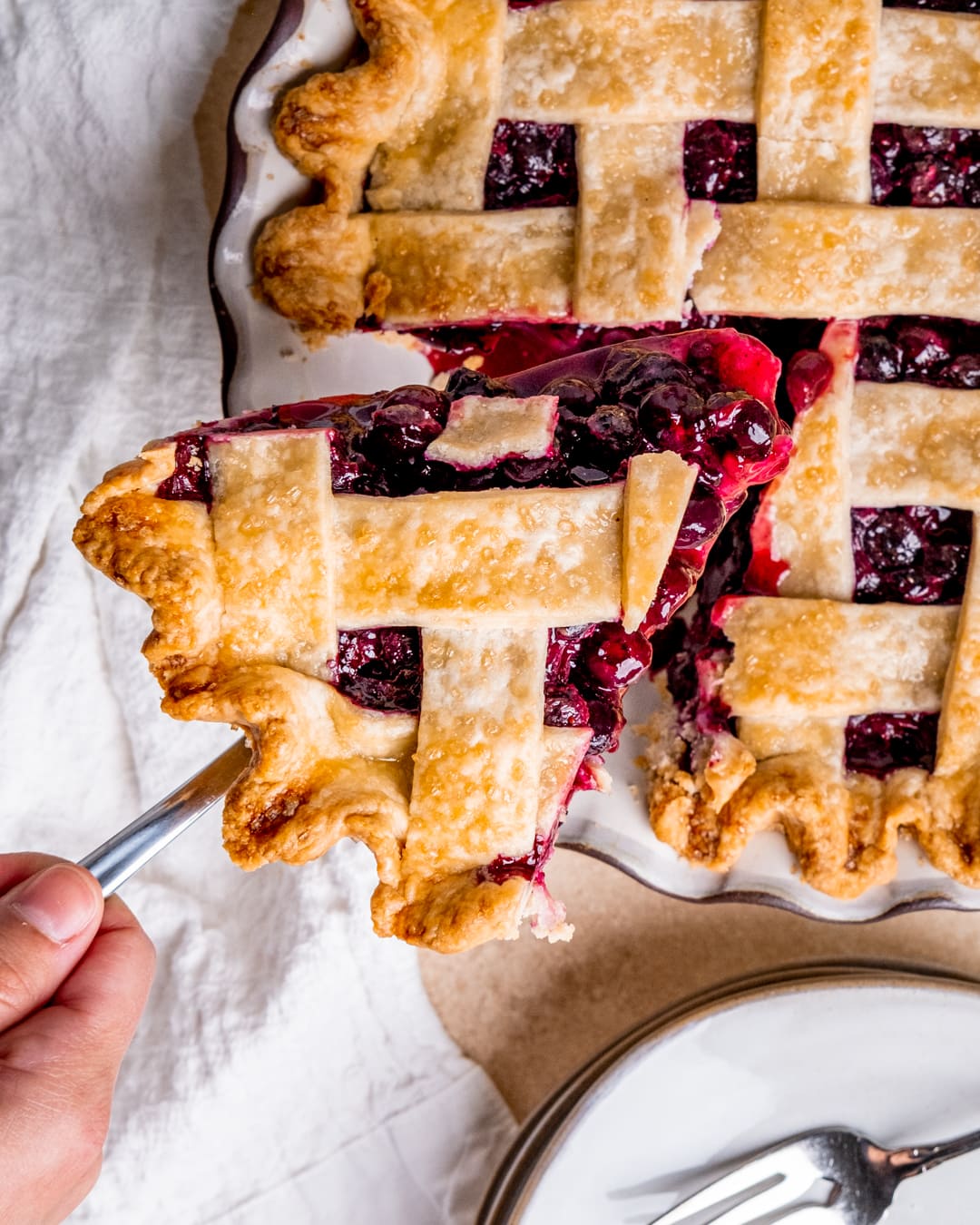 Tips & Storage
Can I make this with frozen blueberries?
Yes! Since the pie is baked, frozen blueberries will work just as well as fresh ones. Keep in mind that the bake time may be a bit longer, though.
How should this be served?
Allow the pie to cool down and absorb its flavors after removing it from the oven. It can be served warm or cold, and it goes perfect with a scoop of vanilla ice cream!
How should I store leftovers?
In the refrigerator for up to 1 week, or in the freezer for up to 3 months. If you plan to refrigerate it right after baking, let it cool down to room temperature first.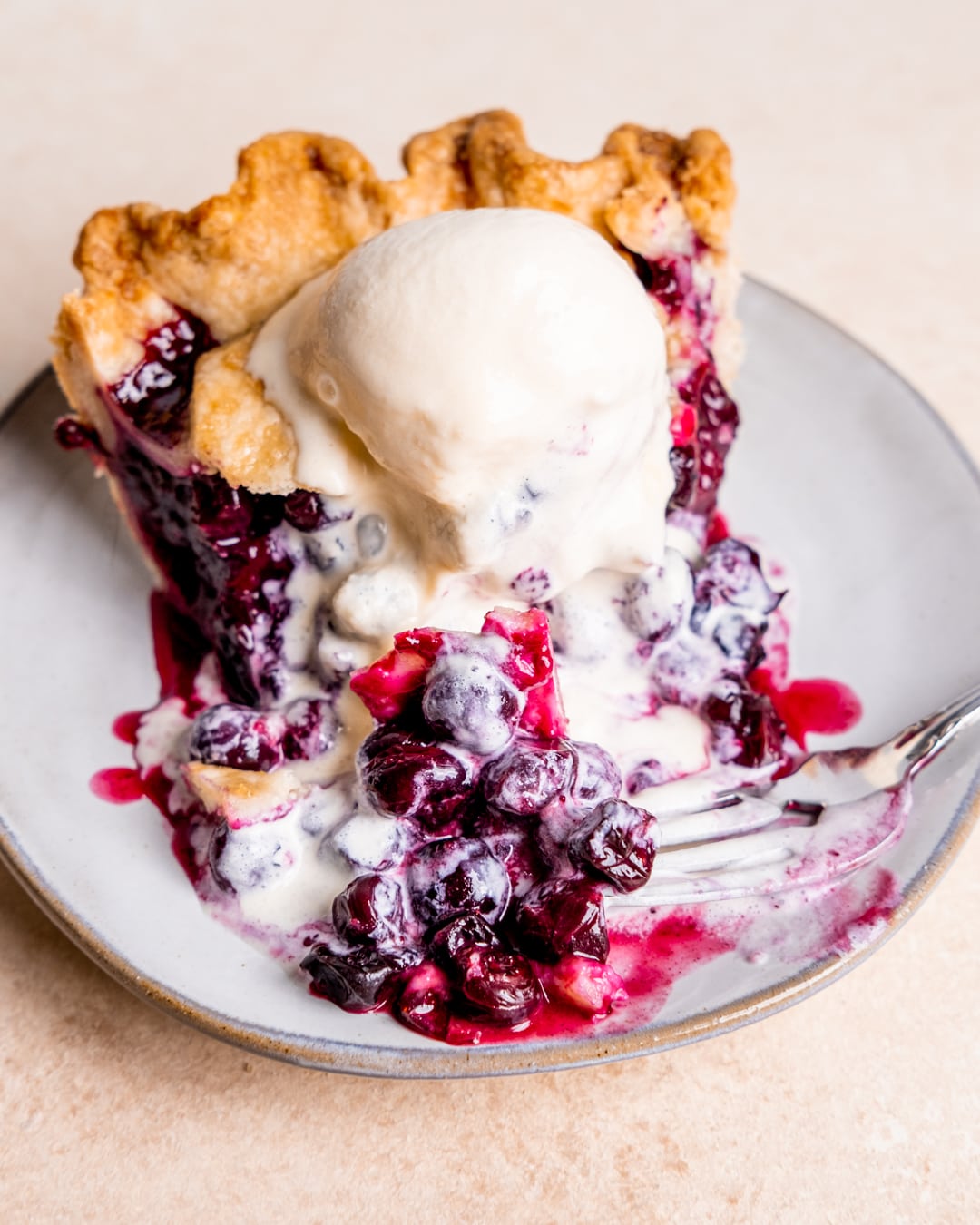 Did you try this recipe?
Tag @brokenovenbaking on Instagram and leave a star review below!
📖 Recipe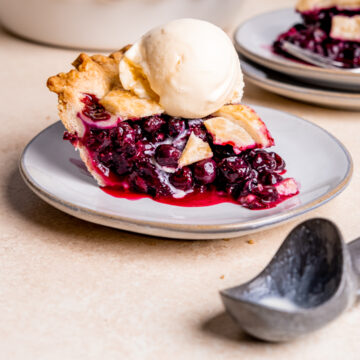 Spiced Blueberry Pie
My favorite blueberry pie with extra flavors bursting with the blueberries!
Ingredients
6

cups

blueberries

fresh or frozen (do not thaw if using frozen)

½

cup

granulated sugar

¼

cup

light brown sugar

2

tablespoons

all-purpose flour

2

tablespoons

cornstarch

2

tablespoons

lemon juice

¾

teaspoon

ground cinnamon

⅛

teaspoon

ground nutmeg

1

pie crust

top and bottom

1

egg wash (optional)

1 egg + 1 teaspoon water mixed together

2-3

tablespoons

demerara or turbinado sugar (optional)
Instructions
In a large bowl, mix together the blueberries, sugars, flour, cornstarch, lemon juice, cinnamon, and nutmeg. Set aside while preparing the crust.

After the mixture has set out for ~15 minutes, or when the pie crust is ready, spoon the filling onto the bottom pie crust in the pie dish (excluding any excess liquid).

Place the top pie crust over the filling in whichever design you choose (see blog post above for lattice photos & instructions). Let the pie chill in the freezer for 20-30 minutes while the oven preheats to 400°F.

Optional: before baking, lightly brush the crust with an egg wash and sprinkle with demerara or turbinado sugar.

Place the pie on a baking sheet (in case any crust falls or filling drips out) and bake at 400°F for 10 minutes. Then lower the temperature to 350°F (without opening the oven) and bake until the crust is golden and filling is bubbling - another 20-30 minutes (or more depending on how cold the pie was).

Let the pie cool down for about an hour and then slice & enjoy!*
Notes
*If you want to save it for later or serve it cold, make sure the pie cools to room temperature before refrigerating it.
Store leftover pie in the refrigerator for up to 1 week or freezer for up to 3 months.
To Make Ahead: Bake the pie and then let it cool to room temperature. Cover in plastic wrap or foil, then freeze for up to 3 months. Or, cut and freeze individual slices in storage containers. Let the pie thaw in the refrigerator the night before serving.
The provided nutrition information is an estimate for the entire pie, the calorie accuracy is not guaranteed.
Nutrition
Calories:
2006
kcal
Carbohydrates:
395
g
Protein:
19
g
Fat:
48
g
Saturated Fat:
14
g
Polyunsaturated Fat:
7
g
Monounsaturated Fat:
21
g
Sodium:
723
mg
Potassium:
979
mg
Fiber:
27
g
Sugar:
243
g
Vitamin A:
488
IU
Vitamin C:
98
mg
Calcium:
152
mg
Iron:
8
mg
The provided nutritional information is an estimate per serving. Accuracy is not guaranteed.
More Recipes You'll Love: