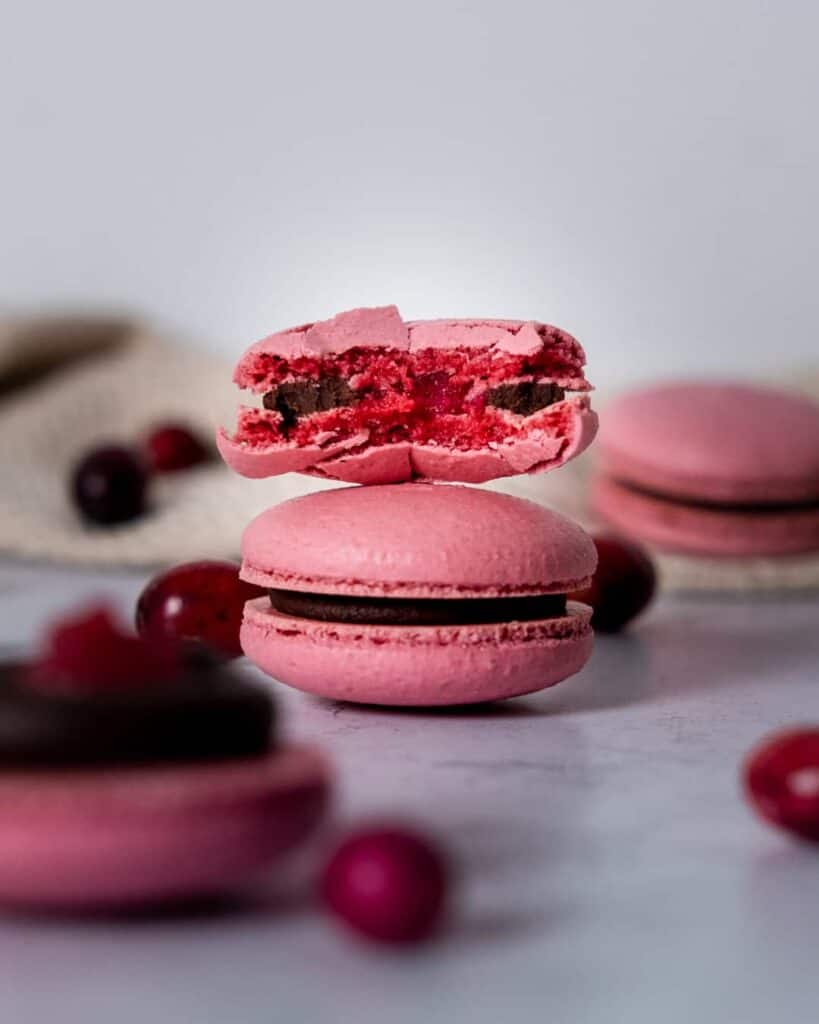 These chocolate cranberry macarons are perfect for when your taste buds are looking for a combination of sweet and tart! Filled with chocolate ganache and cranberry tart, they're the best part of my favorite trail mix wrapped up in french pastry shells. Macarons may be challenging, but these are definitely worth the time and effort!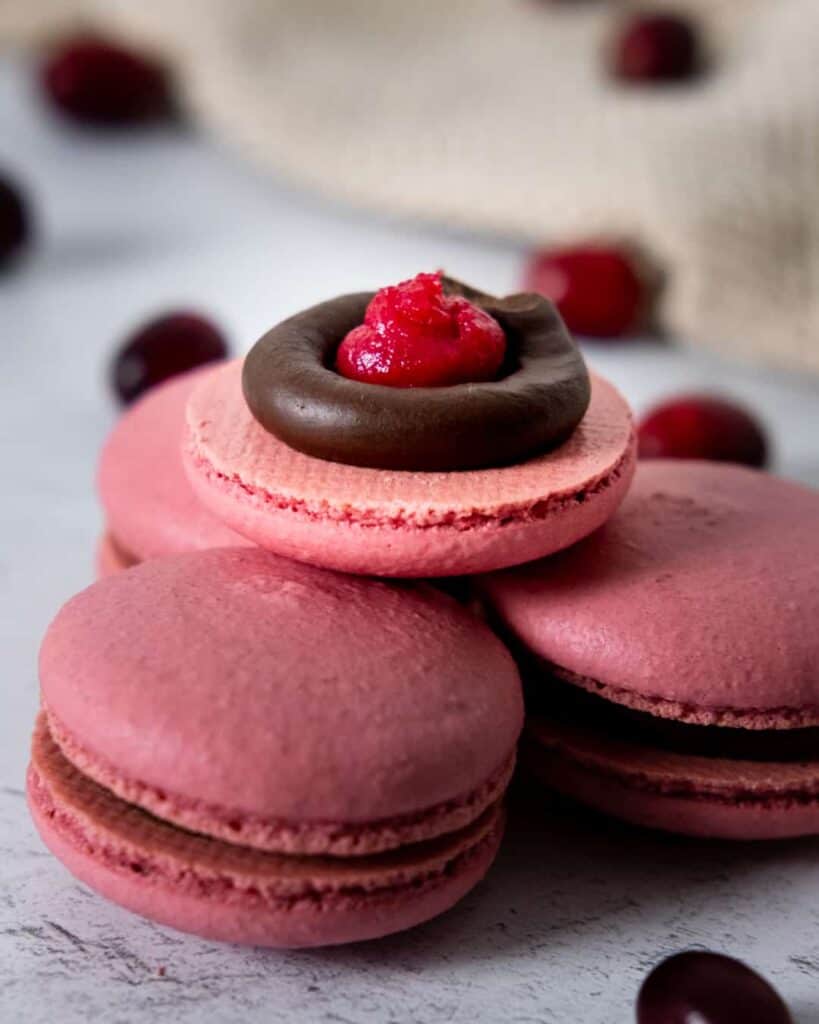 Macaron Shell Tips:
Don't try to make these when it's hot and humid outside! If it's too warm/humid, the macarons won't set properly after piping and they may crack.
Weigh your ingredients with a scale instead of measuring. Accuracy is very important! This is why my recipe is only in grams.
Wipe your meringue bowl with vinegar and let it dry before adding your egg whites to it to make sure it's super clean.
Age your egg whites by weighing them into your vinegar-cleaned bowl, covering, and refrigerating overnight. Then, take them out and let them adjust to room temperature about an hour before making the meringue.
Fold the dry ingredients into the wet ingredients just the right amount. This is vague, tricky, and will take practice to get the perfect consistency down. A lot of recipes say to fold until they batter is glossy and can smoothly form a ribbon without breaking, which is a good explanation!
Use a silicone baking mat. Parchment paper works too, but the bottoms might not bake or stick as evenly as on a silicone mat. Macaron mats also have little circles on them to help get equal shell sizes!
Make sure your oven is at the right temperature – you don't want the shells rising too quickly or too slowly. Chances are, your oven isn't at the temperature it says it's at (mine runs ~50 degrees cooler), so I always have my oven thermometer in mine to make sure it's where it needs to be.
Don't put the shells in the oven before they're ready. You should be able to smoothly run your finger across the tops without them sticking at all. The time they need to set will differ based on your kitchen's temperature/humidity, but I always wait at least 30 minutes.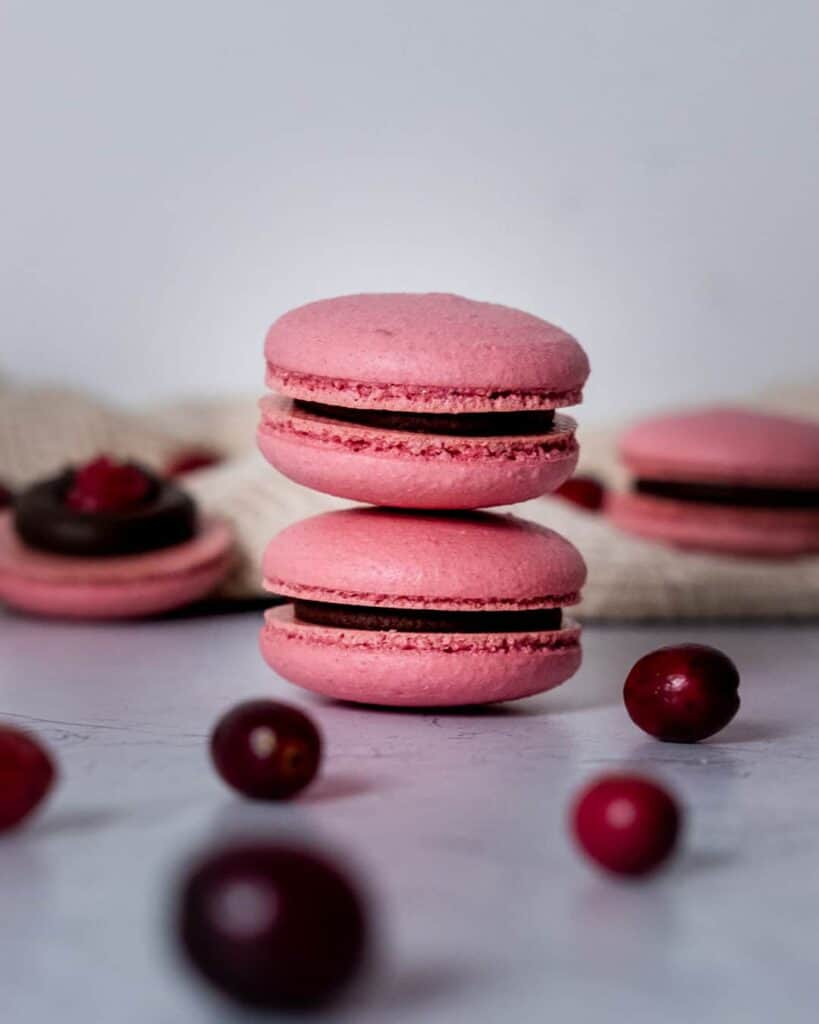 Storage:
Store assembled macarons or each separate component in the fridge for up to 1 week. Macarons reach their peak a day or two after they're made.
The shells, curd, and ganache can be stored separately and assembled later. If you're going to wait longer than a few days to assemble them, store everything in the freezer. You can also store the completed macarons in the freezer for up to 1 month.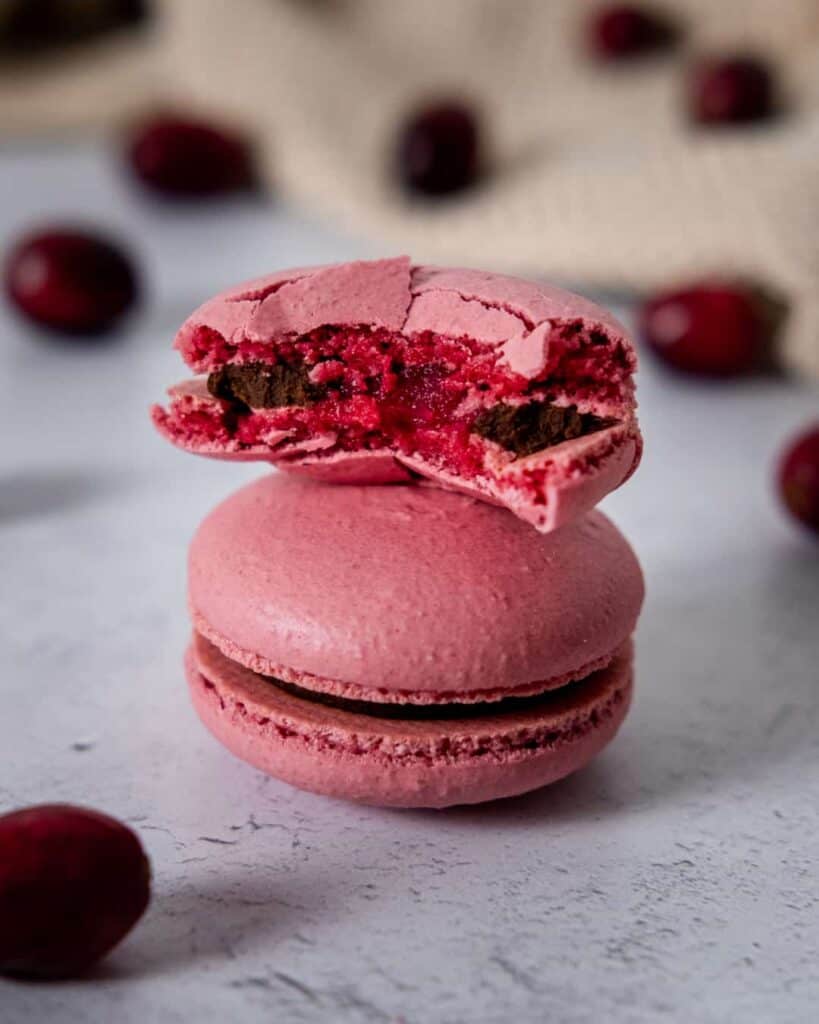 More Recipes You'll Love:
Feel free to send me a message if you have any macaron questions.
Rate & Comment Below!
📖 Recipe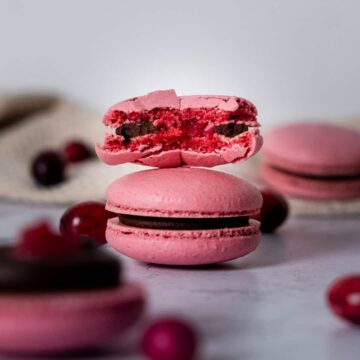 Chocolate Cranberry Macarons
These chocolate cranberry macarons are the perfect combination of sweet and tart!
Equipment
Scale

Mixing bowls

Measuring spoons

Hand mixer or stand mixer with whisk attachment

Sifter

Food chopper

Spatula

Piping bag and tip

Baking sheet

Silicone baking mat or parchment paper

Mesh strainer

Medium-sized pot

Whisk
U.S. Cups vs Metric
Toggle between US Customary and Metric measurements
Ingredients
Macaron Shells
60

grams

egg whites

~2 large eggs

⅛

teaspoon

cream of tartar

54

grams

granulated sugar

½

teaspoon

vanilla extract

84

grams

almond flour

78

grams

powdered sugar
Cranberry Curd
2

large

egg yolks

6

ounces

cranberries

½

cup

granulated sugar

¼

cup (½ stick)

unsalted butter

1

tablespoon

orange juice
Chocolate Ganache
4

ounces

heavy whipping cream

4.15

ounces

chocolate

chopped or chips
Instructions
Macaron Shells
Sift the almond flour and powdered sugar, then transfer to a food chopper and puree for 12 seconds in 3 second intervals. Sift them again and discard any clumps.

In a separate large, clean bowl, whisk the egg whites and cream of tartar using an electric mixer until they reach soft peaks. Add ⅓ of the sugar, whisk, and repeat until all of the sugar is mixed in. Add the vanilla and food coloring (optional) and continue to whisk until you have stiff peaks.

Gently fold the dry ingredients into the wet ingredients using a spatula. The perfect consistency will appear shiny and when you lift a spatula full of batter to the height of the bowl, the batter will drizzle down in a smooth and steady manner.

Transfer the batter into a piping bag with a medium sized round tip. Pipe even circles onto a baking sheet covered in parchment paper or a silicone baking mat (if using parchment, put a few spots of batter in the corners under the paper so that it's secured to the sheet) at a 90° angle.

Lift your baking sheet about 12" and drop it onto the counter. Repeat 4 more times. (This is to help release any bubbles) Then, using a toothpick, smooth out any bubble holes or peaks in the batter.

Let the macarons sit in a dry environment for 30-50 minutes. They're ready to bake when they're no longer sticky to the touch. Preheat oven to 315°F while the macarons set.

Bake for 12-15 minutes and then let them cool completely before removing from the sheet.
Cranberry Curd
Stir the cranberries, sugar, and orange juice in a pot over medium heat until the sugar dissolves and the cranberries are soft and pop.

Transfer the cranberry mixture to a food chopper and puree until smooth. Then, strain the mixture over a bowl using a mesh strainer.

Add the butter to the bowl with the strained ingredients and stir until it's melted.

Carefully add the mixture and the egg yolks back into the pot on the stove. If your mixture or pot is still hot, mix the yolks in very slowly.

Stir the mixture over low-medium heat until it thickens (about 10 minutes). Then, allow it to cool to room temperature.
Chocolate Ganache
Heat the cream in the microwave or on the stove until it just starts to simmer.

Pour the hot cream over the chocolate so it's completely submerged in a heat-resistant bowl, and then cover the bowl to trap the heat. Let this sit for 5 minutes, and then gently whisk until smooth. It will be slightly runny.

Let the mixture cool in the refrigerator until it's thick enough to pipe (~20 minutes).
Macaron Assembly
Pair up the shells and put the curd and ganache in separate piping bags with medium round tips or cut the piping bag tips to be about ½ inch wide.

Pipe a chocolate circle on half of the shells, then fill the circle with a dollop of cranberry curd and gently place a shell on top.

You can enjoy them immediately, but I recommend refrigerating the assembled macarons overnight.
Notes
The provided nutrition information is an estimate, the calorie accuracy is not guaranteed.
Nutrition
Calories:
252
kcal
Carbohydrates:
29
g
Protein:
3
g
Fat:
15
g
Saturated Fat:
7
g
Polyunsaturated Fat:
1
g
Monounsaturated Fat:
3
g
Trans Fat:
1
g
Cholesterol:
54
mg
Sodium:
16
mg
Potassium:
69
mg
Fiber:
2
g
Sugar:
25
g
Vitamin A:
314
IU
Vitamin C:
3
mg
Calcium:
30
mg
Iron:
1
mg
The provided nutritional information is an estimate per serving. Accuracy is not guaranteed.