I've been on a bit of a chai kick ever since I made my chai sugar cookies a few months back. I love adding spices to baked goods and now I just want to put chai spice in everything! Chai lattes with a shot of espresso are one of my favorite fall drinks, so I transformed them into dirty chai macarons! The shells are like a chai tea macaron and they're filled with espresso buttercream.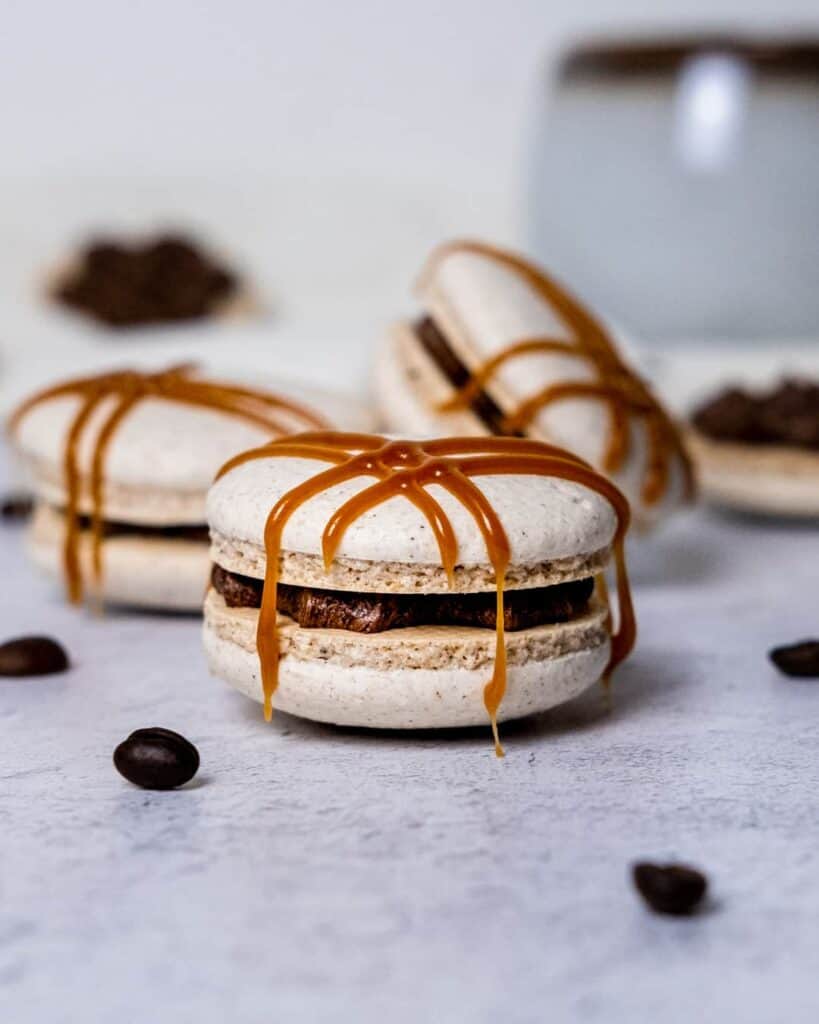 The first time I made macarons, I had absolutely no background information about how to make them, what ingredients they used, or anything else, really. I had tried maybe two macarons in my life before I made them on my own. The only thing I really knew about them was that they were difficult to make, and I wanted a baking challenge! It took me at least 3 attempts before I made macarons that didn't all crack or have a big empty bubble inside. One of my big problems was that I didn't know what stiff peaks were! I made them twice before thinking "hmm, I should probably look up exactly what stiff peaks are." And boy, was I wayyy off!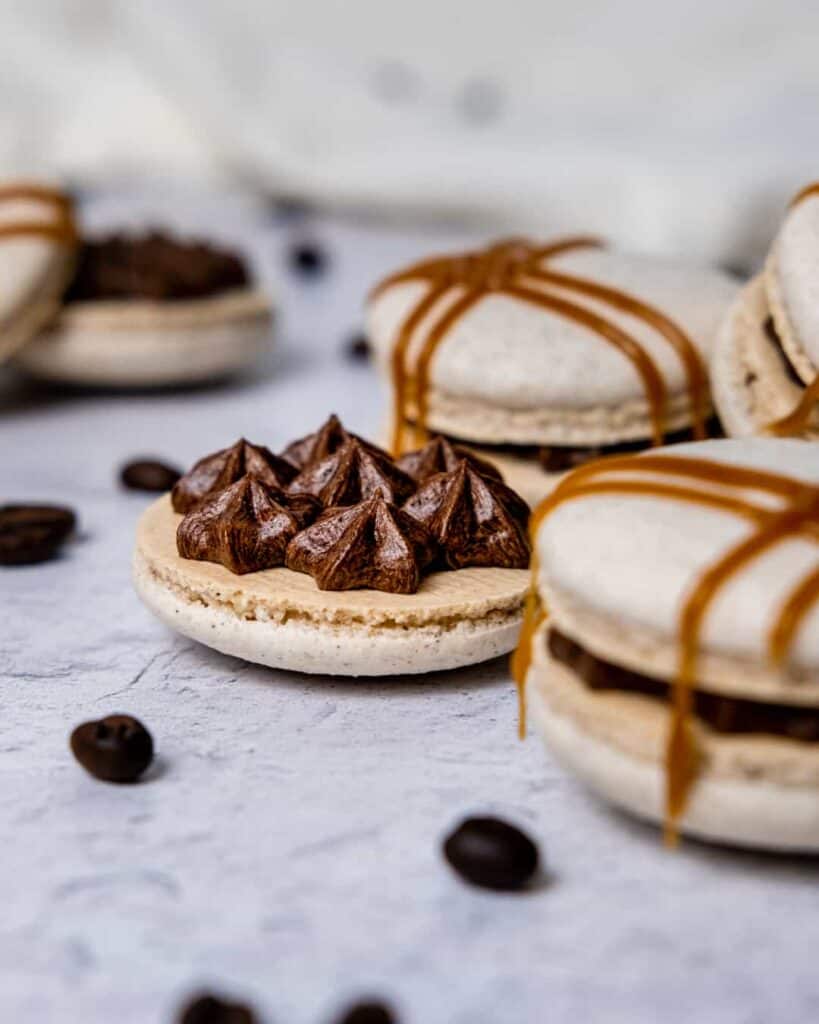 General Tips & Tricks for Macaron-Making:
Don't try to make them when it's hot and humid outside! Unless your home is much better at staying cold and dry than my 100 year old apartment... If it's too warm/humid, the macarons won't set properly after piping and they may crack
Weigh your ingredients instead of measuring. (If you don't have a kitchen scale, I definitely recommend getting one!) Accuracy is very important! (This is why my recipe is only in grams)
Make sure your egg whites are room temperature and the bowl you use to whip them is squeaky clean! These are both very important in reaching stiff peaks.
Fold the dry ingredients into the wet ingredients just the right amount. This is tricky and will take practice to get the perfect consistency down. A lot of recipes say to fold until they batter is glossy and can smoothly form a ribbon, so I tried to capture it in the photo walk-through below.
Use a silicone baking mat. Parchment paper works too, but the bottoms might not bake or stick as evenly as on a silicone mat. Macaron mats also have little circles on them to help get equal shell sizes!
Make sure your oven is at the right temperature - you don't want the shells rising too quickly or too slowly. Chances are, your oven isn't at the temperature it says it's at (mine runs ~50 degrees cooler), so I always have my oven thermometer in mine to make sure it's where it needs to be.
Don't put the shells in the oven before they're ready. You should be able to smoothly run your finger across the tops without them sticking at all. The time they need to set will differ based on your kitchen's temperature/humidity, but I always wait at least 30 minutes.
At no cost to you, I may earn from purchases made through affiliate links on this page.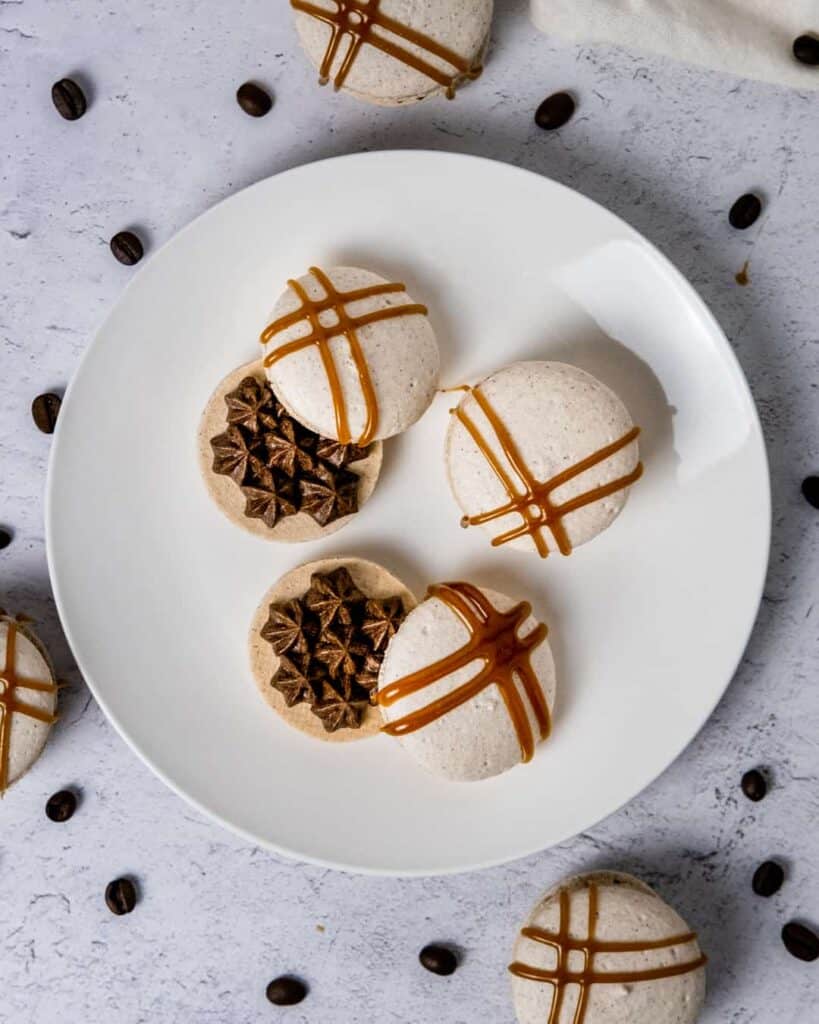 Photo Walk-Through:
I hope you found this helpful and are ready to go make the best macarons out there! If they don't turn out, don't be discouraged! It happens to the best of us (even after we make them successfully!) These can take time and practice, and different things work better for different people/kitchens. Let me know if you have any comments or questions!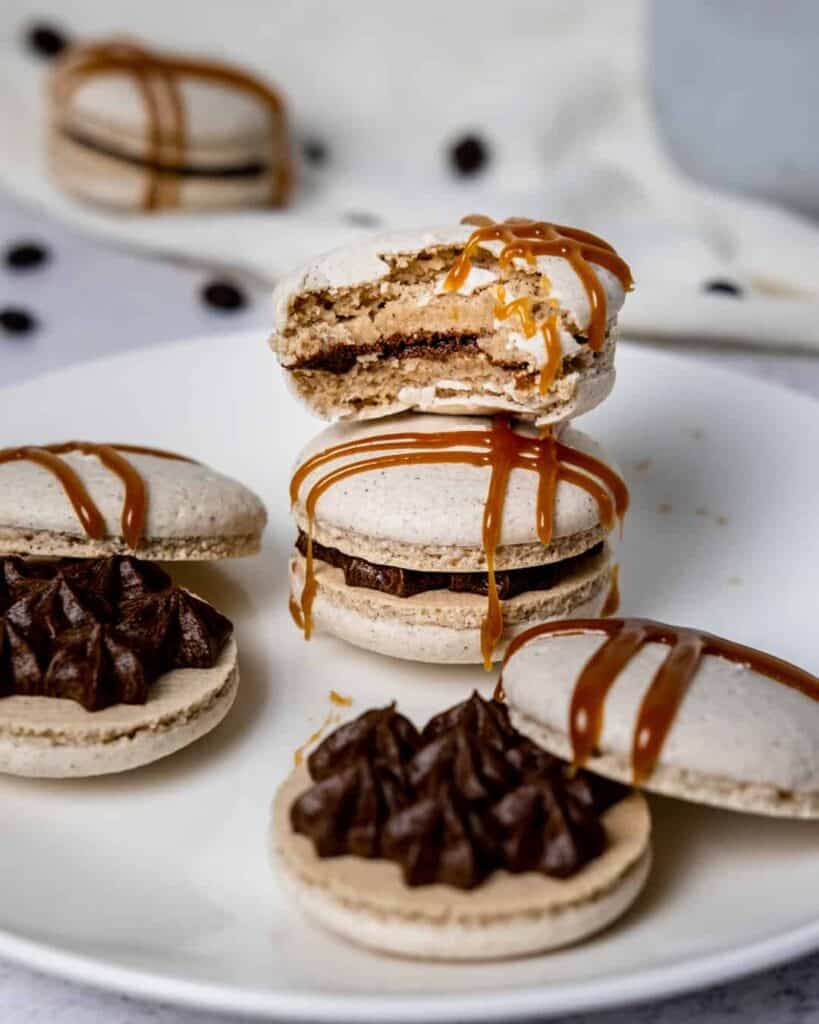 More Recipes You'll Love:
Did you try these Dirty Chai Macarons?
Tag @brokenovenbaking on Instagram & rate and comment below!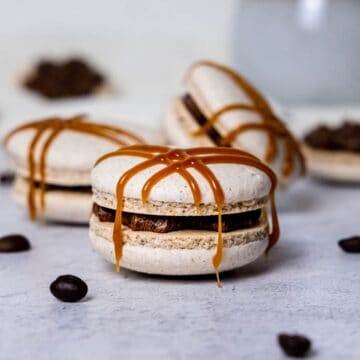 Dirty Chai Macarons
Chai latte with a shot of espresso, in macaron form!
Ingredients
Chai Macaron Shells
3

large

egg whites

~90g, room temperature

¼

teaspoon

cream of tartar

80

grams

granulated sugar

1

teaspoon

vanilla extract

125

grams

almond flour

120

grams

powdered sugar

2

teaspoons

chai spice

*see notes below
Espresso Buttercream
½

cup (1 stick)

unsalted butter

room temperature

2

cups

powdered sugar

2

tablespoons

espresso (or coffee)

2

tablespoons

milk or heavy cream

brown food coloring

optional
Instructions
Macaron Shells
Sift the almond flour and powdered sugar, then transfer to a food chopper and puree for 15 seconds in 5 second intervals. Sift them again, discard any clumps, and mix in the chai spice.

In a separate large, clean bowl, whisk the egg whites and cream of tartar using an electric mixer until they reach soft peaks. Add ⅓ of the sugar, whisk, and repeat until all of the sugar is mixed in. Add the vanilla and continue to whisk until you have stiff peaks.

Gently fold the dry ingredients into the wet ingredients using a spatula. The perfect consistency will appear shiny and when you lift a spatula-full to the height of the bowl, the batter will drizzle down in a smooth and steady manner.

Transfer the batter into a piping bag with a medium sized round tip. Pipe even circles onto a baking sheet covered in parchment paper or a silicone baking mat (if using parchment, put a few spots of batter in the corners under the paper so that it's secured to the sheet).

Lift your baking sheet about 12" and drop it onto the counter. Repeat 4 more times. (This is to help release any bubbles) Then, using a toothpick, smooth out any bubble holes or peaks in the batter.

Let the macarons sit in a dry environment for 40-60 minutes. They're ready to bake when they're no longer sticky to the touch. Preheat oven to 300°F while the macarons set.

Bake for 12-15 minutes and then let them cool completely before removing from the sheet.
Espresso Buttercream
Cream the butter, then add powdered sugar, espresso, milk, and optional food coloring. Mix until well combined.
Notes
*To make your own chai spice, combine:
1 teaspoon ground nutmeg
1 teaspoon ground cardamom
1 teaspoon ground cloves
1 teaspoon allspice
2 teaspoon cinnamon
3 teaspoon ginger