What's your favorite fruit pie? For me, banana cream pie has always been the winner! I've never really been a fan of other fruity pies because of the warm, mushy fillings (the texture just isn't for me). Banana cream pie is different - the fruit is sliced, cold & fresh, and layered with delicious pudding! I like to make this using graham cracker crust rather than normal pie crust. I think it pairs really well with the banana and pudding!
At no cost to you, I may earn from qualifying purchases made through links on this page.
Tips & Storage:
Be careful when you're adding the warm milk mixture to the egg yolks. You want to make sure you're pouring it in slowly and stirring the entire time so that it doesn't cook the egg yolks too quickly.
Make sure your pie crust and pudding are both completely cooled before adding the pudding to the crust.
When layering the pudding over the banana slices, add small dollops all over and then carefully spread it around so it covers the banana evenly. Only add enough pudding so that it just covers the slices. I usually have enough room for 3 pudding layers/4 banana layers (especially with my deep 9" pie dish!)
Depending on the depth of your pie dish, you may have leftover pudding. It's delicious to eat on it's own, or I recommend making some banana cream pie jars! (See below)
Store leftover pie in the refrigerator for up to 4 days. The longer it's kept, the browner the bananas will get (and the soggier the crust will get). Brown bananas may not look very appetizing, but they're still good to eat!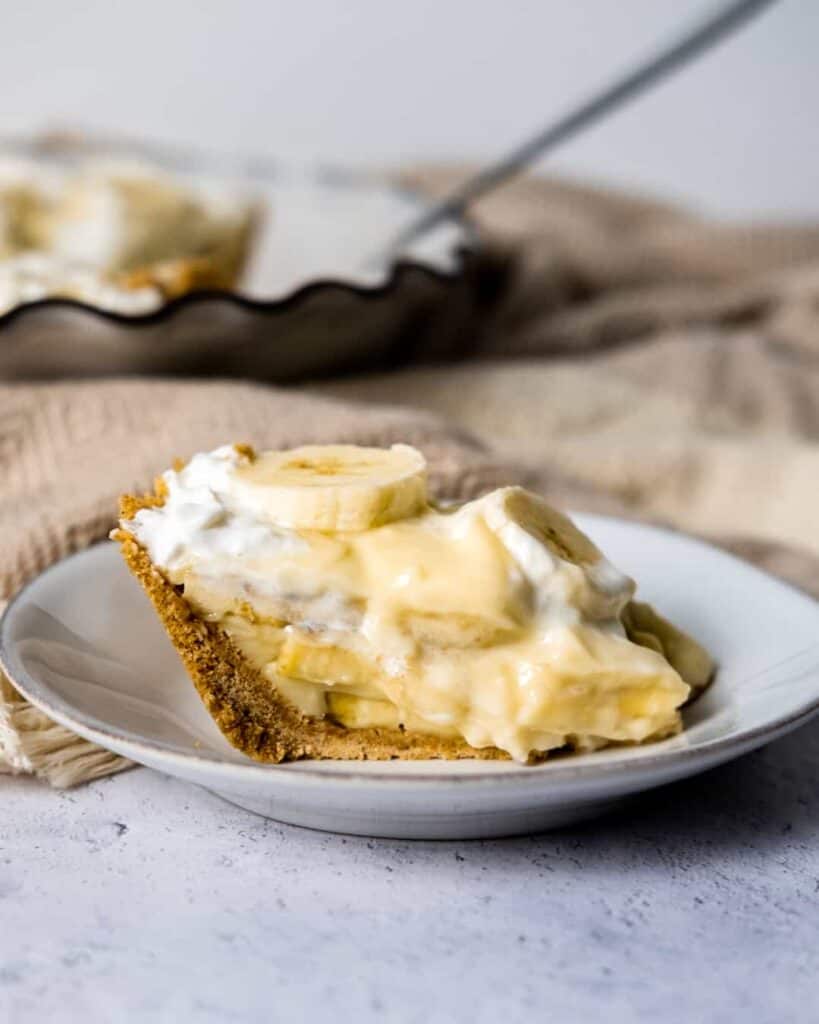 How to make Banana Cream Pie jars:
Gather a few clean, empty jars (I like to re-use jars from Bonne Maman preserves)
Cut the pudding recipe in half and follow instructions 2-6 to prepare the pudding (or use leftover pudding if you have any from making the pie).
Instead of making a graham cracker crust, you'll just use graham cracker crumbs.
In each jar: layer graham cracker crumbs, pudding, banana slices, and whipped cream until the jar is full!
Did you try this recipe?
Tag @brokenovenbaking on Instagram and rate & comment below!
More Tasty Recipes: