Looking for an elegant dessert to impress your tastebuds? (Or someone else's, maybe?) This strawberries and cream crepe cake is all you'll need! Just imagine biting into soft crepes layered with a fluffy cream cheese filling and fresh, sliced strawberries.
Now, what if I told you that you could actually be doing that within the next two hours? This 12-layer crepe cake is so easy and quick to whip up! It's the perfect treat for special occasions like, say, Valentine's Day?!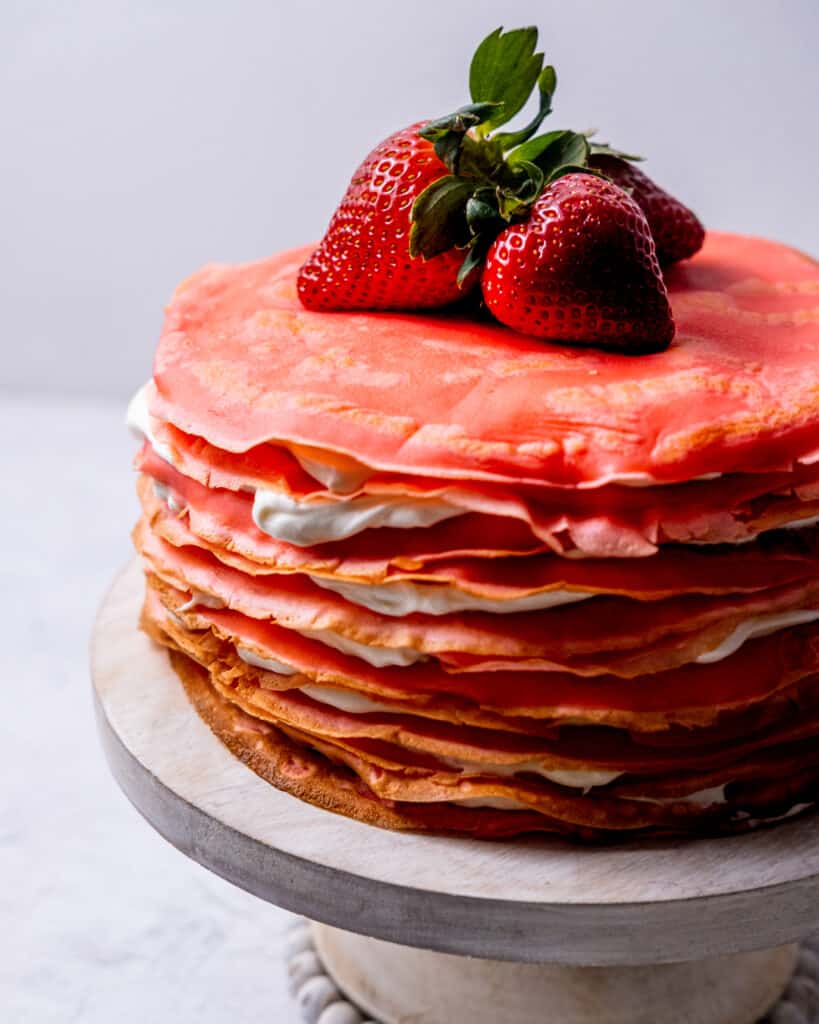 I had only made crepes a handful of times before this cake, and every time I make them I remember how amazing they are! All you have to do is pulse the ingredients in a blender and then flip them on a pan! They're also really fun because you can make them whatever color you want! I chose to make mine pink to go with the strawberries and a Valentine's theme.
If you're not too great at flipping things, that's okay! They're incredibly forgiving. If they get crumpled up, you can gently take your spatula and spread them back out and they'll look good as new! Even if you do poke a few holes in them, that's okay too! They're going to be layered and filled with cream so nobody's going to notice!
I know this is a recipe for a strawberries and cream crepe cake, but really you can use any fruit you'd like. You can even use fruit preserves or chocolate, or all of the above! Layer and fill them however your heart desires. This cake is all about you and your tastebuds!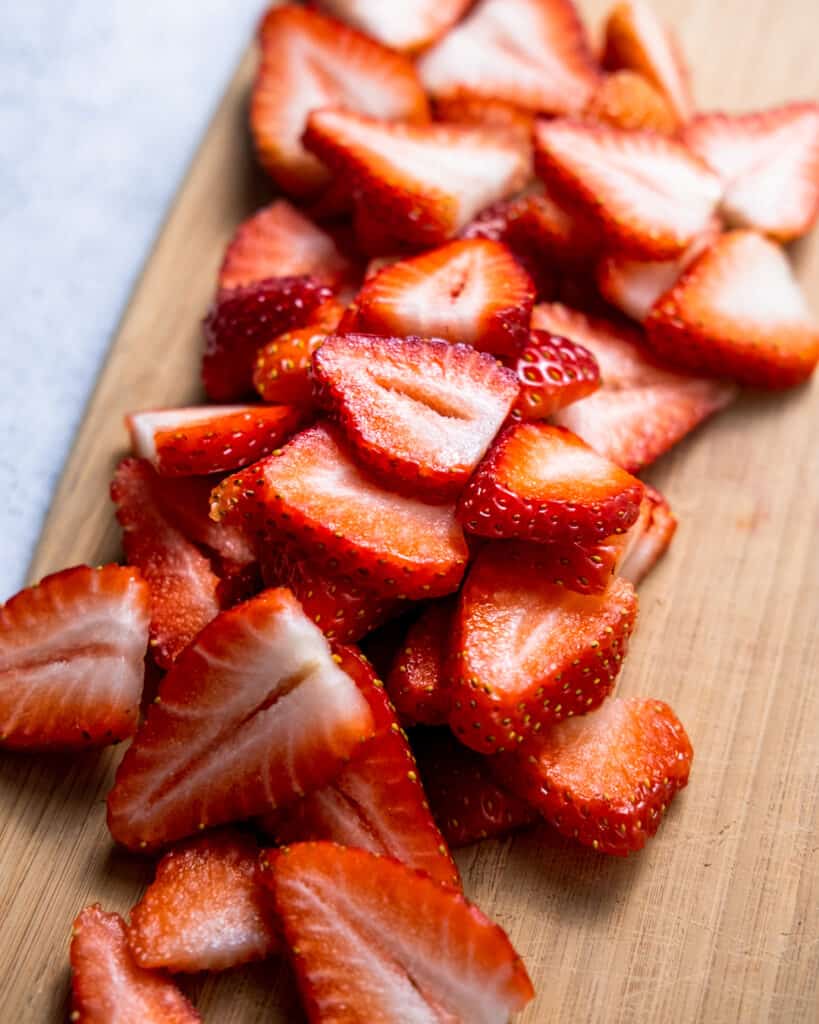 Tips & Storage:
Do I need to refrigerate the batter before cooking the crepes?
Yes! This step is important for getting your crepes to be soft. Refrigerating the batter gives the gluten [in the flour] time to rest and absorb the liquid ingredients.
Can I use a smaller pan?
Yes, but you'll want to pour less batter into the pan per crepe (I'd recommend about 2 tablespoons of batter). You'll end up with more than 12 crepes, so you could stack a higher cake (if it doesn't fall over). Or, you could make two small crepe cakes or just eat the extra crepes normally.
Can I use a bigger pan?
Yes, but you'll want to pour more batter into the pan per crepe to fill the entire bottom of the pan. It's very difficult to make circular crepes that do not extend to the edges of the pan, so I don't recommend trying to make, say, 8-inch crepes in a 12-inch pan.
How should I store this crepe cake?
This cake can be stored in the refrigerator for up to 5 days.
Can I make this cake ahead of time?
The cream cheese filling should be made fresh, but the crepes can be made ahead of time. You can make the crepes and store them in the refrigerator for up to 2 days or in the freezer for up to 1 month. If you do this, be sure to layer wax or parchment paper between each crepe so they don't stick together. Let them thaw before taking them apart to make the cake.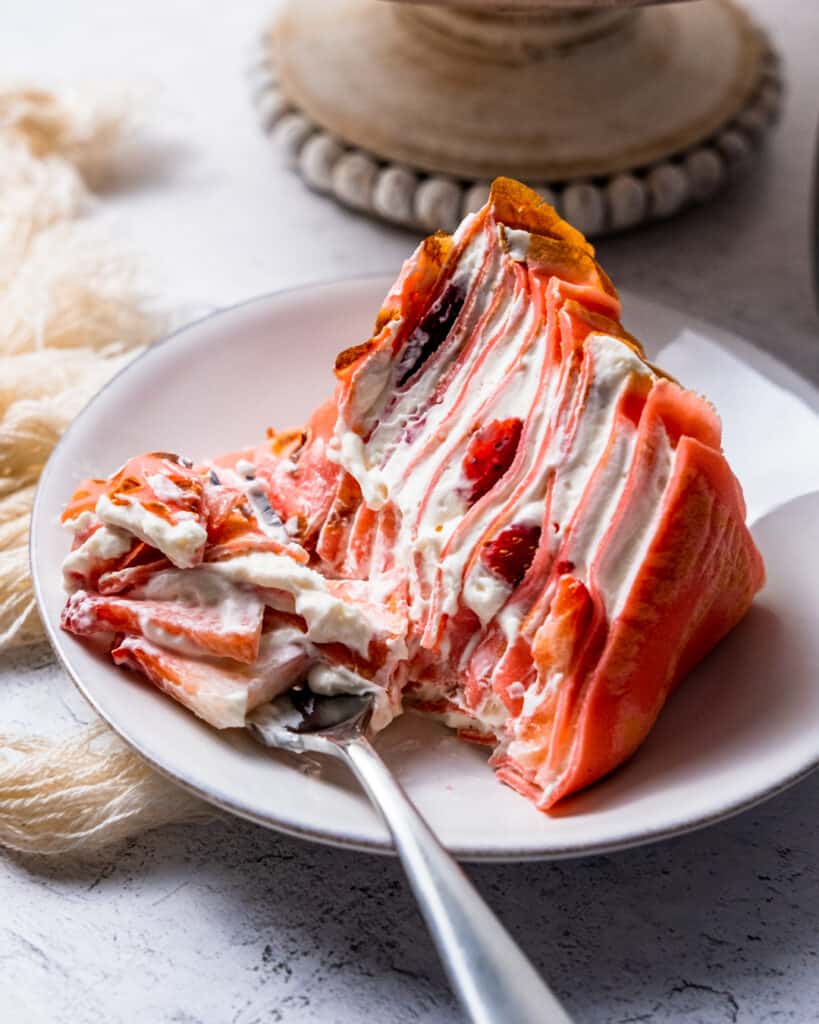 Did you try this recipe?
Tag @brokenovenbaking on Instagram and rate & comment below!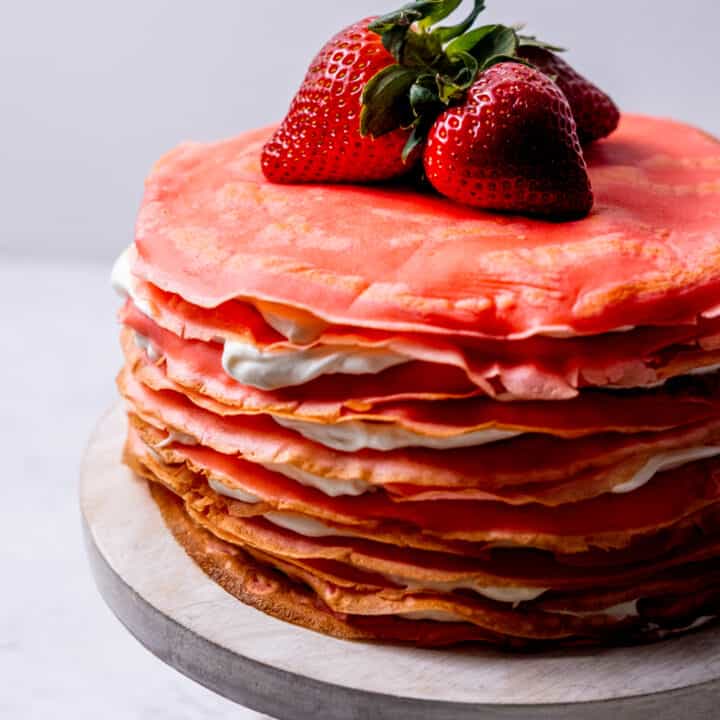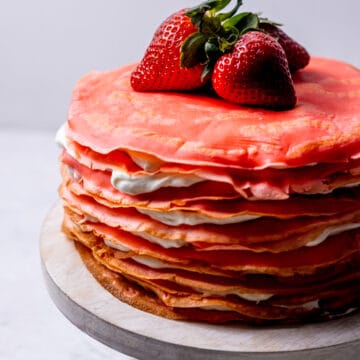 Strawberries and Cream Crepe Cake
This strawberries and cream crepe cake is layered with fresh berries and a cream cheese filling. It's a special treat that's sure to impress!
Equipment
Blender

Non-stick 8 inch pan

Mixing bowls

Measuring spoons

Measuring cups

Electric mixer

Spatula

Whisk
Ingredients
Crepes
1

cup

whole milk

3

large

eggs

5

tablespoons

unsalted butter

melted

½

teaspoon

vanilla extract

¾

cup

all-purpose flour

¼

cup

granulated sugar

⅛

teaspoon

salt

food coloring

optional
Cream Cheese Frosting
12

ounces (1½ blocks)

cream cheese

room temperature

¼

cup

sour cream

⅓

cup + 2 tablespoons

granulated sugar

½

teaspoon

vanilla extract

1⅛

cup

heavy whipping cream

½

pound (8 ounces)

strawberries (or more/less as preferred)

thinly sliced (leave a few whole for decorating)
Instructions
Crepes
Add all the crepe ingredients (milk through salt) into a blender and pulse for 15 seconds. Carefully remove the lid, scrape down the sides, and pulse for another 15 seconds.

Transfer the crepe batter to a bowl and add a few drops of food coloring. Keep whisking and adding food coloring until you reach your desired color. Cover and refrigerate for at least 60 minutes.

While the batter is chilling, make the cream cheese filling.

Set aside a plate covered with parchment paper. Heat an 8 inch non-stick pan on low-medium heat and lightly grease it with butter.

When the pan is hot, add slightly less than ¼ cup of crepe batter to the center. Immediately lift and swirl the pan to evenly coat the bottom with batter.

After 30 seconds, carefully run a rubber spatula along the edge of the crepe and then lift the crepe and tuck the spatula underneath to flip it on its other side. Let that side cook for another 30-45 seconds and then carefully transfer it from the pan to the prepared plate.

Repeat until you're out of batter. This should make about 12 crepes.
Cream Cheese Filling
In a medium bowl, whisk the heavy whipping cream with an electric mixer until it's thick with stiff peaks. Let it chill in the fridge while you prepare the rest.

Mix together the cream cheese, sour cream, sugar, and vanilla extract in a separate bowl until smooth and creamy. Then, gently fold in the whipped cream until it's all combined well.
Assemble the Cake
Once the crepes have cooled completely, you can start assembling the cake!

Evenly spread the filling on top of one crepe (~¼ inch thick), and then layer with another crepe. This time, spread filling on top and add a few strawberry slices around the cream. Place another crepe on top and repeat these steps until you've used up all of the crepes.

It doesn't matter which side of the crepes face upward, although I prefer layering with the side that was cooked second upward as I've noticed the color tends to be more vibrant.

If you want more fruit in your crepe cake, feel free to add strawberry slices to every layer. However, you may need more than ½ pound (8 ounces) of strawberries.

Top with whole strawberries and enjoy!
More Delicious Recipes: