Looking for an elegant dessert to impress your tastebuds? (Or someone else's, maybe?) This Strawberries and Cream Crepe Cake is all you'll need! Just imagine biting into soft crepes layered with a fluffy cream cheese filling and fresh, sliced strawberries. Better yet, do it in real life in about an hour! That's all the time it takes to whip up this delicious cake and it's much easier than it looks!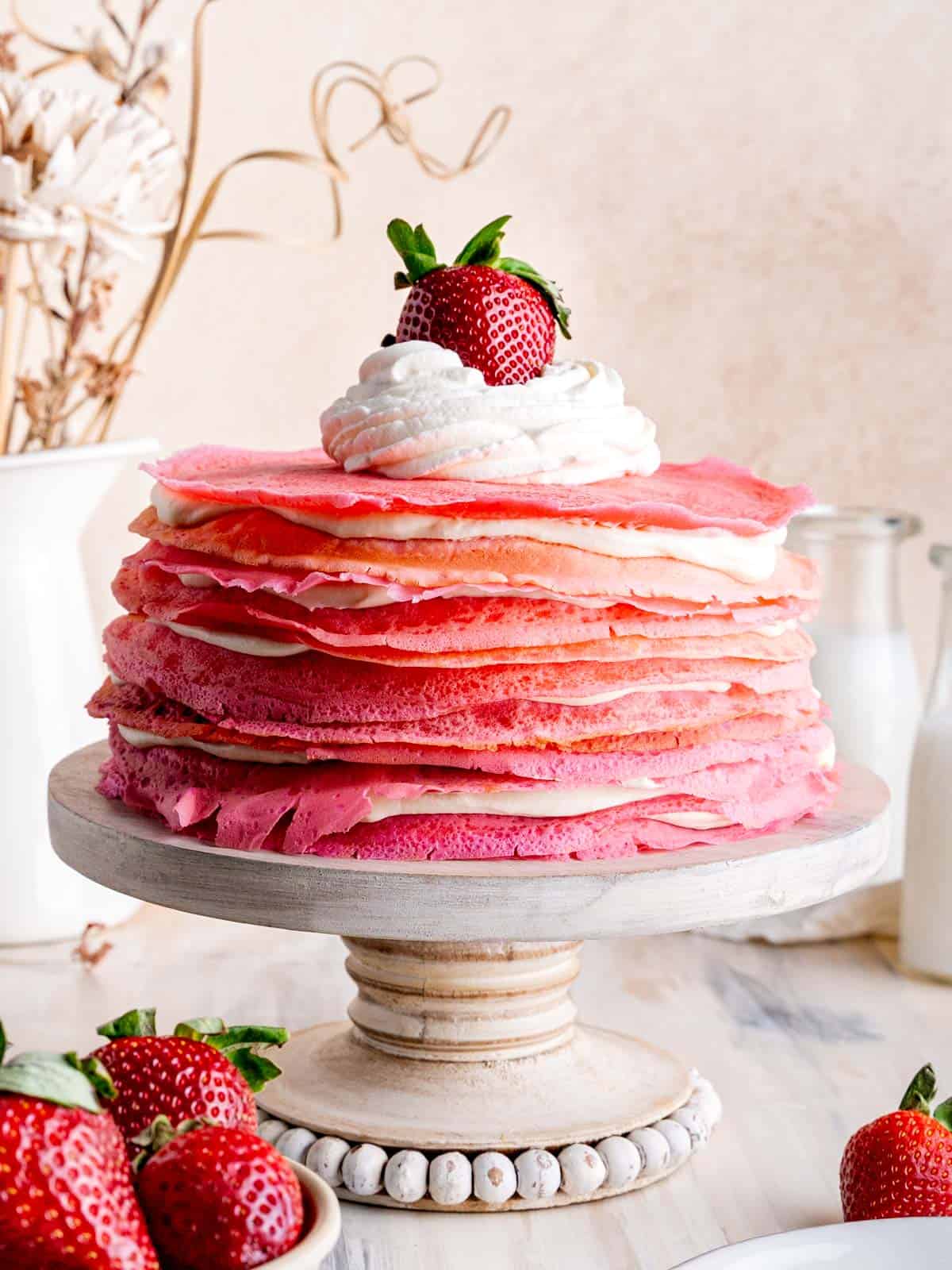 Though this is inspired by the classic, beautiful Mille Crêpes, it's not an authentic French or Japanese crêpe cake. I actually wasn't even introduced to crepes until I was an adult. My boyfriend's family is Polish and he grew up eating crepes filled with farmer's cheese or applesauce for dinner. This made me want to give them a try! They also love cheesecake (as do I), so I decided to make a strawberry crepe cake with no bake cheesecake filling! It's now one of my boyfriend's favorite desserts that I make! And now that I've made my own crepe cake, I hope to try one from Lady M someday. I've been told by a foodie friend that this reminds her of them!
One thing I love about crepes is that you can make them whatever color you want with a touch of food dye! You can even layer multiple shades to make them look ombré, or make it a rainbow cake. I chose to make this cake shades of pink to go with the strawberries, and it's so perfect for Valentine's Day! However, you can also leave them with their natural color.
Jump to:
Note: This recipe was originally published on February 9th, 2021 and republished on January 22nd, 2022. No changes were made to the ingredient measurements.
Ingredients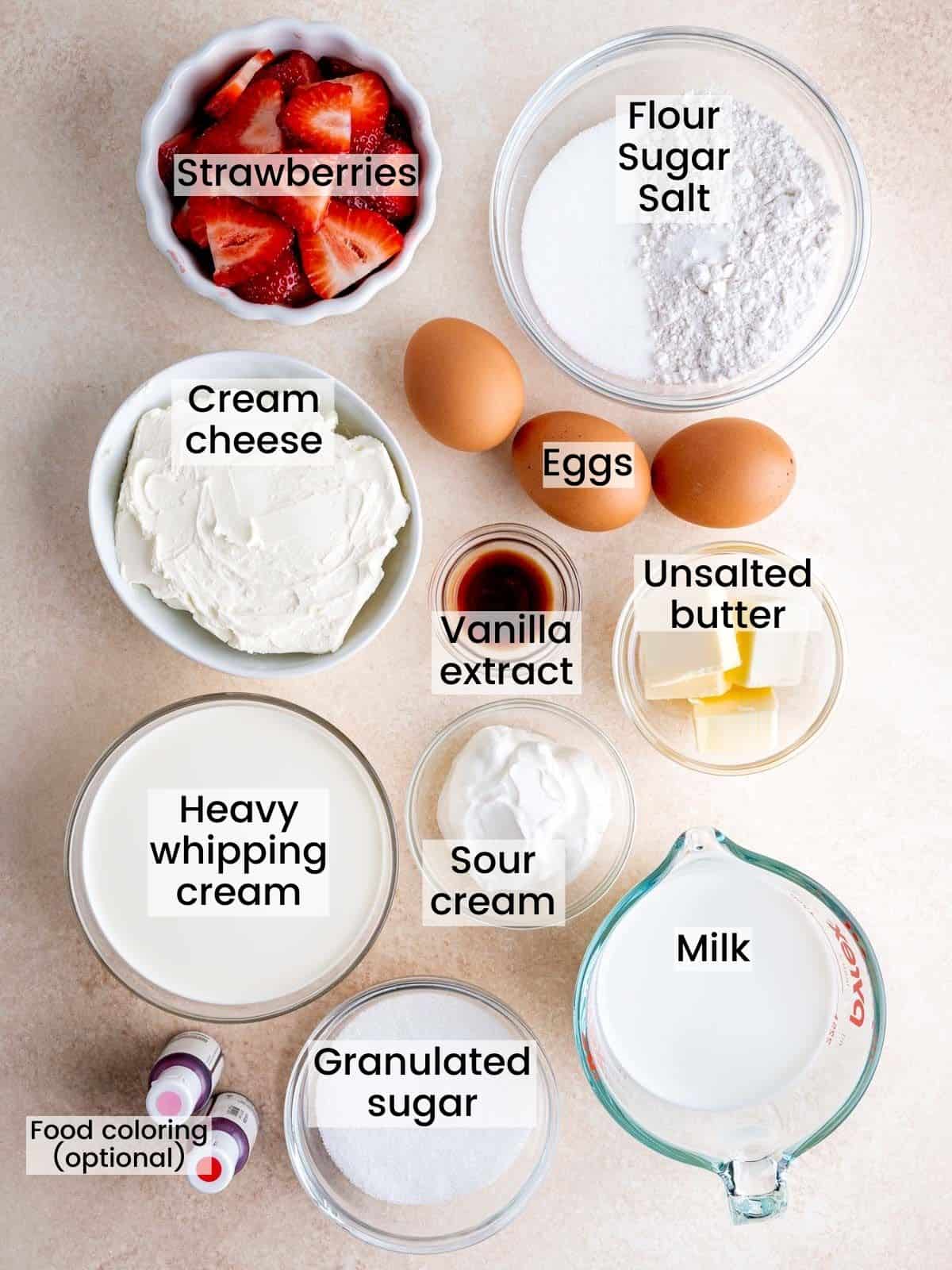 Strawberries: I like using fresh strawberries and slicing them, but you could also use a strawberry jam (or whatever flavor you'd like!)
All purpose flour
Granulated sugar
Salt
Eggs
Vanilla extract
Unsalted butter: Melted and cooled.
Cream cheese
Heavy whipping cream
Sour cream
Milk: I recommend using 2% or whole milk.
Food coloring (optional)
See recipe card below for quantities.
Substitutions & Variations
This recipe has not been tested with any substitutions. If you do replace any ingredients, please let us know how they turned out in the comments below!
Feel free to use a different fruit or a combination of various ones instead of just strawberries. You could also use a fruit spread like strawberry or raspberry jam in place of the fresh berries. Flavor the cake with whatever your heart desires!
Equipment
You'll want an 8 inch nonstick skillet to make the crepes in. A slightly smaller or larger one will work, but the amount of batter that you pour into it should decrease/increase respectively and you'll likely end up with more/less crepes.
The crepe batter will be mixed in a blender. An immersion blender or food processor would likely work as well, but I haven't tested these methods.
To make the cheesecake filling, I recommend using a hand mixer. It can be done by hand with a whisk, but this will take more energy and muscle.
Step by Step Instructions
This strawberries and cream crepe cake may look extravagant and time-consuming, but it's actually very simple and quick to make! There's no baking involved or intense decorating like with traditional layer cakes.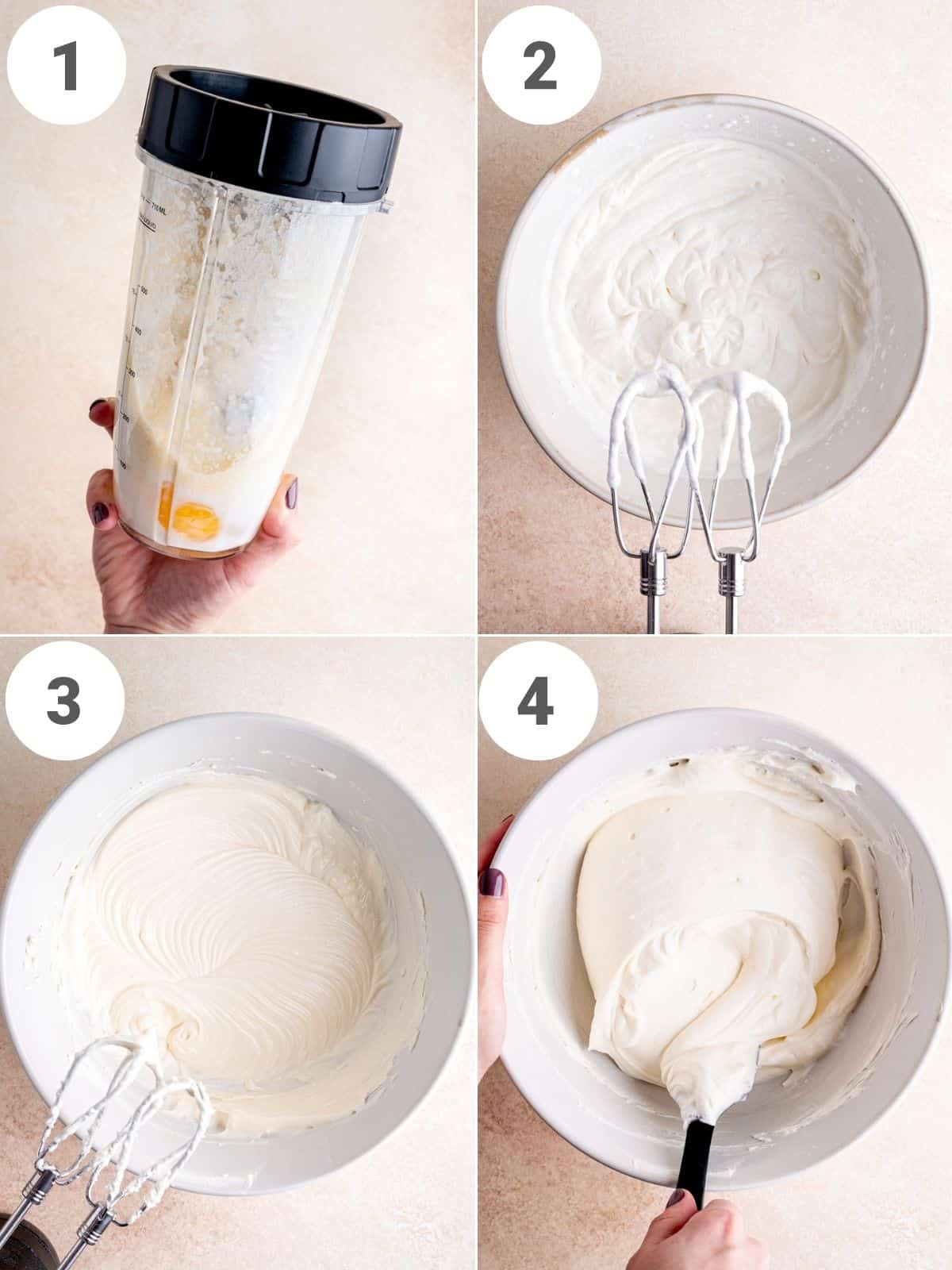 Making the Crepe Batter and Filling
Step One (Picture 1 above) - Blend together the milk, eggs, melted butter, vanilla extract, flour, sugar and salt for about 30 seconds. Stop halfway to scrape down the sides if ingredients are sticking to the blender. Cover and place in the refrigerator while you make the cream cheese filling.
Step Two (Picture 2 above) - Using a hand mixer, whisk the cold heavy cream in a medium bowl until it reaches stiff peaks. This is when the cream is firm and holds its shape when you lift the beaters from the bowl.
Step Three (Picture 3 above) - In a large bowl, beat the cream cheese until it's smooth. Mix in the sour cream, sugar and vanilla extract really well.
Step Four (Picture 4 above) - Gently fold the whipped cream into the cream cheese mixture.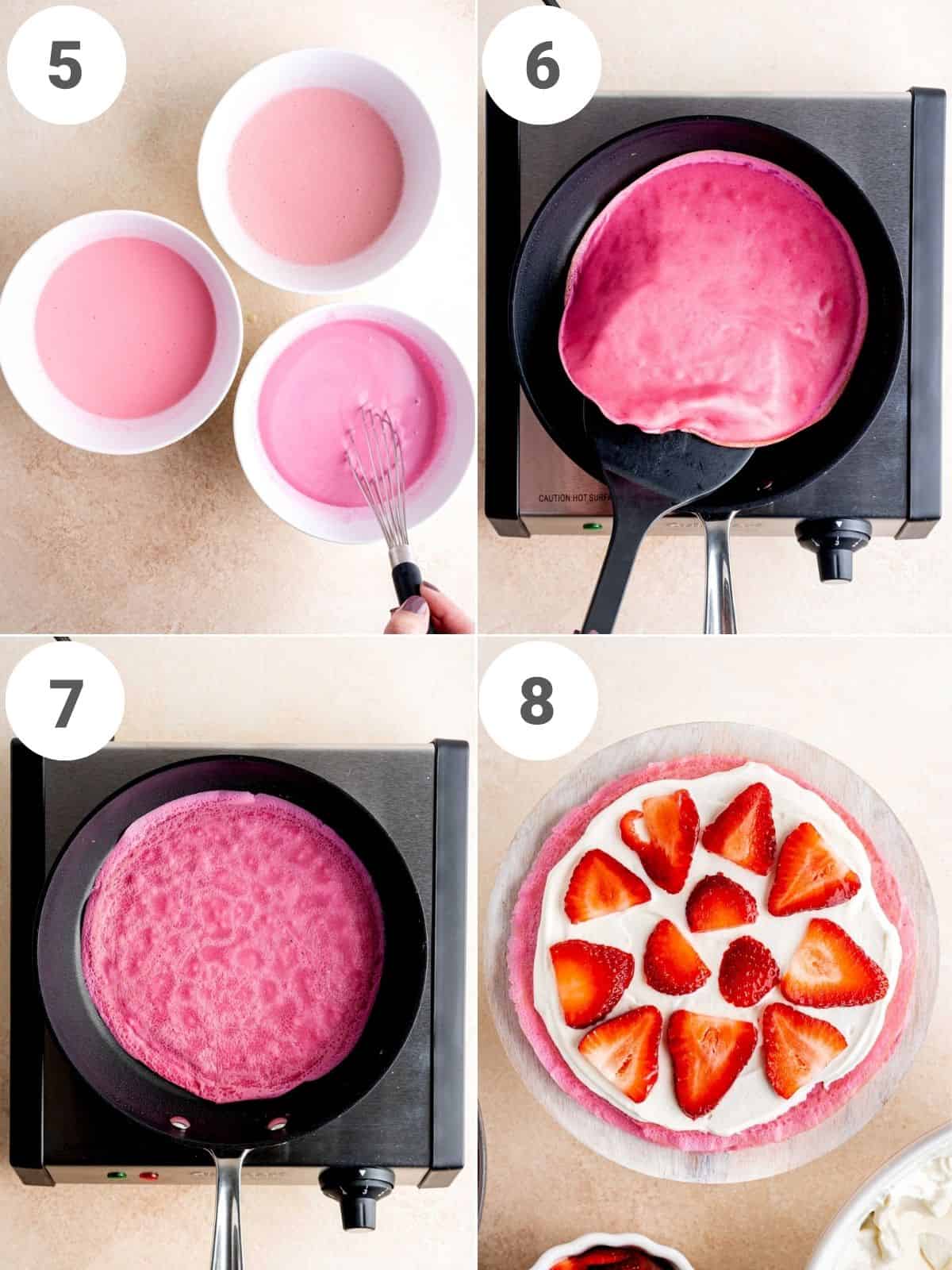 Cooking the Crepes and Assembling the Cake
Step Five (Picture 5 above) - If dying the crepe batter multiple colors, split it up into bowls and stir in the food coloring.
Step Six (Picture 6 above) - Heat an 8 inch nonstick skillet over medium/low heat and grease it lightly with butter. Pour slightly less than ¼ cup of batter into the frying pan and tilt it so that the batter fills the bottom. When the edges look dry and flaky, carefully slip a spatula underneath the crepe and flip it.
Expert Tip - To flip the crepes, run a flexible spatula along the edges to make sure it isn't stuck to the pan. Then, use it to lift the edge up while you slip a flat spatula underneath the crepe. If you do have trouble flipping and the crepes get some holes in them, that's okay! You won't be able to tell once the cake is assembled.
Step Seven (Picture 7 above) - Crepes are generally pretty forgiving so if it's wrinkled after you've flipped it, you should be able to gently move it with the spatula to flatten it out. Let the other side cook for another 30-45 seconds and then move it to a plate lined with parchment paper. Repeat this process - it should make at least 12 crepes if using an 8 inch pan.
Step Eight (Picture 8 above) - Place one crepe on a cake stand or plate. Spread a couple spoonfuls of cheesecake filling on top and then add thinly sliced strawberries. Continue layering crepes with strawberries and cream until you've used all of them up. I usually only add berries in every other layer, but feel free to use as many as you like!
Recipe FAQs
Do I need to refrigerate the batter before cooking the crepes?
Yes! This step is important for getting your crepes to be soft. Refrigerating the batter gives the gluten from the flour time to rest and absorb the liquid ingredients.
Can I use a smaller pan?
Yes, but you'll want to pour less batter into the pan per crepe (I'd recommend about 2 tablespoons of batter). You'll end up with more than 12 crepes, so you could stack a higher cake (if it doesn't fall over). Or, you could make two small crepe cakes or eat the extra crepes any way you like.
Can I use a bigger pan?
Yes, but you'll want to pour more batter into the pan per crepe to fill the entire bottom of the pan. It's very difficult to make circular crepes that do not extend to the edges of the pan, so I don't recommend trying to make, say, 8-inch crepes in a 12-inch pan.
How should I store this crepe cake?
This cake can be stored in the refrigerator for up to 1 week.
Can I make this cake ahead of time?
The cream cheese filling should be made fresh, but the crepes can be made ahead of time. You can make the crepes and store them in the refrigerator for up to 2 days or in the freezer for up to 1 month. If you do this, be sure to layer wax or parchment paper between each crepe so they don't stick together. Let them thaw before taking them apart to make the cake.
How should I decorate this cake?
I just top it with a swirl of whipped cream and fresh strawberries. Super simple yet elegant!
What does this strawberry crepe cake taste like?
Since it's made with a no bake cream cheese filling, it tastes a lot like strawberry cheesecake!
Do you have an easier fruity cheesecake recipe?
Yes! These No Bake Cheesecake Bites are a bit less work and have a graham cracker crust.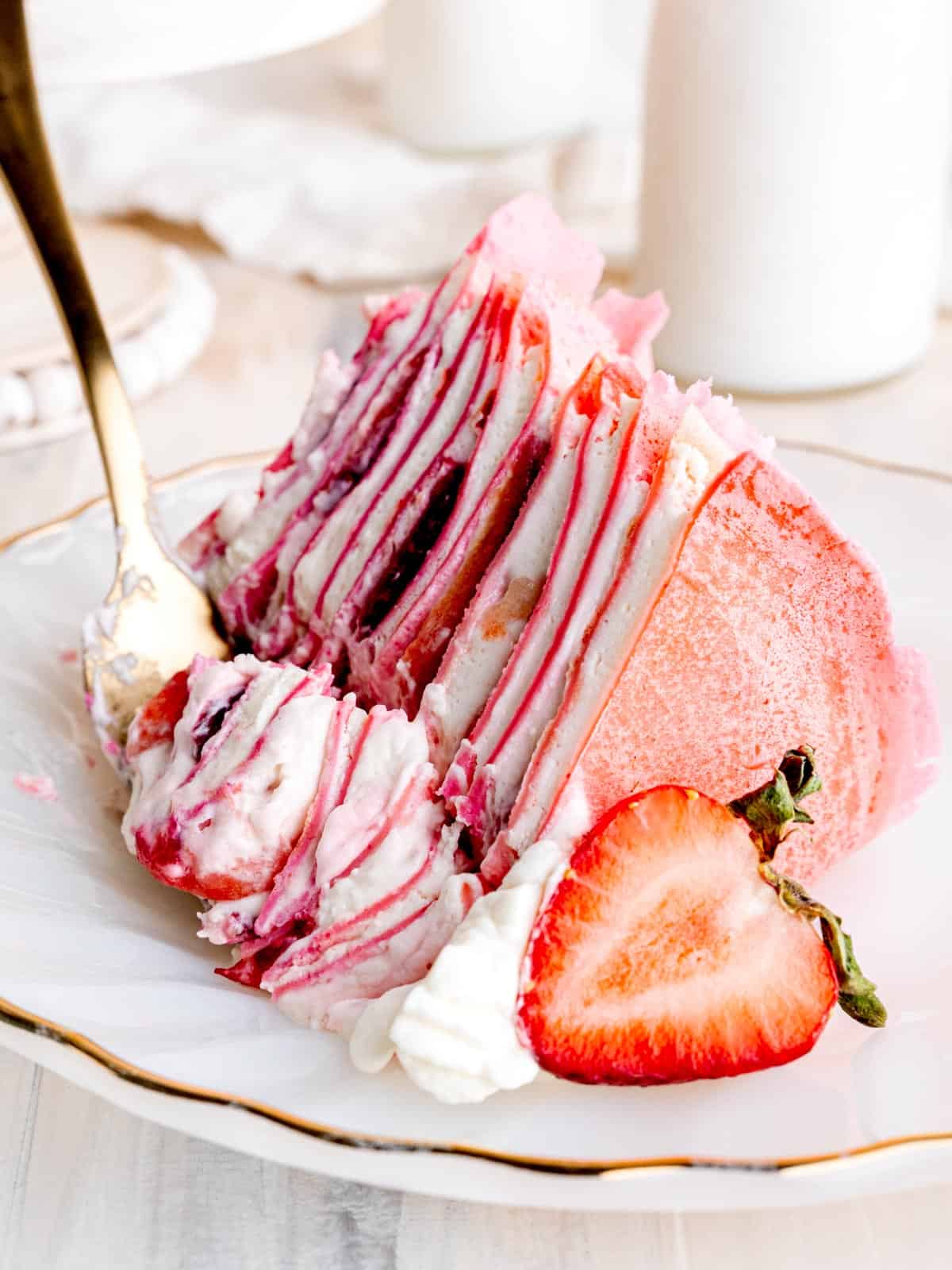 Storage
Store leftovers in an airtight container in the refrigerator for up to 1 week. I do not recommend freezing this cake.
Did you try this recipe? I'd love to see how it turned out!
Tag @brokenovenbaking on Instagram or Facebook & leave a ⭐️ review below!
📖 Recipe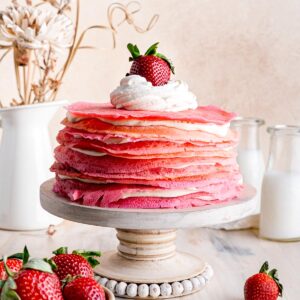 Strawberries and Cream Crepe Cake
This strawberries and cream crepe cake is layered with fresh berries and a cream cheese filling. It's a special treat that's sure to impress!
Equipment
Blender

Non-stick 8 inch pan

Mixing bowls

Measuring spoons

Measuring cups

Electric mixer

Spatula

Whisk
Ingredients
Crepes
1

cup

whole milk

3

large

eggs

5

tablespoons

unsalted butter

melted and cooled

½

teaspoon

vanilla extract

¾

cup

all-purpose flour

¼

cup

granulated sugar

⅛

teaspoon

salt

food coloring

optional
Cream Cheese Frosting
12

ounces (1½ blocks)

cream cheese

room temperature

¼

cup

sour cream

⅓

cup + 2 tablespoons

granulated sugar

½

teaspoon

vanilla extract

1⅛

cup

heavy whipping cream

½

pound (8 ounces)

strawberries (or more/less as preferred)

thinly sliced (leave a few whole for decorating)
Instructions
Crepe Batter
Add all the crepe ingredients (milk through salt) into a blender and pulse for 15 seconds. Carefully remove the lid, scrape down the sides, and pulse for another 15 seconds. Cover and refrigerate for at least 30 minutes.

While the batter is chilling, make the cream cheese filling.
Cream Cheese Filling
In a medium bowl, whisk the heavy whipping cream with an electric mixer until it's thick with stiff peaks. Let it chill in the fridge while you prepare the rest.

Mix together the cream cheese, sour cream, sugar, and vanilla extract in a separate bowl until smooth and creamy. Then, gently fold in the whipped cream until it's all combined well.
Crepes
Transfer the crepe batter to a bowl and add a few drops of food coloring. Keep whisking and adding food coloring until you reach your desired color.

Set aside a large plate or tray covered with parchment paper. Heat an 8 inch non-stick pan on low-medium heat and lightly grease it with butter.

When the pan is hot, add slightly less than ¼ cup of crepe batter to the center. Immediately lift and swirl the pan to evenly coat the bottom with batter.

After 30 seconds, carefully run a flexible spatula along the edge of the crepe and then lift the crepe and tuck a flat spatula underneath to flip it on its other side. Let that side cook for another 30-45 seconds and then carefully transfer it from the pan to the parchment-covered dish.

Repeat until you're out of batter. This should make about 12 crepes.
Assemble the Cake
Once the crepes have cooled completely, you can start assembling the cake!

Evenly spread cheesecake filling on top of one crepe (~¼ inch thick), and then add strawberry slices and layer with another crepe. Repeat until you've used up all of the crepes. Note: I only add strawberries to every other layer, but feel free to use as many as you like.

The cake may be eaten immediately, but I recommend letting it sit in the refrigerator for at least an hour so that the filling has time to set. This makes it easier to get nice, clean slices.

Top with whipped cream and whole strawberries. Enjoy!
Video
Notes
Store leftovers in an airtight container in the refrigerator for up to 1 week. I don't recommend freezing this cake.
Feel free to use a different fruit or jam in place of the strawberries.
The provided nutrition information is an estimate for one slice if the cake is cut into 12 slices. The calorie accuracy is not guaranteed.
Nutrition
Calories:
342
kcal
Carbohydrates:
24
g
Protein:
5
g
Fat:
26
g
Saturated Fat:
15
g
Polyunsaturated Fat:
1
g
Monounsaturated Fat:
7
g
Trans Fat:
1
g
Cholesterol:
125
mg
Sodium:
155
mg
Potassium:
146
mg
Fiber:
1
g
Sugar:
16
g
Vitamin A:
987
IU
Vitamin C:
11
mg
Calcium:
83
mg
Iron:
1
mg
The provided nutritional information is an estimate per serving. Accuracy is not guaranteed.