Caramel apples are a fall staple and I'd like to introduce a new way to enjoy them! Caramel Apple Crepe Cake has tender crepes stacked with homemade whipped cream, salted caramel sauce and freshly sliced apples! It's a fun way to transition from summer and use up your stash from apple picking! Plus, the crepes are deliciously flavored with Lifeway Organic Vanilla Whole Milk Kefir!
This post is sponsored by Lifeway. It contains affiliate links, meaning that I could earn from purchases made through them. It doesn't add any extra cost to you, but it does help support this blog!
Jump to: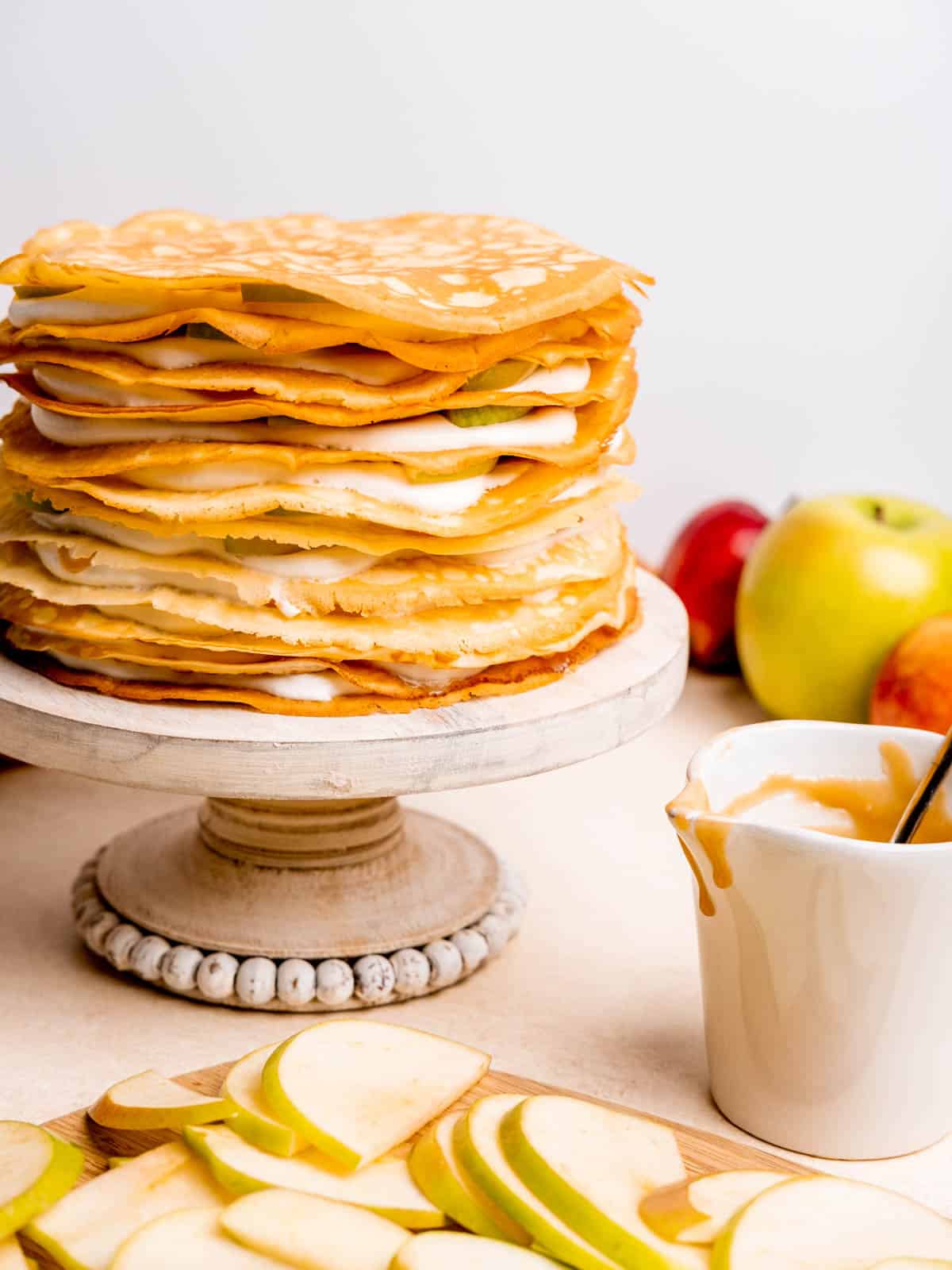 What You Need to Make This Crepe Cake
Ingredients:
Whole milk
Unsalted butter
Eggs
All purpose flour
Granulated sugar
Light brown sugar
Salt
Heavy whipping cream
Vanilla extract
Powdered sugar
Equipment:
Small saucepan
Spatula
Mixing bowls
Scale or measuring cups
Do you love kefir? Try these Blueberry Cream Pie Jars!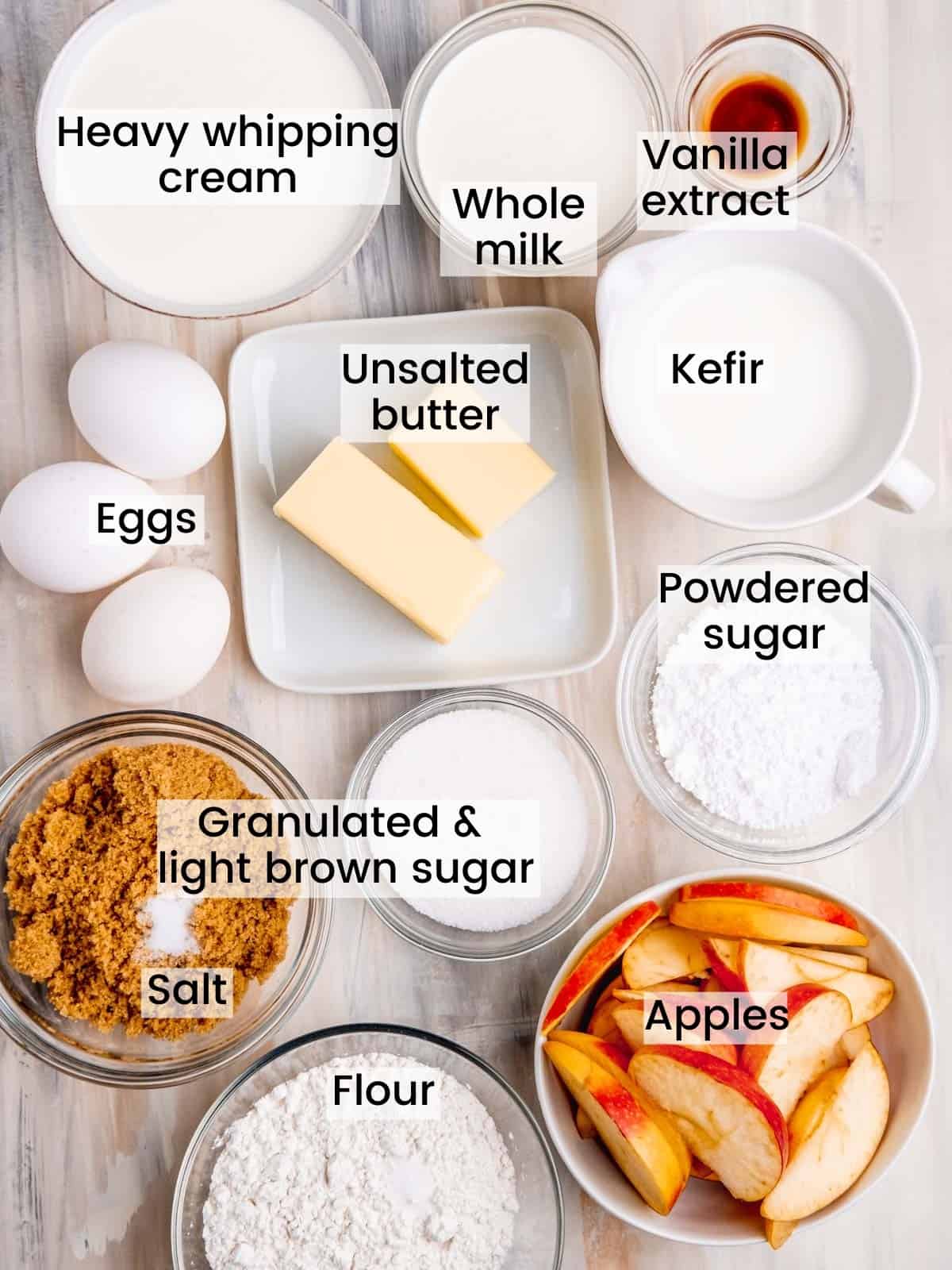 Step by Step Instructions
This recipe is perfect for transitioning from summer to fall because it's refreshing & no bake, but also embraces autumn flavors! I've shared a short video on TikTok showing how I made this cake!
Step 1 (Picture 1 below) - Make the crepe batter.
Add the eggs, kefir, milk, melted butter, flour, sugar and salt to a blender in that order. Then, pulse the blade 2 times for 15 seconds each. Put the lid on the blender and place it in the refrigerator for about an hour, while you prepare the rest of the components!
Step 2 - Make the caramel sauce.
This salted caramel sauce is super simple and fool proof! All you have to do is stir the brown sugar, salt and butter in a saucepan over medium-low heat until it starts to simmer. Stop stirring for a couple minutes, and then mix in the cream and let that simmer for a few more minutes!
Step 3 (Picture 2 below) - Whip the cream.
Homemade whipped cream is so underrated! It's extremely easy to make and tastes a million times better than canned. Pour the cold heavy whipping cream in a bowl and then whisk it until it starts to thicken. (Using a hand mixer makes this process a little faster, but doing it by hand should give you a nice arm workout.) Add the powdered sugar and vanilla extract and keep whisking until it reaches stiff peaks! This is when you take the whisk out of the bowl and it has a little peak that holds its shape on the whisk and in the bowl!
Step 4 (Picture 3 below) - Cook the crepes.
This can be a bit tricky! You want to get the pan to the perfect temperature so that the crepes cook and hold together when you flip them. Heat an 8 inch nonstick skillet over medium-low heat and grease it with a little butter. My optimal stove setting is at the 2-3 notch, but yours may be different. Pour about ¼ cup of batter into the pan. Quickly grab the pan handle and swirl the batter around so that it completely covers the bottom. Let it cook for almost a minute or until the edges start to tan, and then run a spatula around the edge. Lift the crepe to get the spatula underneath, and then flip it and let the other side cook for another 45 seconds.
Step 5 - Slice the apples.
This is pretty straightforward - slice about 2 medium sized apples so that they're very thin. You can use whatever kind of apple you prefer! Granny Smith's are popular because of how well their tartness pairs with the sweet caramel.
Step 6 (Picture 4 below) - Assemble the cake.
The final step! Place a crepe on a plate or cake stand (whatever you want to serve it on) and then spread some whipped cream on top. Add apple slices and drizzle caramel over them. Layer another crepe on top of that and repeat until all the crepes are used up!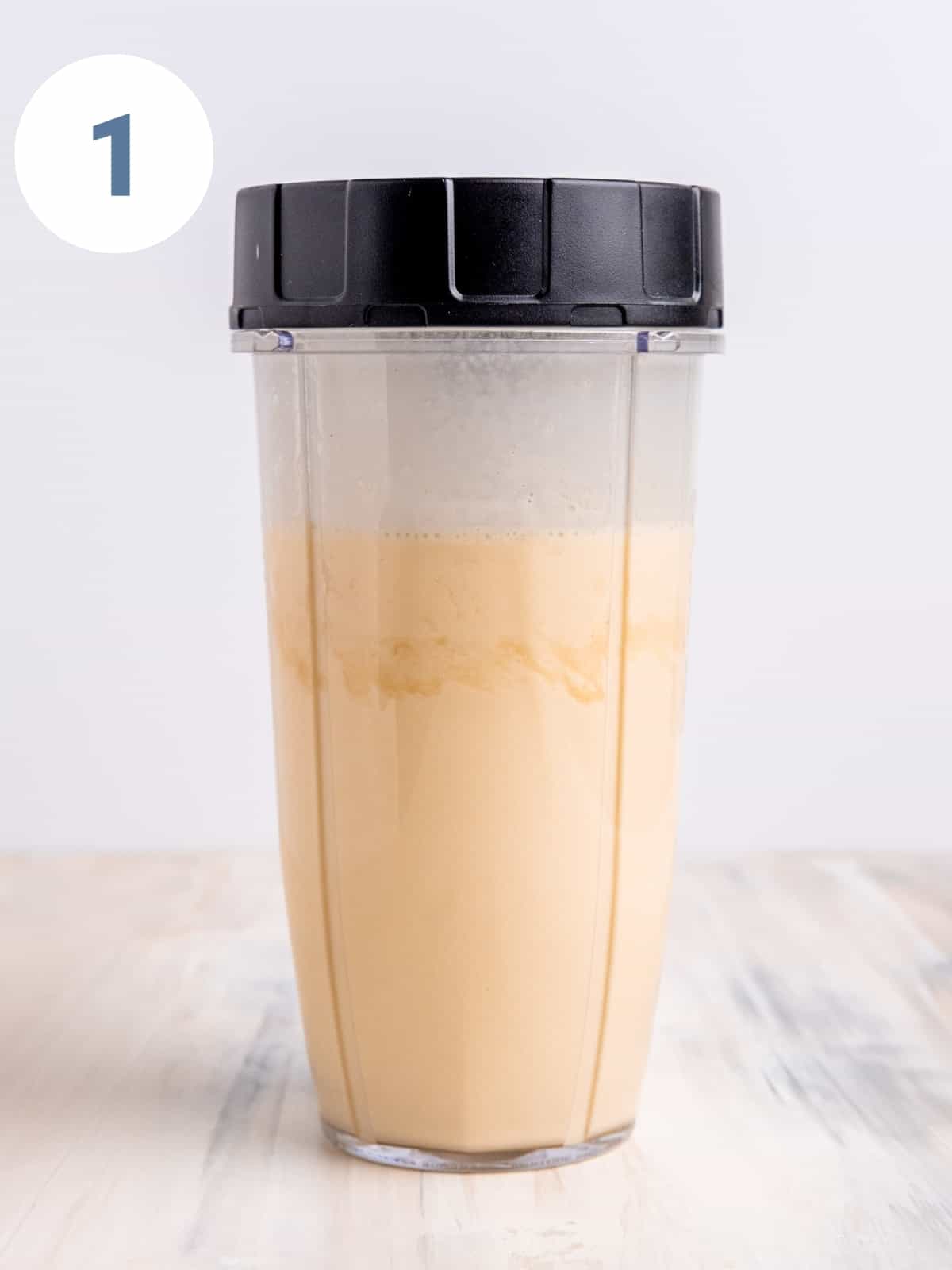 Tips for Success
Don't skip chilling the batter!
Letting it sit in the fridge for a while gives the flour time to absorb the wet ingredients so the crepes are more tender. Give it a gentle inverted shake when you take it out of the refrigerator!
Don't let the caramel simmer for too long.
The longer you let it simmer, the thicker it will be when it cools, so I recommend not letting it simmer for more than 2 minutes at a time. However, if it does get too thick, you can pop it in the microwave for a few seconds to loosen it up!
Use cold cream!
The colder the heavy whipping cream is, the better and faster it will whip (without being frozen, of course)! To make the whipped cream even easier, place the bowl in the refrigerator or freezer to get it cold before whisking!
Save the apples for last!
As we all know, sliced apples tend to brown a bit as they sit out. To help prevent this, cut the apples right before assembling the cake!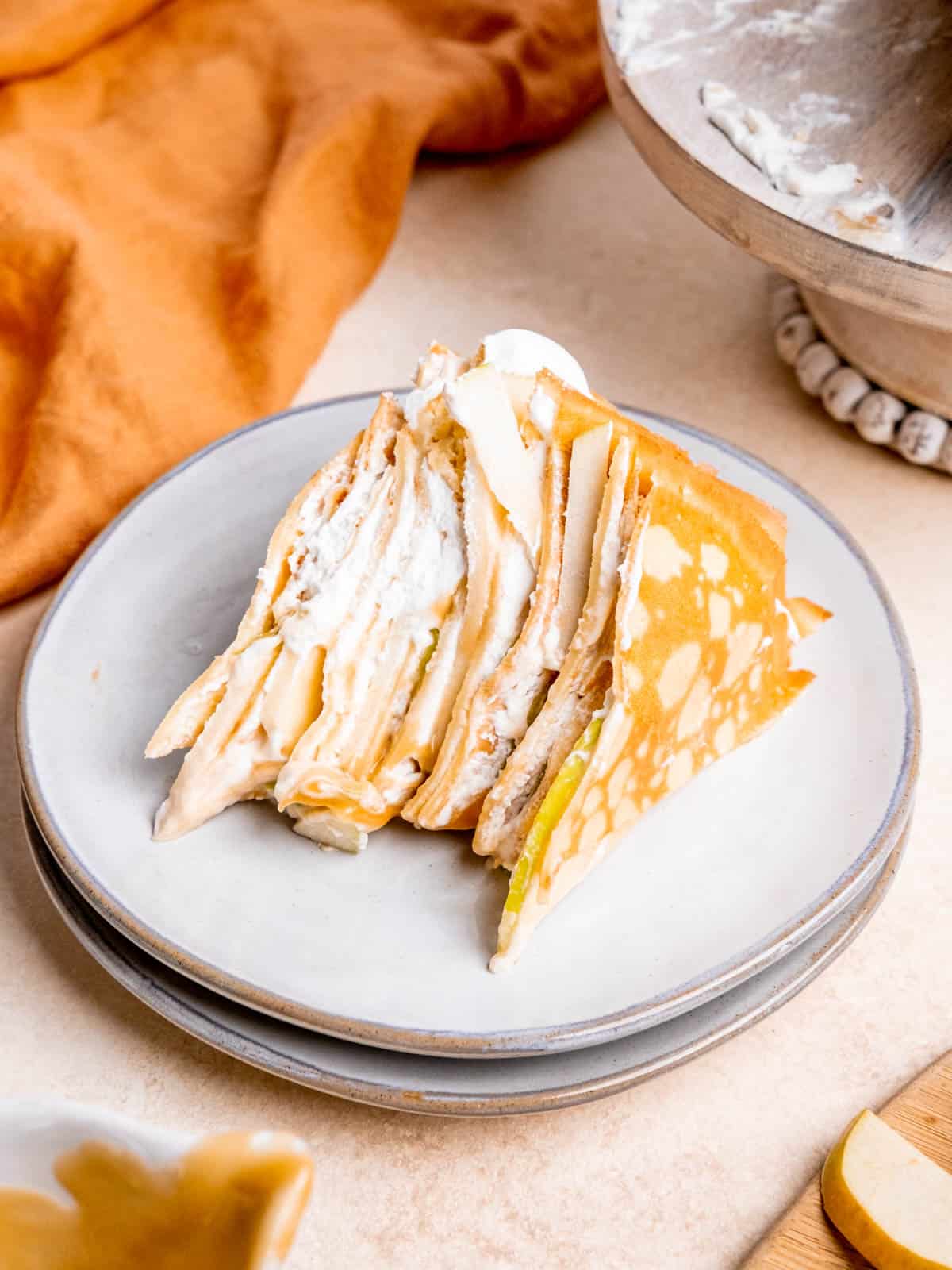 FAQ & Storage
Where can I find Lifeway Organic Vanilla Whole Milk Kefir?
It can be found in the dairy section of most grocery stores. Use this tool to locate some near you!
Is this gluten free?
No, but if you try it with gluten free flour I'd love to hear how it turns out!
Can I use store bought caramel sauce and/or whipped cream?
Absolutely!
How should I store leftovers?
In an airtight container in the refrigerator for up to 3 days.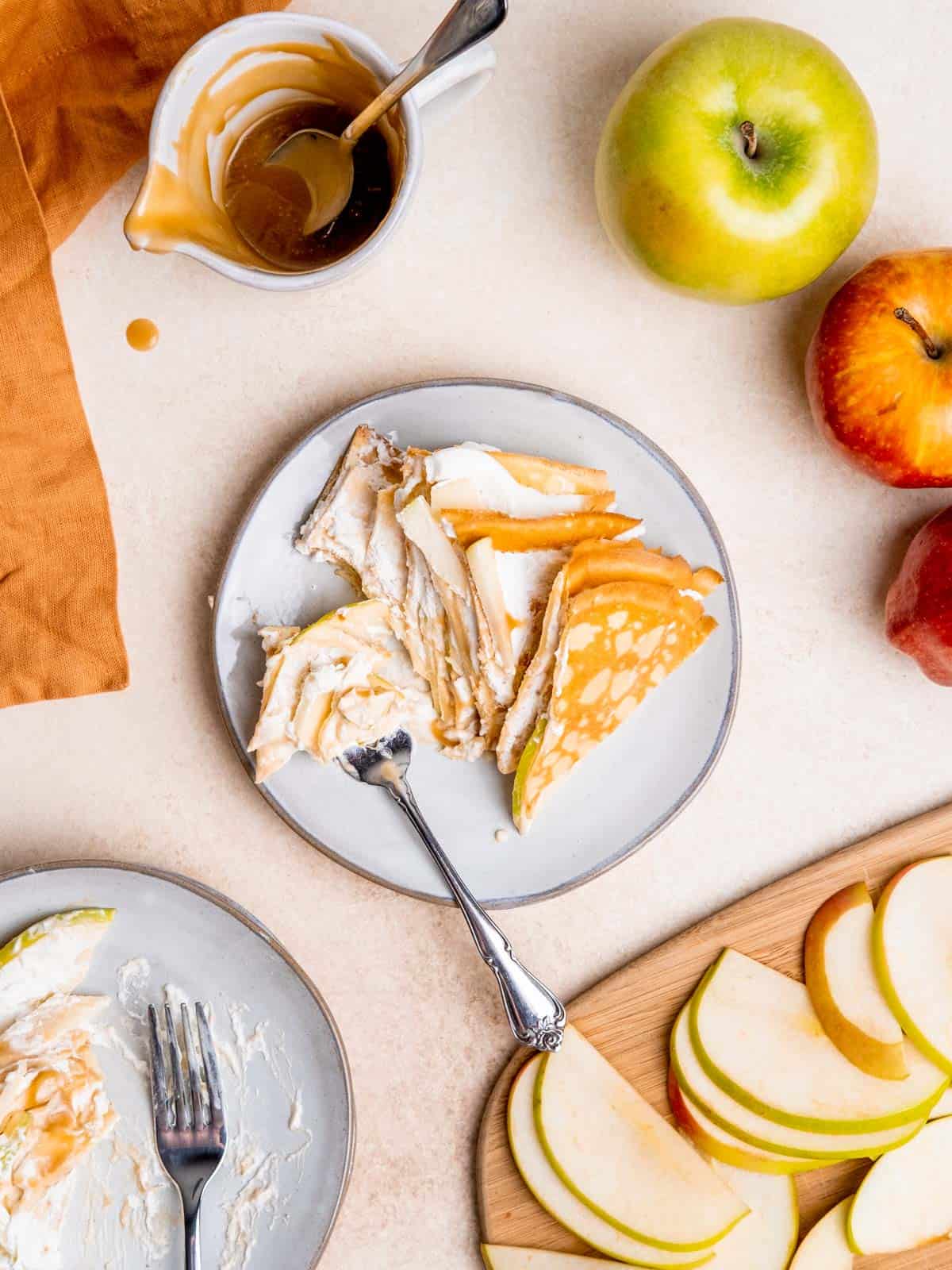 Did you try this recipe?
Tag @brokenovenbaking & @lifewaykefir on Instagram and leave a star review below!
📖 Recipe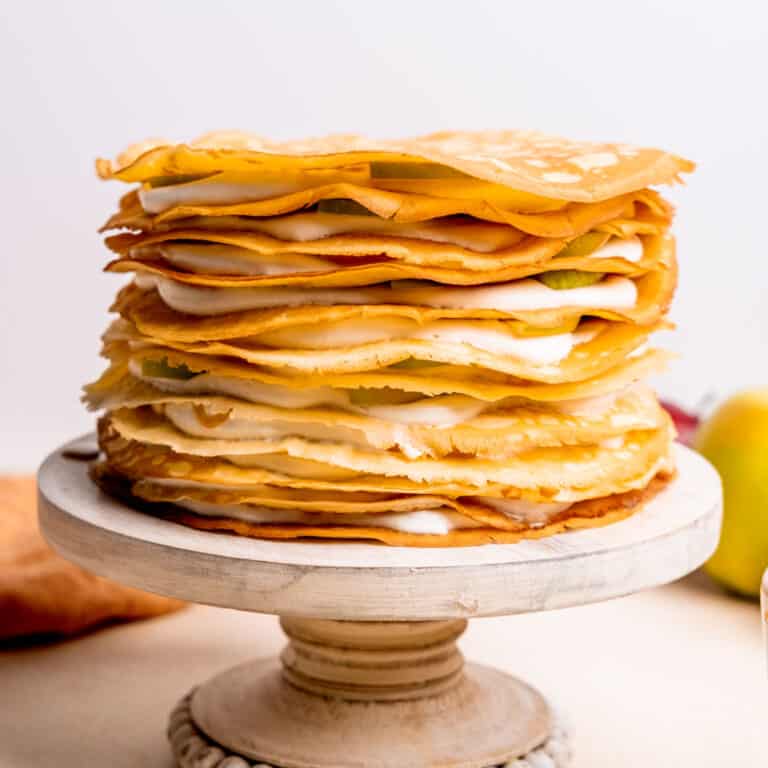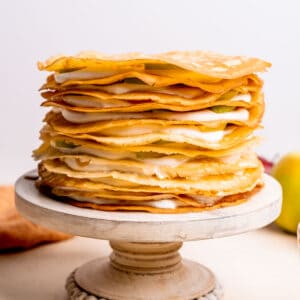 Caramel Apple Crepe Cake
This recipe is sponsored by Lifeway Kefir. Delicious vanilla crepes layered with homemade whipped cream, caramel sauce and freshly sliced apples!
Equipment
8 inch nonstick skillet

Small saucepan

Spatula

Measuring spoons

Scale or measuring cups

Hand mixer

Mixing bowls
U.S. Cups vs Metric
Toggle between US Customary and Metric measurements
Ingredients
2

medium

apples

sliced thin
Crepes
3

large

eggs

½

cup

Lifeway Organic Vanilla Whole Milk Kefir

½

cup

whole milk

5

tablespoons

unsalted butter

melted & cooled

¾

cup

all-purpose flour

¼

cup

granulated sugar

⅛

teaspoon

salt
Whipped Cream
1½

cups

heavy whipping cream

cold

⅓

cup

powdered sugar

½

teaspoon

vanilla extract
Caramel Sauce
½

cup

light brown sugar

packed

3

tablespoons

unsalted butter

softened

¼

cup

heavy whipping cream

¼

teaspoon

salt
Instructions
Crepes
Add the eggs, kefir, milk, melted butter, flour, sugar and salt to a blender and pulse twice for 15 seconds each.

Place the covered blender in the refrigerator for 45-60 minutes.

Slice the apples and make the whipped cream and caramel sauce while the crepe batter chills.

Lightly grease an 8 inch nonstick skillet with butter and heat on medium-low. Add about ¼ cup of batter to the pan and tilt it around so that the bottom is completely covered. Let it cook for 45-60 seconds, then flip it and cook the other side for another 45-60 seconds. Carefully transfer the crepe to a plate and repeat until you're out of batter.
Caramel Sauce
In a small/medium saucepan, combine the light brown sugar, butter and salt. Stir constantly over medium-low heat until it starts to simmer. Let it simmer for 1-2 minutes.

While stirring, add the cream and bring it back to a simmer. Let it simmer without stirring for 2-3 minutes. Remove from heat and let it cool while whisking every 5-10 minutes.
Whipped Cream
Pour the cream into a large bowl and whisk with a hand mixer from low to medium speed until it starts to thicken. Add the vanilla extract and powdered sugar (a little bit at a time so it doesn't fly everywhere) and continue mixing from medium to high speed until it reaches stiff peaks.

Refrigerate until you're ready to assemble the cake.
Assemble the Crepe Cake
Spread whipped cream on top of a crepe, then add the thinly sliced apples and caramel sauce. Stack a crepe on top and repeat until all crepes are used.
Notes
Store leftovers in the refrigerator for 2-3 days.
The provided nutrition information is an estimate for the entire cake, the calorie accuracy is not guaranteed.
Nutrition
Calories:
3907
kcal
Carbohydrates:
344
g
Protein:
47
g
Fat:
269
g
Saturated Fat:
163
g
Polyunsaturated Fat:
13
g
Monounsaturated Fat:
75
g
Trans Fat:
4
g
Cholesterol:
1397
mg
Sodium:
1408
mg
Potassium:
1348
mg
Fiber:
11
g
Sugar:
247
g
Vitamin A:
10372
IU
Vitamin C:
19
mg
Calcium:
798
mg
Iron:
8
mg
The provided nutritional information is an estimate per serving. Accuracy is not guaranteed.
More Fruity Treats