Make a great first impression & stand out to brands with this customizable Media Kit Template! It's cleanly organized with sections for you to showcase your values, social media & blog stats, your best work and partnership ideas!
I have spent hours & days creating, tweaking and re-creating my media kit to fit all of the things I wanted to include in it, while still having it look clean & personable! I finally made one that I was happy with 😅 And now I'm sharing it with you so you can save time & spend it on pitching to brands rather than worrying about a media kit! No two influencers are the same, so feel free to add, delete, or adjust the template however fits your style and comfortability! I want this to help you feel confident while pitching to your favorite brands!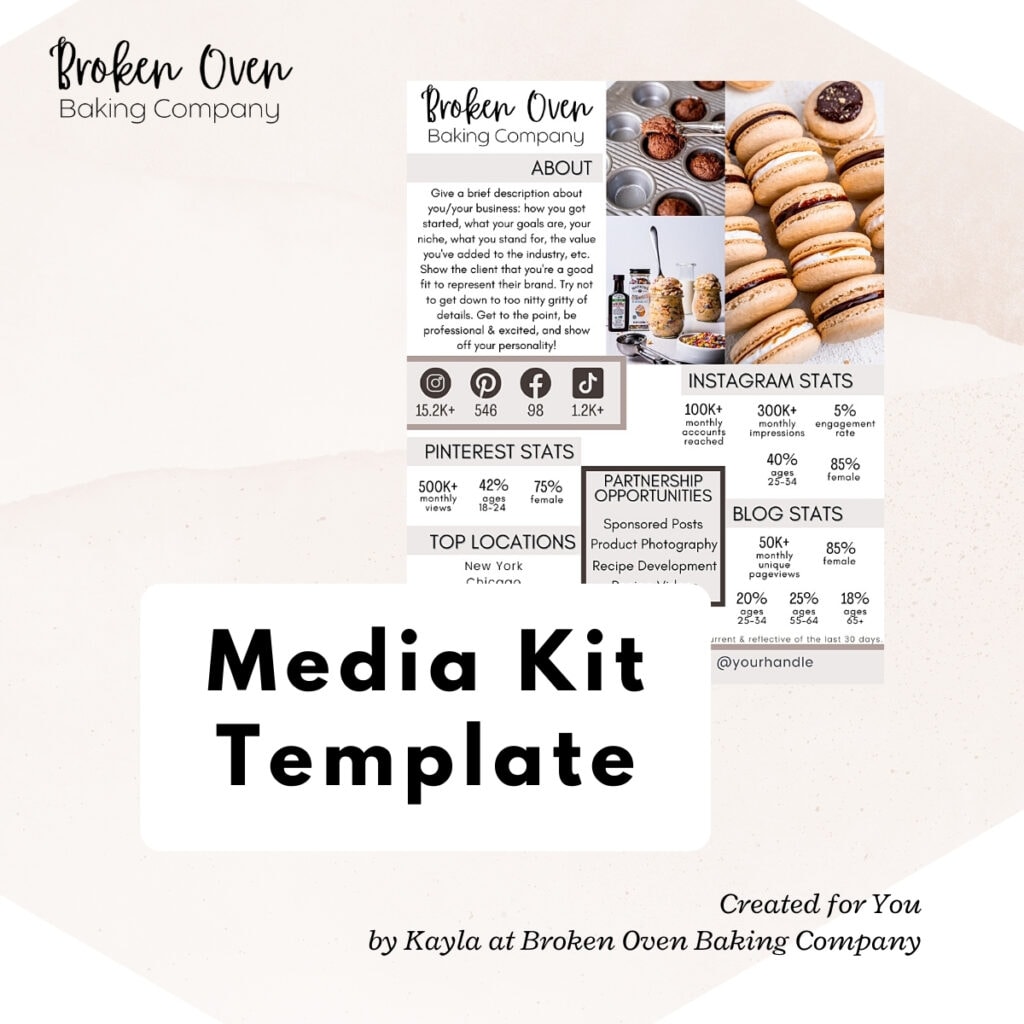 WHAT'S INCLUDED:
Unlimited downloads and usage of this customizable Media Kit Template in Canva.
An 'About' section.
Space for you to showcase 3 of your favorite photo examples.
Stats from your Instagram, Pinterest and blog (including engagement rate & demographics). These can be modified for other channels as well.
A section listing ways you'd like to partner with the brand.
HOW IT WORKS:
This template was built using Canva, so you'll need to create or sign into your Canva account to use it.
Upon receipt, you can immediately download a PDF with instructions (it will be emailed to you as well). The media kit template will be linked within these instructions.
The fonts and colors can be adjusted to fit your unique style.
Pull specific data from your social media insights & Google Analytics and insert them into the various stats.
Replace images with your own photo examples by clicking and dragging (from 'Uploads') over the template photos.
Download the report as a PDF document and share it with brands!
Did this help you land awesome partnerships?! I'd love to hear your success stories! Please feel free to reach out to share them, or with any questions or suggestions on Instagram (@brokenovenbaking) or email ([email protected])!
If you've gained clients & want to continue working with them, consider sending them a Campaign Report!
Thank you!
-Kayla