Snickerdoodle Rolls are better than your average cinnamon rolls! They're soft, fluffy and filled with brown butter, cinnamon, cardamom and bits of your favorite chocolate bar! The warmest of flavors for the coziest of dishes! Enjoy these for brunch with friends and family, They're perfect for the Holidays and special occasions! They can be made the night before so all you have to do is bake them in the morning!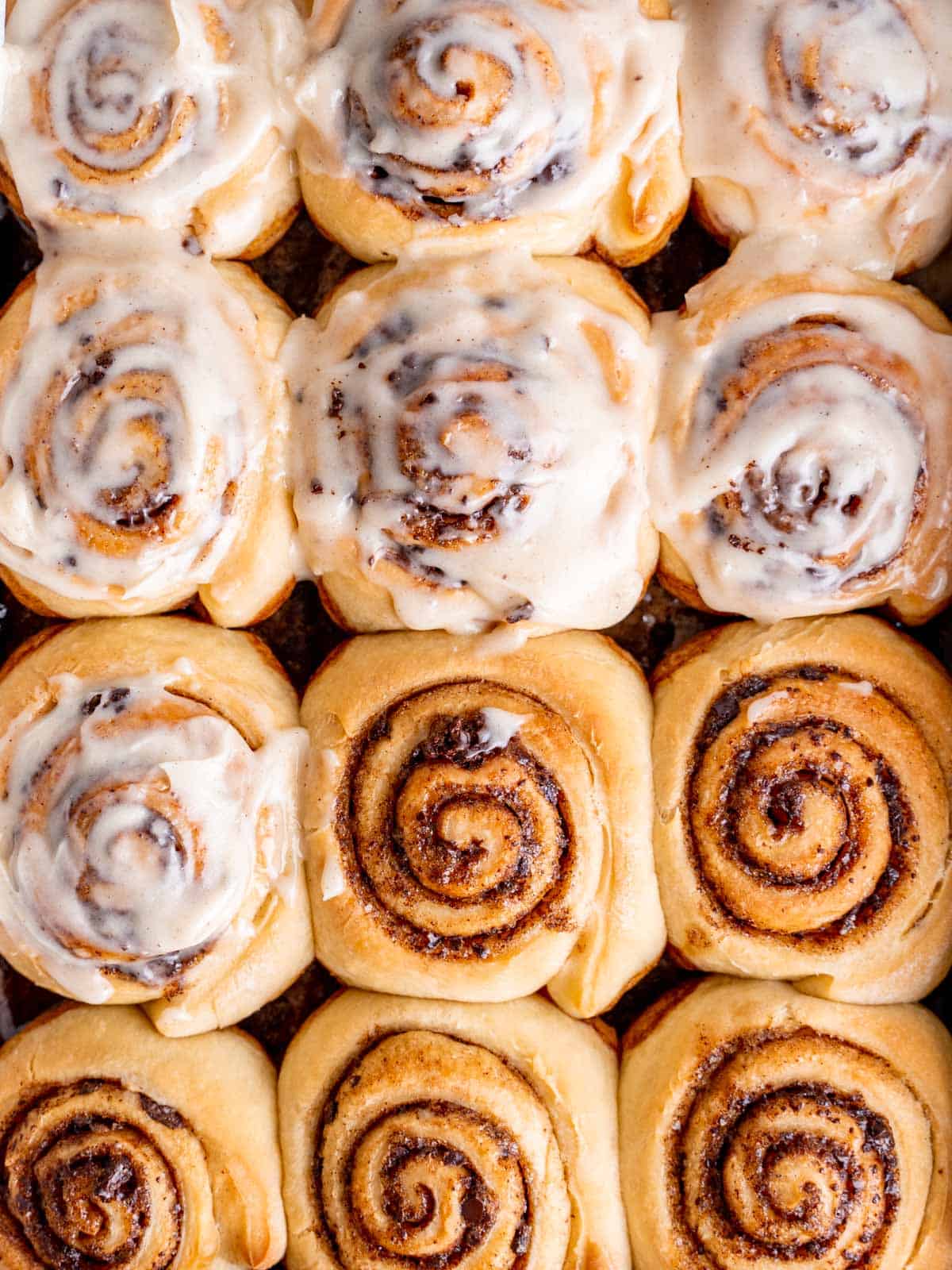 One of my favorite and most popular cookies are my snickerdoodle cookies, so I decided to turn them into cinnamon rolls! Before I had ever tried making cinnamon rolls, I was extremely intimated by them. It seemed like such an overwhelming process and it uses yeast! However, after making them my first time, my nerves were calmed. I'm a visual/hands-on learner, so I put together a little photo tutorial to show the steps and how easy making them can be!
I love waking up to these on Christmas morning! For more cozy and delicious Holiday brunch and dessert recipes, check out my Gingerbread Brownies, Almond Butter Blossoms or Cinnamon Roll Donuts!
Jump to:
Ingredients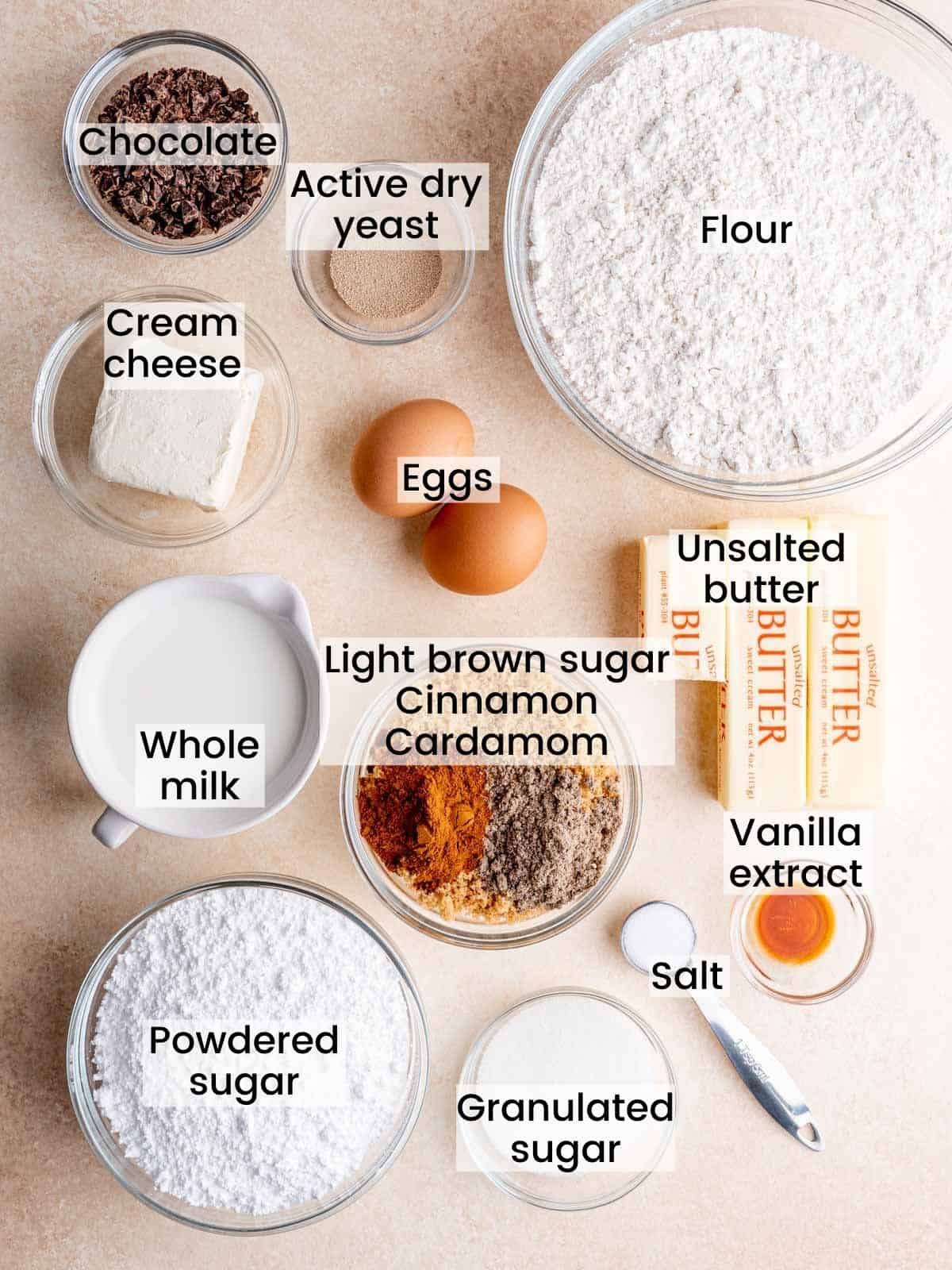 Granulated sugar
Active dry yeast
All purpose flour
Vanilla extract
Salt
Eggs
Unsalted butter
Whole milk
Light brown sugar
Cinnamon
Cardamom
Chocolate bar
Cream cheese
Powdered sugar
See recipe card below for quantities.
Equipment
I recommend using a stand mixer with the hook attachment to make the dough. However, if you don't have a stand mixer, you can also knead the dough by hand.
A thermometer will help you ensure that the milk mixture is the right temperature before adding the yeast. If the temperature is too low, the yeast may not activate. If it's too high, it may kill the yeast.
Step by Step Instructions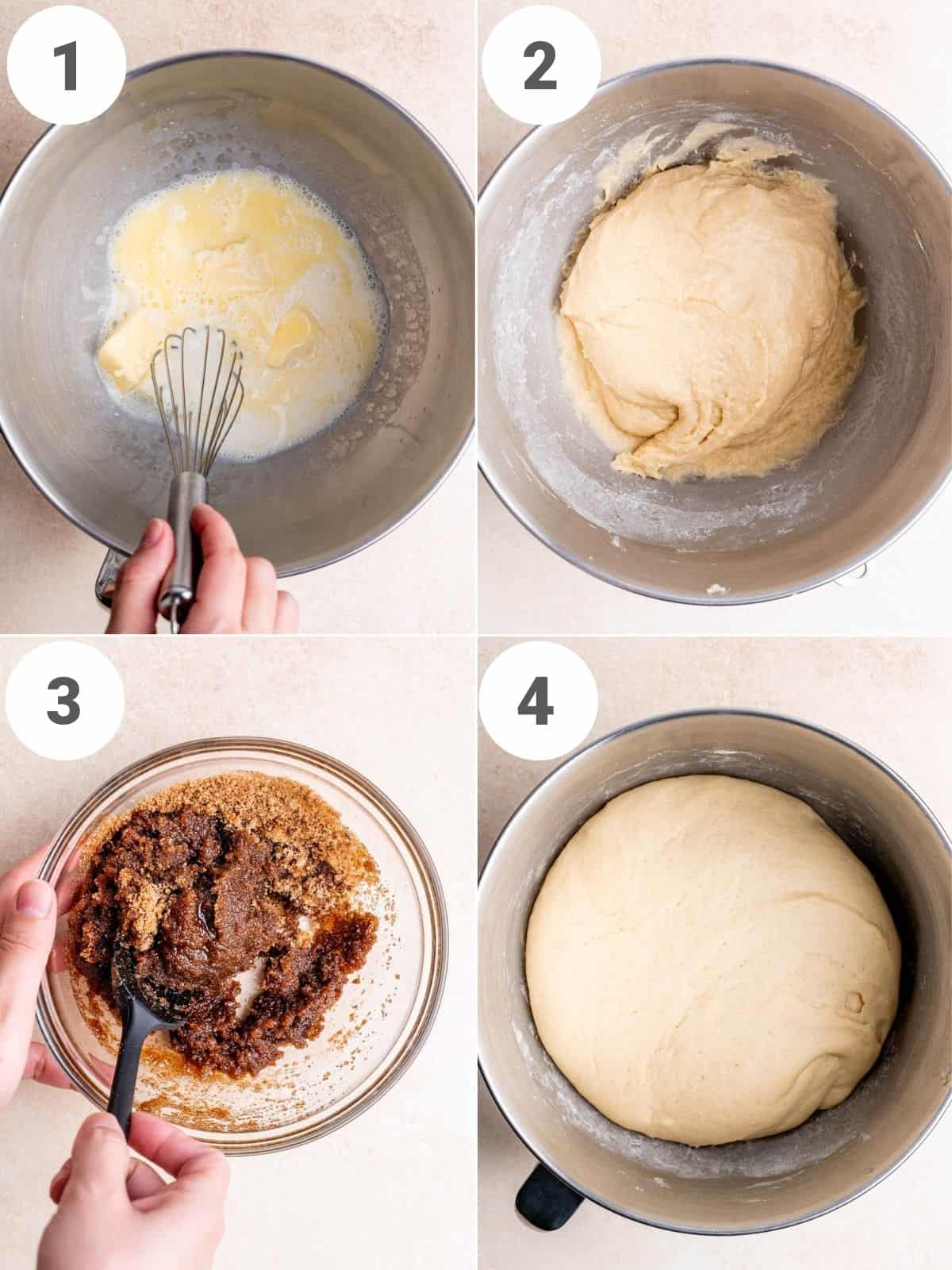 Step One (Picture 1 above) - Bring the milk to a boil and then pour it into a stand mixer bowl. Stir in the butter so that it melts. Whisk in the sugar. Check that the temperature is 105-110°F and then mix in the yeast. Let it sit for about 5 minutes. When it starts to bubble, whisk in the eggs, vanilla and salt. If it doesn't bubble after 10 minutes and you confirmed that the temperature was between 105-110°F, start over with fresh yeast.
Step Two (Picture 2 above) - With a hook attachment, mix in the flour one cup at a time. After 4 cups have been added, gradually add more flour a little bit at a time until the dough pulls away from the bowl and is just barely sticky to touch. Cover the bowl with a towel and let it rest in a warm environment until it doubles in size (60-90 minutes).
Step Three (Picture 3 above) - While the dough is rising, make the filling. Brown the butter and then let it cool and mix in the brown sugar, cinnamon and cardamom.
Step Four (Picture 4 above) - When the dough has doubled in size, transfer it to a floured surface.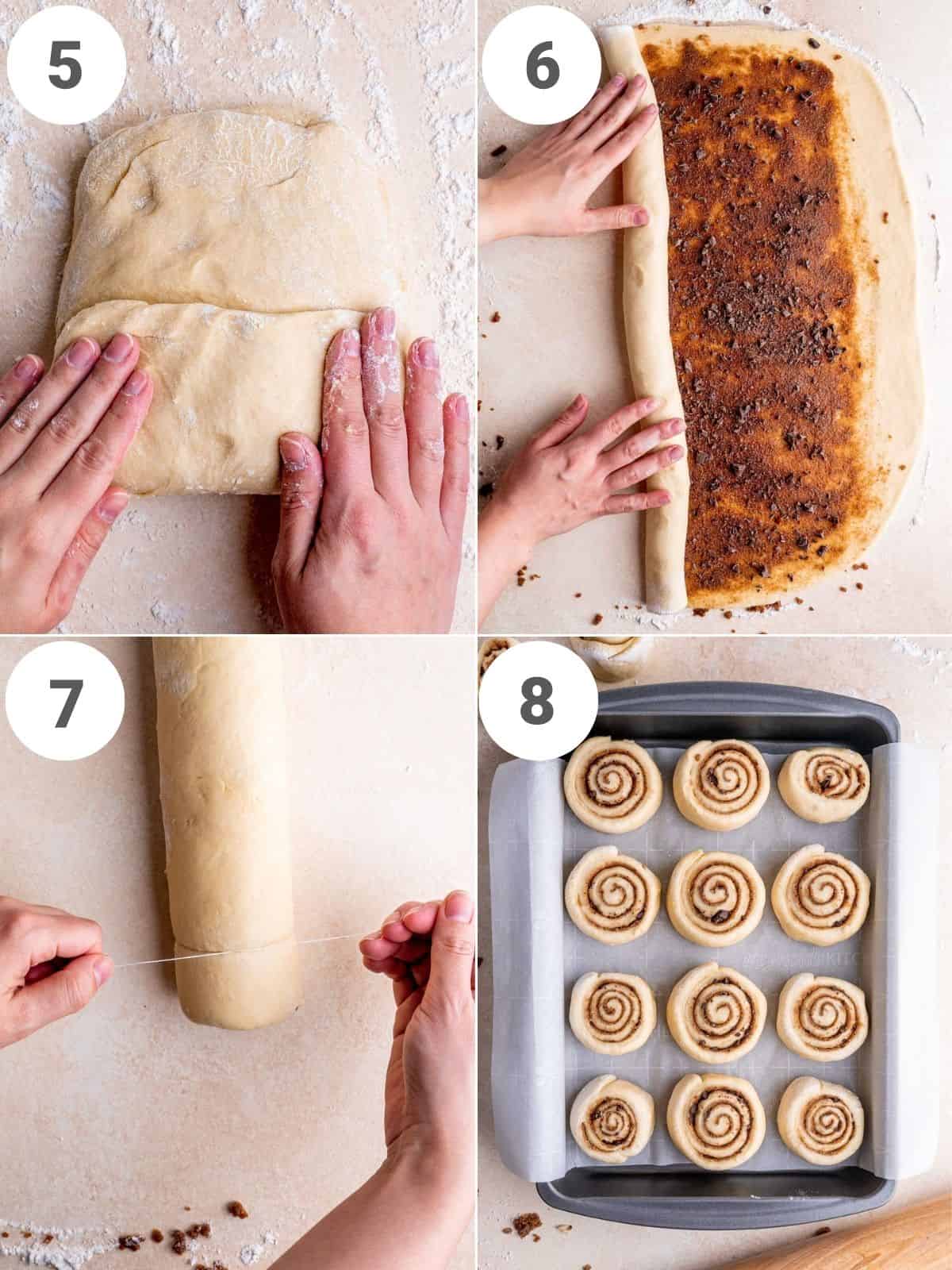 Step Five (Picture 5 above) - Fold the dough into thirds (like a brochure), flip it over, rotate it 90 degrees and fold into thirds again. Roll it out into a 16x20 inch rectangle.
Step Six (Picture 6 above) - Carefully spread the filling over the dough, leaving an inch empty along one of the long sides. Sprinkle chopped chocolate bar bits over the filling. Starting with the filled long side, tightly roll the dough into a log.
Step Seven (Picture 7 above) - Cut off the uneven ends of the log and then measure and mark it to make 12 equal snickerdoodle rolls. Tie a string of floss around the log where the marks are and pull it through the dough so that the swirls keep their shape! (See how in this short video!)
Step Eight (Picture 8 above) - Bake the rolls in a parchment-lined 9x13 inch pan, or refrigerate and bake them the next day. Make the cream cheese icing while they bake and then spread a layer of it on them right out of the oven.
Expert Tip: Let your dough rise in a room around 75°F. If needed, turn your oven on for a few minutes, turn it off, and place the covered bowl in the oven with the door cracked open. It should be about double its original size after 60-90 minutes.
Substitutions & Variations
This recipe has not been tested with any substitutions. If you do replace any ingredients, please let us know how they turned out in the comments below!
Make Ahead & Storage
These snickerdoodle cinnamon rolls can be made up to a month ahead of time. To make them the next day, simply cover and put the pan of rolls in the refrigerator and then take them out while the oven preheats. For anything longer than 1 day (but up to 1 month), store them in the freezer and then let them thaw in the refrigerator the night before you plan to bake them.
Cover and store leftovers in the refrigerator for up to 1 week or in the freezer for up to 1 month.
Recipe FAQs
How should I reheat refrigerated leftovers?
Reheat these in the microwave for about 30-60 seconds.
Why didn't my dough rise?
This could be that your yeast was inactive or that the room it sat in wasn't warm enough. Make sure the yeast foams in the milk mixture before proceeding with the recipe and have the dough rise in an area that's around 75°F. Turning your oven on for a minute and then placing the bowl inside with the door cracked should help create a warm enough environment for it!
What kind of chocolate bar should I use?
Whatever your favorite kind is! I like to use a toffee almond chocolate bar, but it's totally up to your preference!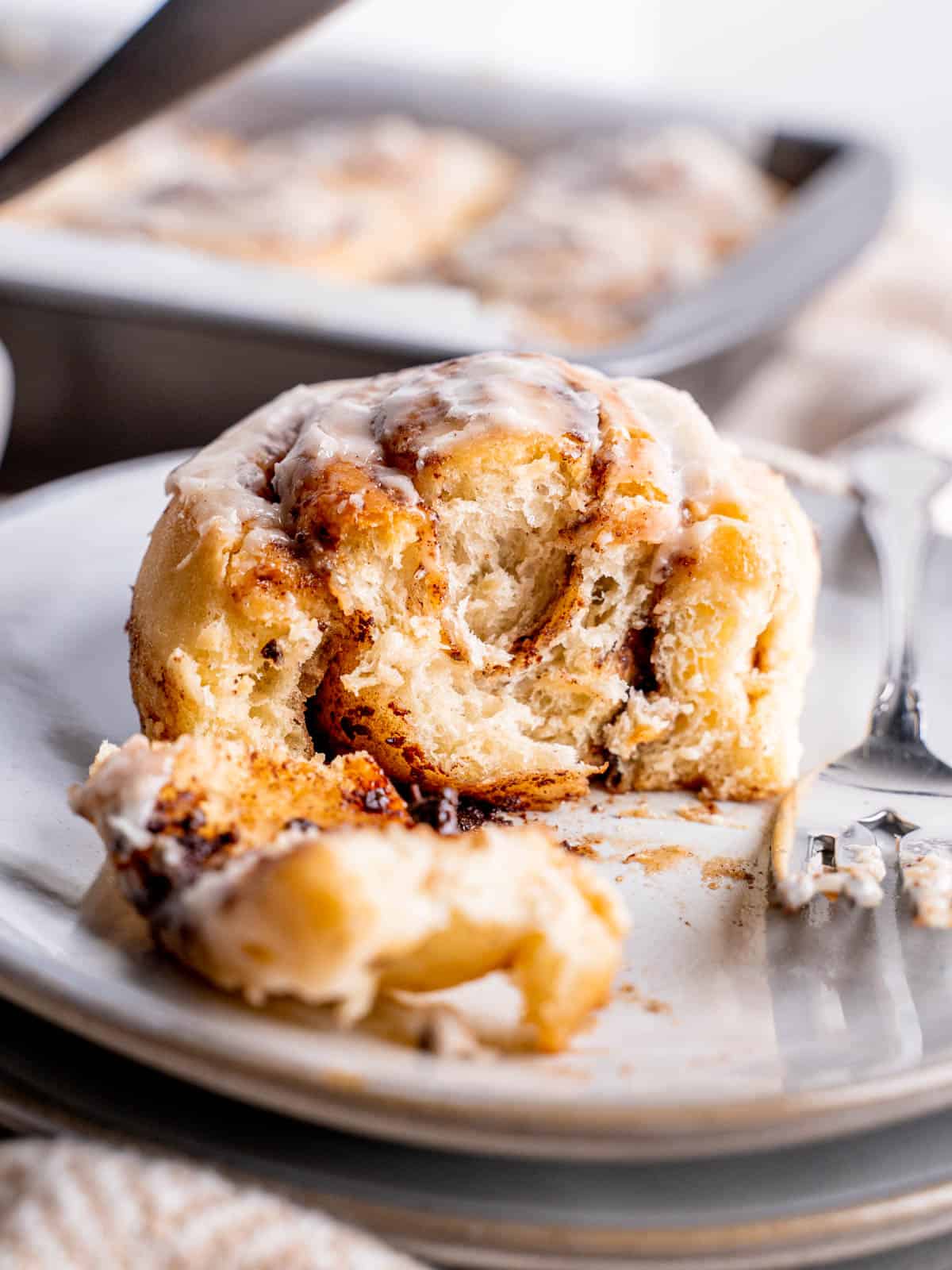 Did you try this recipe?
Tag @brokenovenbaking on Instagram and leave a ⭐️ review below!
📖 Recipe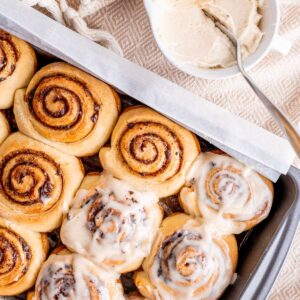 Snickerdoodle Rolls
Better than your average cinnamon roll - these are filled with brown butter, cinnamon, cardamom, and your favorite chocolate bar!
Equipment
Stand mixer with hook attachment

Measuring spoons

Whisk

9x13 inch pan

Parchment paper

Knife and cutting board

Small pan

Thermometer
Ingredients
Dough
1

cup

whole milk

½

cup (1 stick)

unsalted butter

room temperature

¼

cup

granulated sugar

2

large

eggs

room temperature

1

teaspoon

salt

½

teaspoon

vanilla extract

4-4½

cups

all-purpose flour

2¼

teaspoons (1 packet)

active dry yeast
Filling
¾

cup

light brown sugar

packed

½

cup (1 stick)

unsalted butter

browned

2½

teaspoons

ground cinnamon

2½

teaspoons

ground cardamom

1.5

oz

chocolate bar

chopped into tiny bits
Icing
4

oz (½ block)

cream cheese

room temperature

¼

cup (½ stick)

unsalted butter

room temperature

2

cups

powdered sugar

1

teaspoon

vanilla extract

⅛

teaspoon

ground cinnamon

⅛

teaspoon

ground cardamom
Instructions
First, make the dough:
Bring the milk to a boil over medium-high heat. Remove from heat as soon as it reaches a boil. Alternative option: microwave for ~3 minutes (check after each minute).

Pour the milk into a large mixing bowl.

Add the butter to the milk and stir until the butter is melted.

Whisk the sugar into the milk. The mixture should be about room temperature at this point. If not, wait until it's just warm to touch.

When the milk is around 105-110°F, mix in the yeast and let it sit for 5-10 minutes so it's foamy.

Add the eggs, salt, and vanilla to the mixture (one at a time) and whisk to combine.

With the hook attachment and the speed set to 1-2, gradually add the flour 1 cup at a time, up to 4 cups total. Scrape the sides of the bowl as necessary. If the dough is still sticky after the 4 cups, slowly add a bit more. Mix for ~5 minutes.

Cover the dough and let it sit in a warm place to rise for 60-90 minutes.
Meanwhile, prepare the filling:
Heat the butter in a small pan over medium heat while stirring constantly until the butter is brown with a nutty aroma. Remove from heat and let it cool to room temperature.

Mix the light brown sugar, cinnamon, and cardamom into the butter.

Chop the chocolate bar into tiny pieces and set aside.
When the dough has risen:
Plop the dough onto a well-floured surface and fold it into thirds, flip it over, and fold into thirds again. Finally, flatten it into a rectangle.

Roll the dough into a 16x20 inch rectangle.

Gently rub the filling evenly onto the dough while leaving ~1 inch of empty space along one of the 20 inch sides. Be careful not to rip the dough.

Sprinkle the chocolate bits across the filling.

Starting with the 20 inch side that is covered with filling, tightly and carefully roll the dough toward the empty end.

Cut the dough into 12 even rolls and place them in a 13x9 inch pan covered with parchment paper.

Tip: to cut the rolls, use a string of floss! Tie it around the dough and pull through - it helps the swirl keep its shape!
To bake right away:
Cover the rolls and let them rise for ~30 minutes while the oven preheats to 350°F.

Bake for 20-25 minutes, until the tops are golden.
To bake later/the next day:
Cover the rolls and place them in the refrigerator.

When you're ready to bake the rolls, take them out so they can warm and rise a bit while the oven is preheating to 350°F.

Bake for 25-35 minutes, until the tops are golden.
To make the icing:
Cream together the butter and cream cheese. Add the vanilla, cinnamon, cardamom, and powdered sugar and mix well.
When the rolls are done baking:
Spread a little icing over them right away so it melts into the cracks. Wait ~5 minutes to serve. Add more icing to your liking. Enjoy!
Notes
Store leftovers in the refrigerator for up to 1 week. Reheat in the microwave for 30-60 seconds. They can also be stored in the freezer for up to 1 month.
The provided nutrition information is an estimate, the calorie accuracy is not guaranteed.
Nutrition
Calories:
578
kcal
Carbohydrates:
78
g
Protein:
8
g
Fat:
27
g
Saturated Fat:
16
g
Polyunsaturated Fat:
1
g
Monounsaturated Fat:
7
g
Trans Fat:
1
g
Cholesterol:
97
mg
Sodium:
254
mg
Potassium:
168
mg
Fiber:
2
g
Sugar:
39
g
Vitamin A:
823
IU
Vitamin C:
1
mg
Calcium:
71
mg
Iron:
3
mg
The provided nutritional information is an estimate per serving. Accuracy is not guaranteed.