I am so excited to share this recipe with you! It's one of my favorites and is such a refreshing summer cake! I came up with this Milk and Berries Cake recipe after our baking collab group chose "summer berries" for June's theme. I wanted to create a dessert that's cold & easy for the heat! The obvious choice was ice cream, but that was the theme for last month and I wanted to try something new. Tres Leches Cake is one of my favorite refreshing cake desserts! I love that it's chilled, topped with whipped cream, and has incredible flavors from the three milks. So, I decided to add some summer berries into the mix!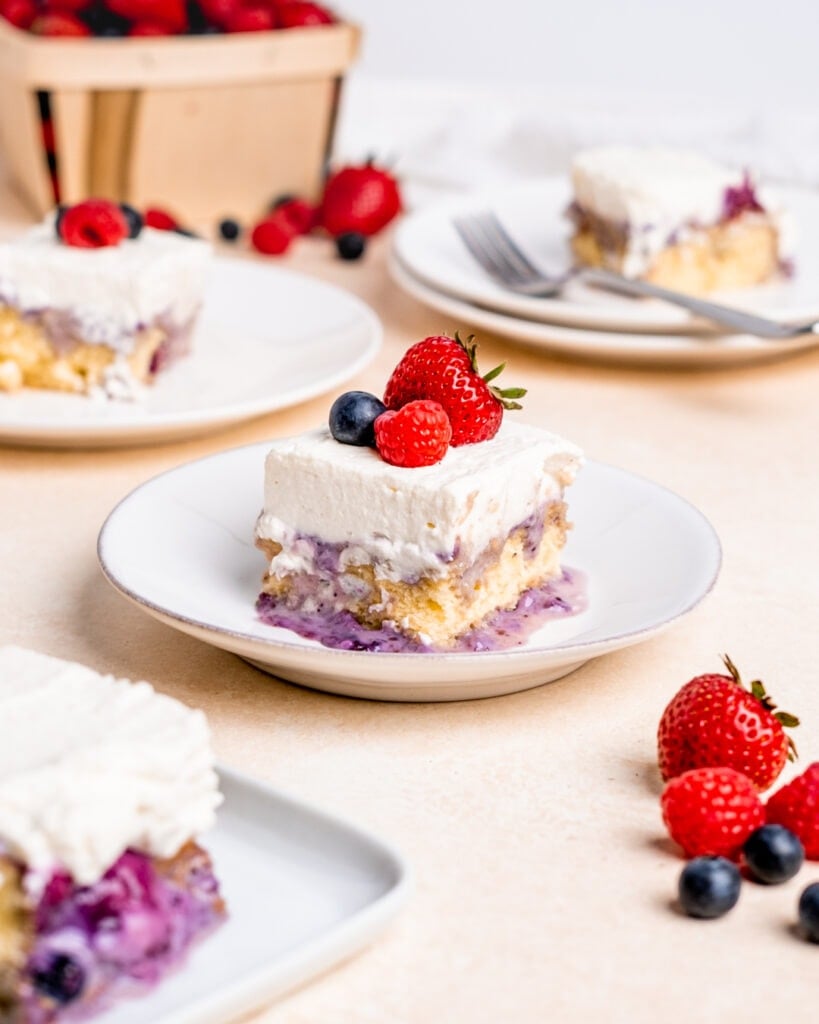 Jump to:
What You Need to Make This Recipe
Ingredients:
Flour, baking powder, salt: AKA the dry ingredients, these are like the cake's foundation!
Sugar: Sweetens the cake! Half will get mixed in with the egg yolks and the other half with the egg whites.
Vanilla extract: Gives the cake a little flavor boost!
Eggs: Help provide structure & texture! However, they will be separated in this recipe. The whites will get whipped into a stiff meringue and then folded into the rest of the cake batter!
Milk: Adds flavor and moisture to the sponge cake!
Berries + sugar: Cook the berries with sugar to create a smooth compote that'll be poured over the cake with the milks. I used strawberries, raspberries, and blueberries but you can use your favorite berries instead!
Sweetened condensed milk, evaporated milk, whole milk: These create the Tres Leches blend (AKA "three milks" in Spanish) that gets poured over the cooled sponge!
Heavy whipping cream, powdered sugar, vanilla extract: Whip these ingredients to stiff peaks and spread on top for a refreshing frosting!
Equipment:
8x8" square pan: This one is my favorite! Be sure to grease it well so the cake doesn't stick to the sides.
Hand mixer: I highly recommend using one of these for all the whisking this recipe requires. You could also use a stand mixer with a whisk attachment. I don't recommend whisking by hand unless you want a good arm workout and have a few extra minutes to spare.
Small/medium saucepan: Something to cook the berries and sugar in.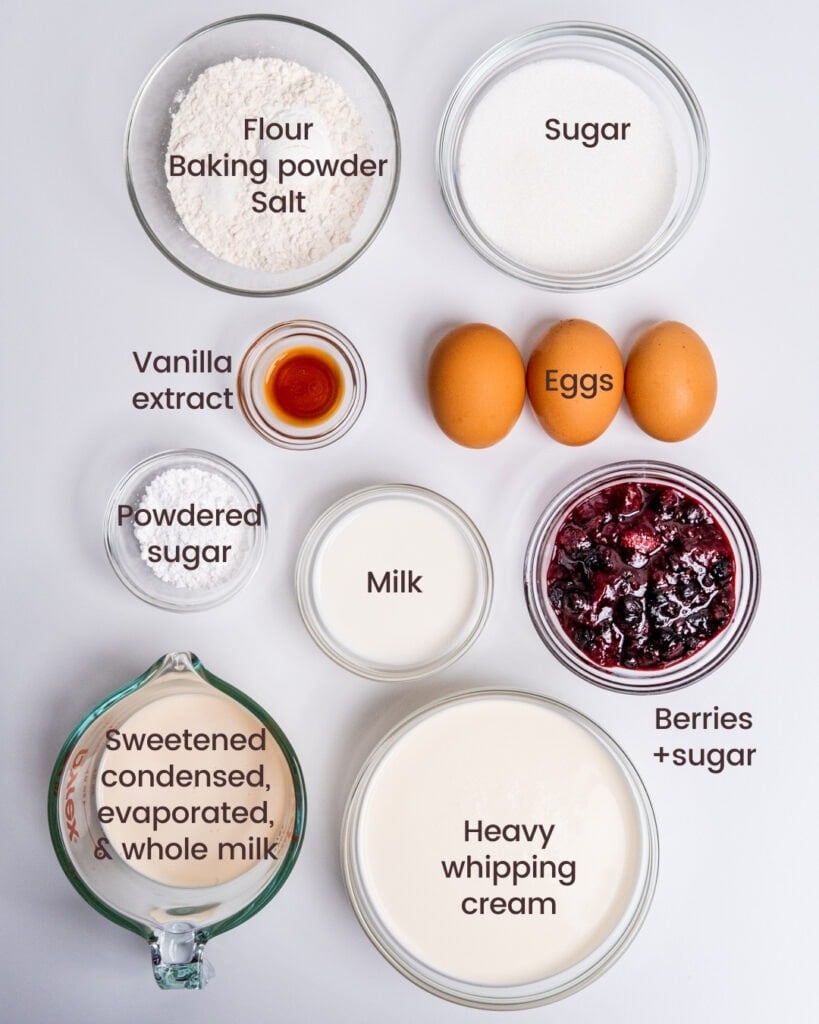 Making the Sponge
This is kind of like Porto's Milk'N Berries Cake, but easier, smaller and homemade! The ingredients that go into the sponge are pretty few and basic. Start off by combining the dry ingredients and separating the eggs. The yolks can go into a medium sized bowl as you'll just be adding half of the sugar, the vanilla, and the milk to them. Then that mixture will get mixed into the dry ingredients. The egg whites should go in a clean, dry, large bowl because they're going to get whipped into stiff peaks with the other half of the sugar and then folded into the cake batter. When the cake is baking, it'll puff up in the pan and then it'll shrink back down when it cools. This is typical sponge cake behavior because of the airy meringue, so don't panic when this happens!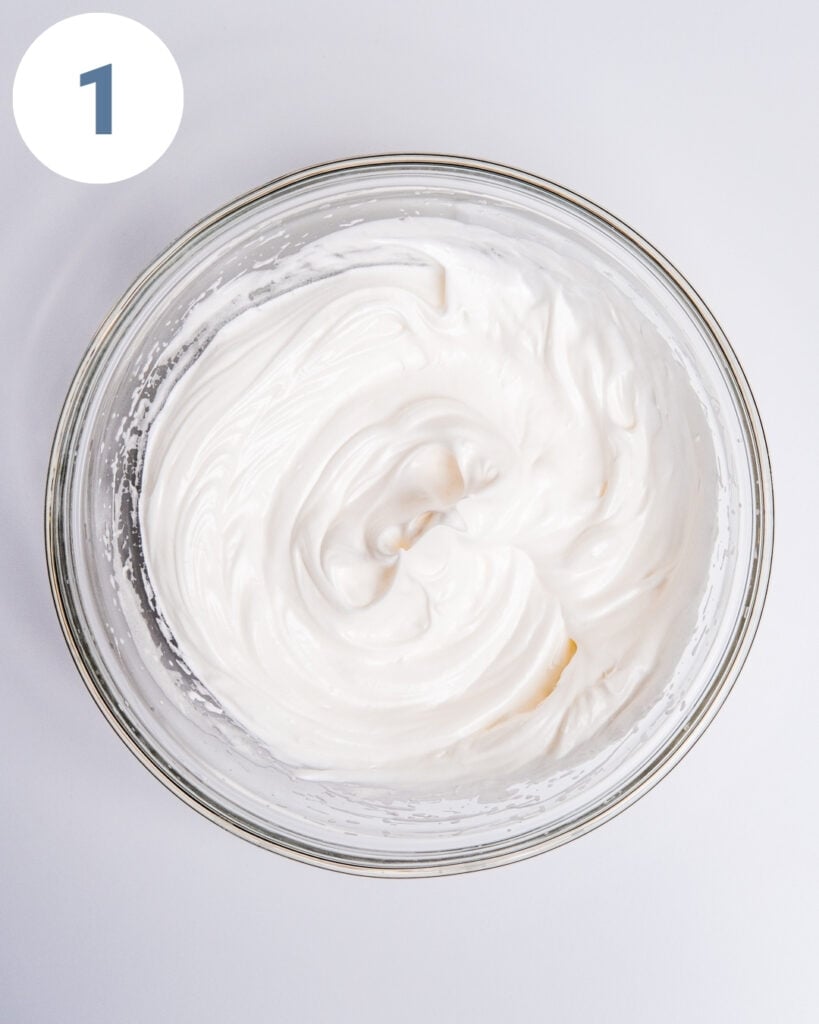 Toppings & Assembly
As the cake cools, make your berry compote and milk mixture. (You can use fresh or frozen fruit!) After the berries cool down, mix them in with the three milks! Make sure your cake layer has cooled completely inside & out, then poke holes all around the surface so that the milk & berries can seep into the sponge. I've found that a wooden toothpick works well. Pour the mixture on top and then let it settle in the refrigerator for an hour!
While you're waiting for the cake to absorb the milk and berries, whip up the whipped cream! You could also top it with store-bought whipped topping, but I prefer homemade! After you frost it, it's ready to eat! It can be sliced into 9 equal squares and I like to add fresh berries on top for extra flavor and decor!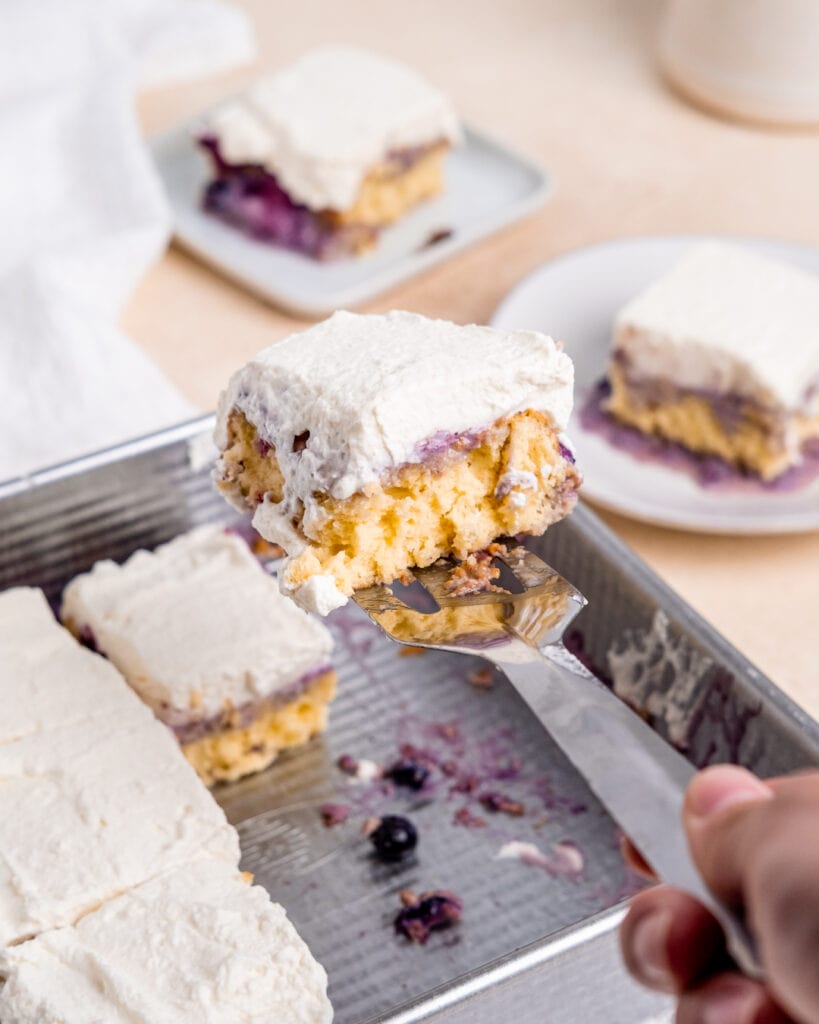 Tips & Storage
Do I have to separate the eggs and whip the egg whites?
Yes! Creating a meringue with the egg whites and gently folding it into the batter gives the cake its light & airy, spongey texture.
What are "stiff peaks"?
This is when the mixture is thick and holds its shape when you lift it up with a whisk or spatula. The peak will be stiff rather than drooping down.
I don't have an 8 inch square pan, can I use something else?
If you have a 9 inch round pan, that should work too!
How should I store leftovers?
In an airtight container in the refrigerator for a maximum of one week! It's best eaten within the first couple of days.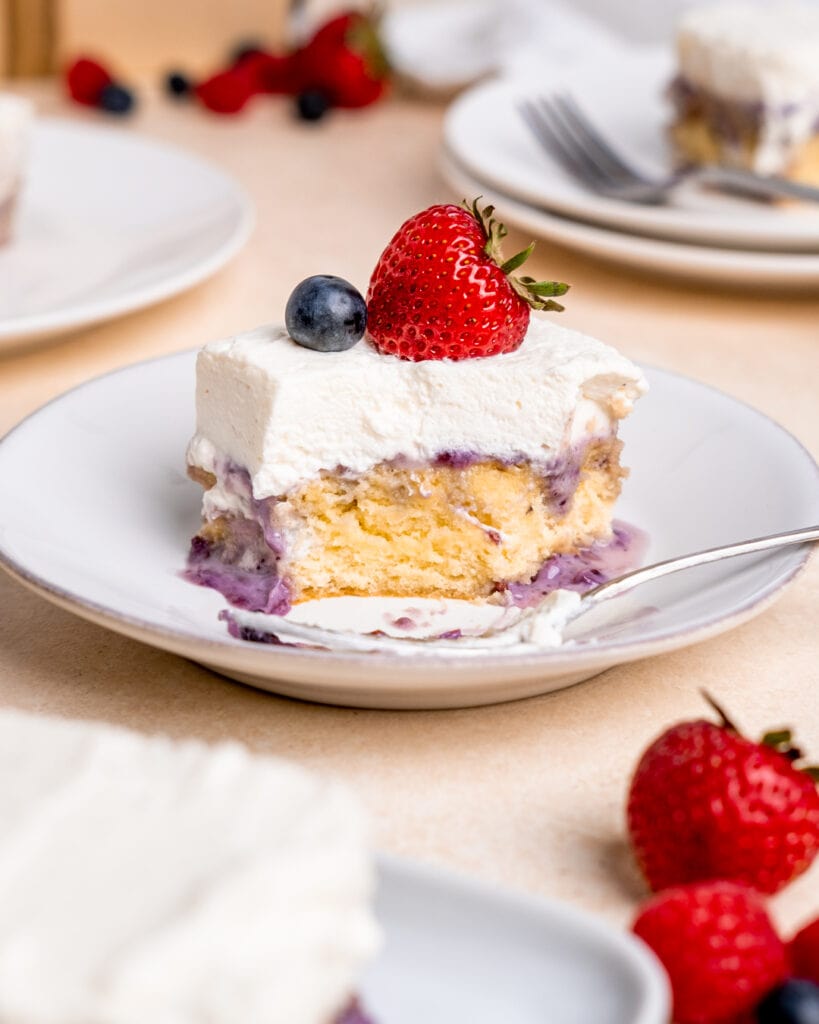 Did you try this recipe?
Tag @brokenovenbaking on Instagram and rate & comment below!
📖 Recipe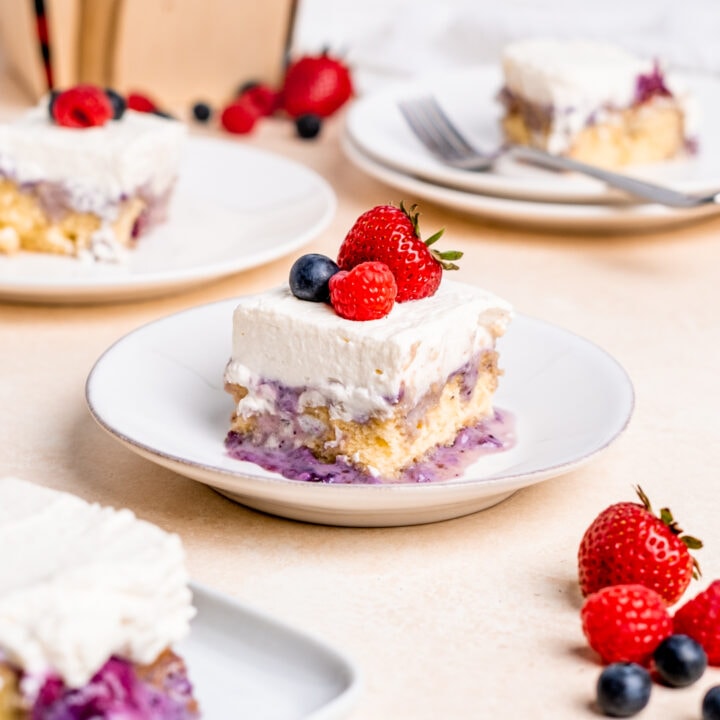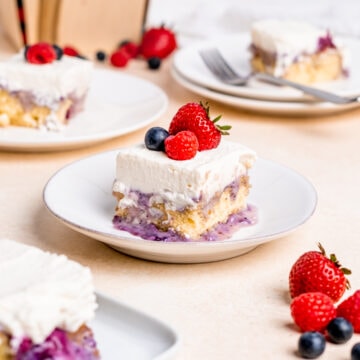 Milk and Berries Cake
Milk and Berries Cake is a refreshing summer sponge cake soaked with berry tres leches (AKA three milks) and topped with whipped cream!
Equipment
8x8 inch square pan

Mixing bowls

Spatula

Whisk

Hand mixer

Measuring spoons

Measuring cups and/or scale

Small saucepan
U.S. Cups vs Metric
Toggle between US Customary and Metric measurements
Ingredients
Cake
⅔

cup

all-purpose flour

1

teaspoon

baking powder

⅛

teaspoon

salt

3

large

eggs (separated)

room temperature

⅔

cup

granulated sugar (divided in half)

¼

cup

whole milk

¾

teaspoon

vanilla extract
Milk & Berries Sauce
½

cup

strawberries

chopped

½

cup

raspberries

½

cup

blueberries

1

tablespoon

granulated sugar

3

ounces (⅓ cup)

evaporated milk

4

ounces (½ cup)

sweetened condensed milk

1½

ounces (1 tablespoon)

whole milk
Whipped Cream Frosting
1

cup

heavy whipping cream

cold

½

teaspoon

vanilla extract

1

tablespoon

powdered sugar
Instructions
Cake
Grease an 8x8 inch square cake pan and preheat oven to 350°F.

In a large bowl, whisk together the flour, baking powder, and salt.

Separate the eggs so that the egg whites are in a large bowl and the yolks are in a medium bowl.

Whisk the egg whites with a hand mixer until they start to foam. Then, while continuing to mix, slowly add half of the sugar (⅓ cup) a little bit at a time. Continue whisking until they reach stiff peaks (the mixture is firm and holds its shape when lifted up with the whisk). Set aside.

In the medium bowl of egg yolks, whisk in the remaining half of the sugar (⅓ cup). Add the milk and vanilla extract and mix well. Then, pour this mixture into the flour mixture and stir just until combined.

Gently fold the egg whites mixture into the flour mixture until no visible streaks of egg whites are left.

Pour the cake batter into the greased pan and bake on center of the middle shelf for 18-22 minutes. The cake will puff up while baking and be golden when it's done. A toothpick inserted into the middle should come out clean.

Let the cake cool completely in the pan on a cooling rack.

Note: the cake will shrink as it cools!
Milk & Berries Sauce
Combine the berries and 1 tablespoon of sugar in a small/medium saucepan. Cook over low-medium heat while stirring occasionally until the berries are soft and syrupy. Remove from heat and let them cool.

Mix the evaporated milk, sweetened condensed milk, and whole milk together really well in a medium bowl. Add the cooled berry mixture and stir well.

When the cake has cooled completely, poke holes around the entire surface of it (I've found a wooden toothpick works really well). Then, pour the milk & berries sauce over the top - be sure to cover the entire cake (including the edges).

Let the cake chill & absorb the sauce in the refrigerator for at least 1 hour. Make the whipped cream frosting while it chills.
Whipped Cream Frosting
In a large bowl using a hand mixer, whisk the heavy whipping cream until it reaches soft peaks (holds together but is still droopy). Then, add the vanilla and powdered sugar and continue whisking until it reaches stiff peaks.

Store the frosting in the fridge until the cake is ready. Then, spread an even layer of whipped cream frosting over the top of the cake.
Notes
*You can use fresh or frozen berries for this recipe. If you're using frozen, let the berries thaw at room temperature before measuring.
Store cake in an airtight container in the refrigerator for up to 1 week.
The provided nutrition information is an estimate, the calorie accuracy is not guaranteed.
Nutrition
Calories:
287
kcal
Carbohydrates:
36
g
Protein:
6
g
Fat:
14
g
Saturated Fat:
8
g
Polyunsaturated Fat:
1
g
Monounsaturated Fat:
4
g
Trans Fat:
1
g
Cholesterol:
106
mg
Sodium:
145
mg
Potassium:
173
mg
Fiber:
1
g
Sugar:
27
g
Vitamin A:
561
IU
Vitamin C:
8
mg
Calcium:
131
mg
Iron:
1
mg
The provided nutritional information is an estimate per serving. Accuracy is not guaranteed.
More Easy Cake Recipes: