What's your favorite Girl Scout cookie?! Growing up, I always loved Peanut Butter Patties, but over time I became more fond of Samoas. Samoa brownies have layers of coconut and chocolate caramel squares in the middle of gooey brownies! They're delicious just like Samoa cookies (without the shortbread layer).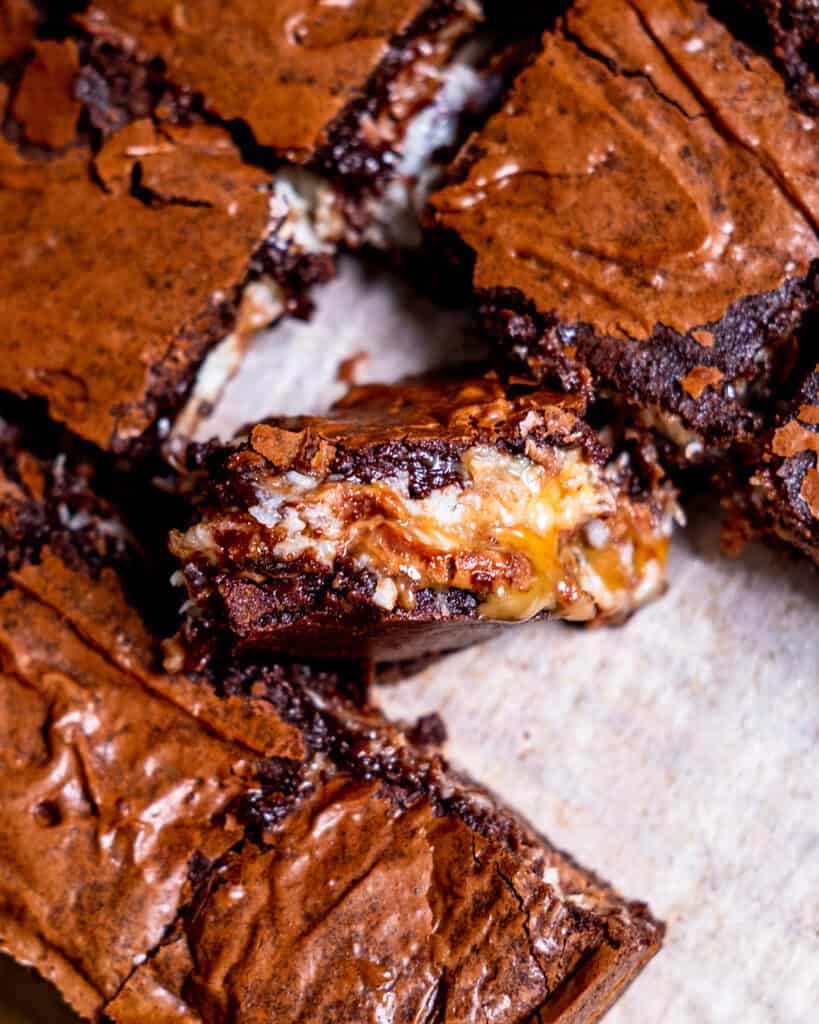 This recipe uses both melted chocolate and cocoa powder in the brownie batter but you don't need to buy special baking chocolate for it, chocolate chips work just fine! I use semi-sweet, but you're welcome to use dark or milk chocolate depending on your preference. The coconut layer is a quick mix of shredded coconut, powdered sugar, and sweetened condensed milk. For the caramel layer, I use chocolate caramel squares. Ghirardelli's milk chocolate caramel squares are my favorite (they also have a dark chocolate version), but any brand with caramel in the center will work!
(This post contains affiliate links, meaning that I could earn from purchases made through them. It doesn't add any extra cost to you, but it does help support this blog!)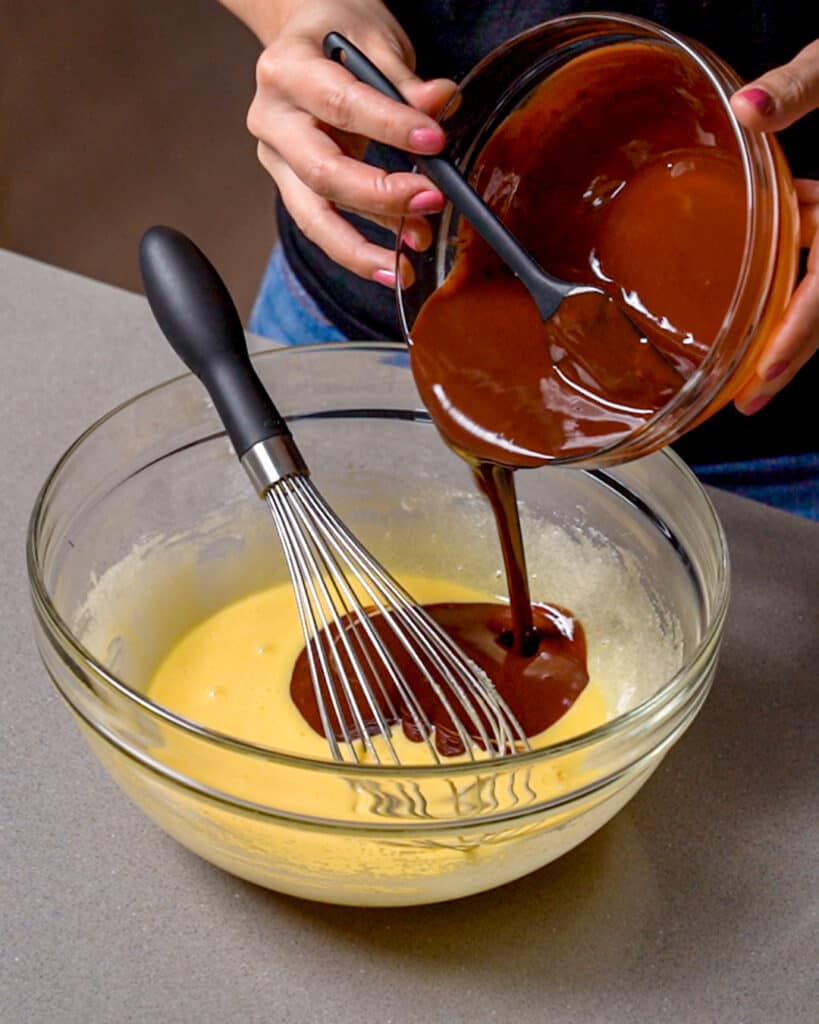 You can whip these brownies up in less than 30 minutes, and they bake for around 30! In the time it takes to go out and find Girl Scout cookies (or these days, have them delivered!), you could have fresh, warm Samoa brownies made in your own home! These are made using an 8 inch square pan which can be divided into 16 perfectly bite-sized brownies. If it's cut this way, each brownie will have its own chocolate caramel square!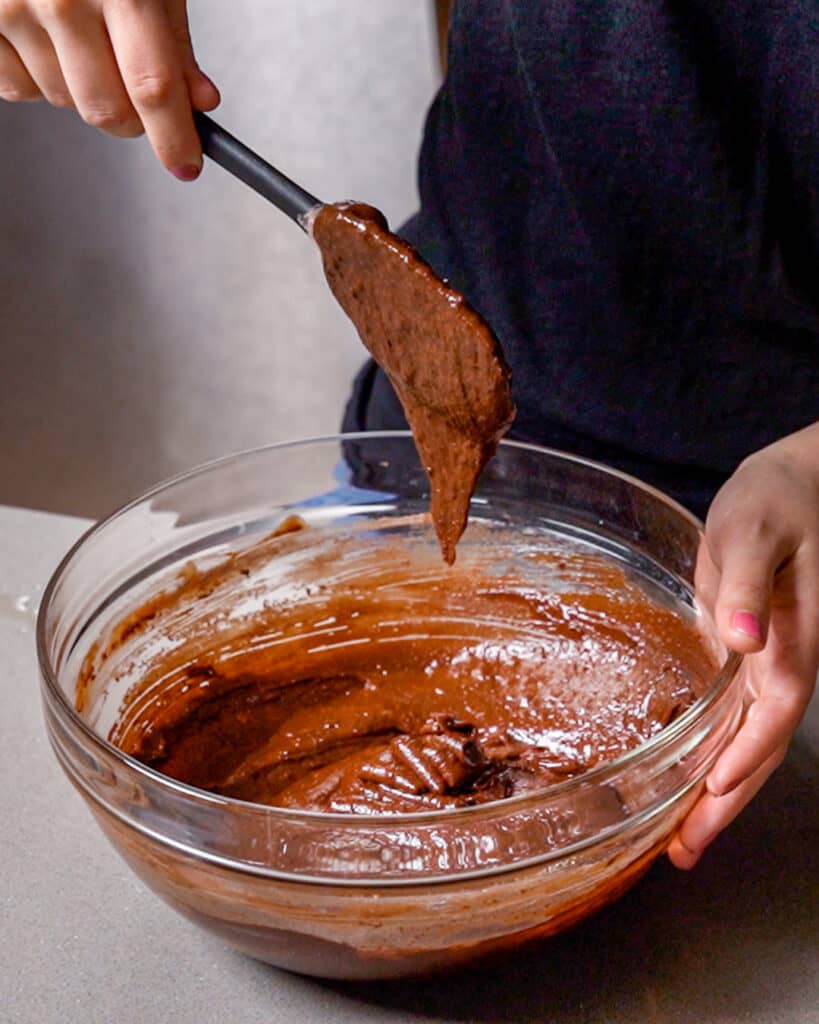 How to Get the Best Brownie Top
I really wanted to get the perfect flaky, crinkly brownie top for these bars. After days of research and testing, I finally figured it out! A lot of brownie recipes just tell you to mix until combined and whenever I follow those, I don't get the crinkly top. I found that the crinkly top forms as a meringue layer, which results from whisking together the sugar and eggs. The best way to do this is just by mixing (slightly vigorously) with a whisk by hand for a few minutes. This way, you're mixing slow enough for the sugar to dissolve, but fast enough to incorporate air into the mixture. It's a nice way to get a little arm workout in as well!
Serve & Store
These brownies are best served warm so the chocolate caramel squares in the middle melt and caramel drips out in every bite! I recommend heating them in the microwave for 10-15 seconds right before diving in.
It's best to let the brownies cool completely before cutting into them for nice, clean cuts.
You know what else would go great with these brownies? Ice cream! After heating them for a few seconds, toss a scoop of your favorite ice cream on top!
Store them in an airtight container at room temperature for up to one week.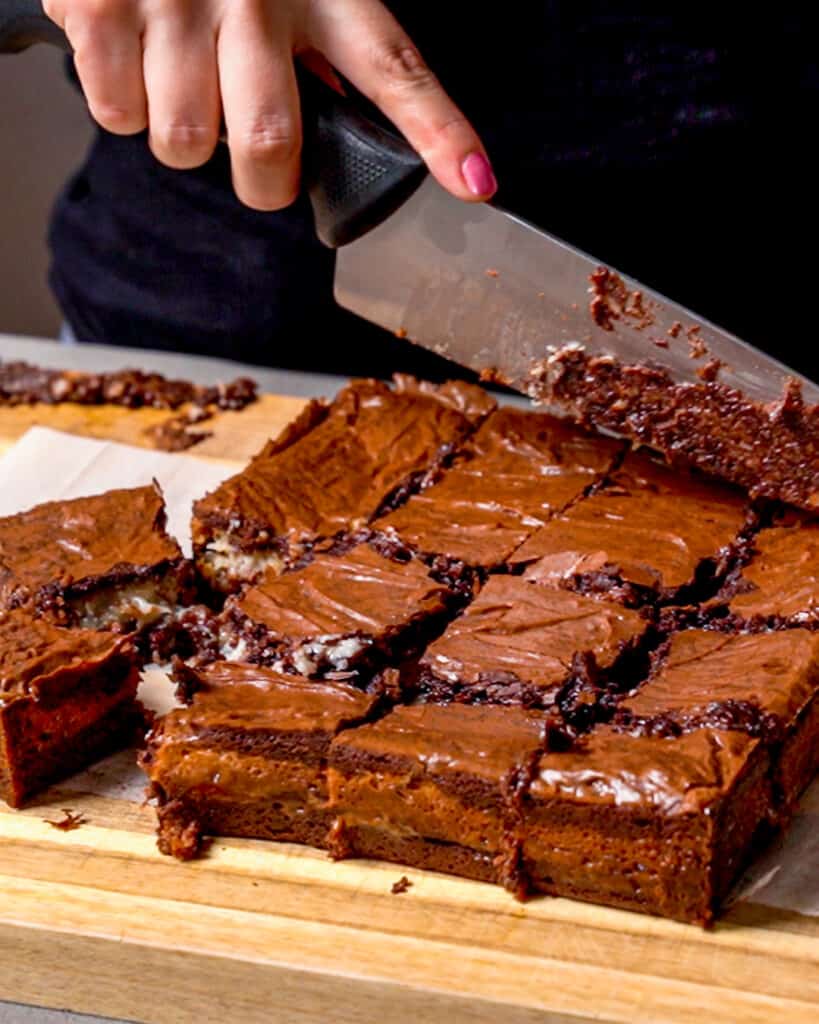 Did you try this recipe?
Tag @brokenovenbaking on Instagram and rate & comment below!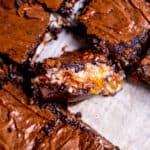 Print Recipe
Samoa Brownies
Samoa brownies have layers of coconut and chocolate caramel squares in the middle of gooey brownies!
Equipment
8 inch square pan

Mixing bowls

Measuring spoons

Scale or measuring cups

Whisk

Spatula
Ingredients
Brownie Batter
½

cup + 2 tablespoons (141g)

unsalted butter

1

cup (170g)

semi-sweet chocolate chips

1

cup (200g)

granulated sugar

2

large

eggs

room temperature

¾

cup (93g)

all-purpose flour

¼

cup (25g)

cocoa powder

¼

teaspoon

salt
Filling
1

cup (80g)

unsweetened shredded or flaked coconut

¾

cup (~8 oz/230g)

sweetened condensed milk

2

tablespoons

powdered sugar

16

chocolate caramel squares
Instructions
Preheat oven to 350°F. Spray an 8x8" pan with oil and line with parchment paper so that it hangs over the edges.
Brownie Batter
In a microwave safe bowl, melt the butter and chocolate chips (stir every 30 seconds until melted, ~1-2 minutes total).

In a large bowl, beat the eggs with a whisk for about a minute. Add the sugar and continue to whisk for another 2-3 minutes until it's slightly thick, light, and airy. Then, slowly pour in the warm butter/chocolate mixture and whisk for another minute.

In a small bowl, combine the flour, cocoa powder, and salt. Then, gently fold them into the wet ingredients just until all flour streaks are gone. The batter will be slightly thick.
Coconut Filling
In a medium bowl, mix the coconut, sweetened condensed milk, and powdered sugar together with a spatula until well combined.
Assembly
Scoop half of the brownie batter into the prepared pan and spread it around with a spatula so that it's even across the bottom.

Add the chocolate caramel squares on top of the brownie batter in an even layer.

Carefully spread the coconut filling over the chocolate caramel squares.

Finally, spread the remaining brownie batter on top of the coconut filling, covering it completely and evenly.

Bake for 30-40 minutes or until the edges begin to harden and a smooth film sets across the middle. The batter should leave behind a streak on a toothpick inserted into the middle.

Let the brownies cool in the pan until they're sturdy enough to be lifted out. Cool completely for clean cuts, or indulge while they're warm and gooey!
Notes
Store in an airtight container at room temperature for up to 1 week.
More Delicious Recipes: