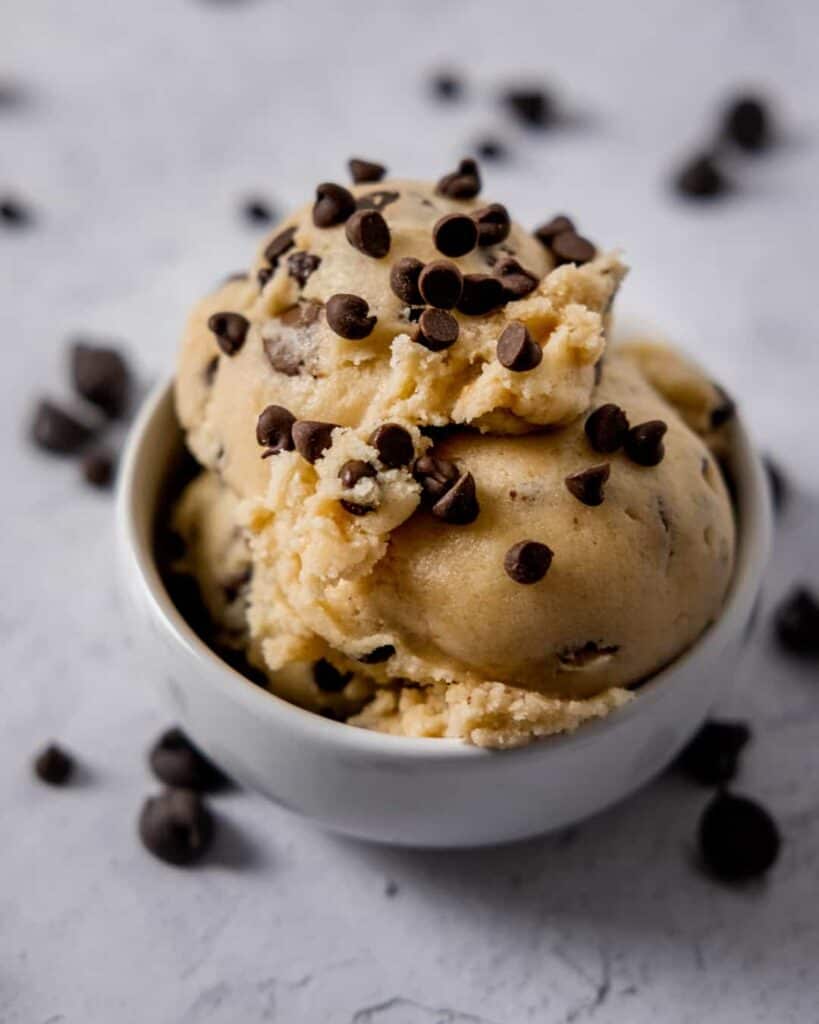 It's so hard to resist snacking on the dough while making chocolate chip cookies! My solution - edible cookie dough! This eggless cookie dough recipe uses flour that's heat-treated so that the risk of bacteria is eliminated. You can whip it up within minutes and snack on it straight out of the bowl!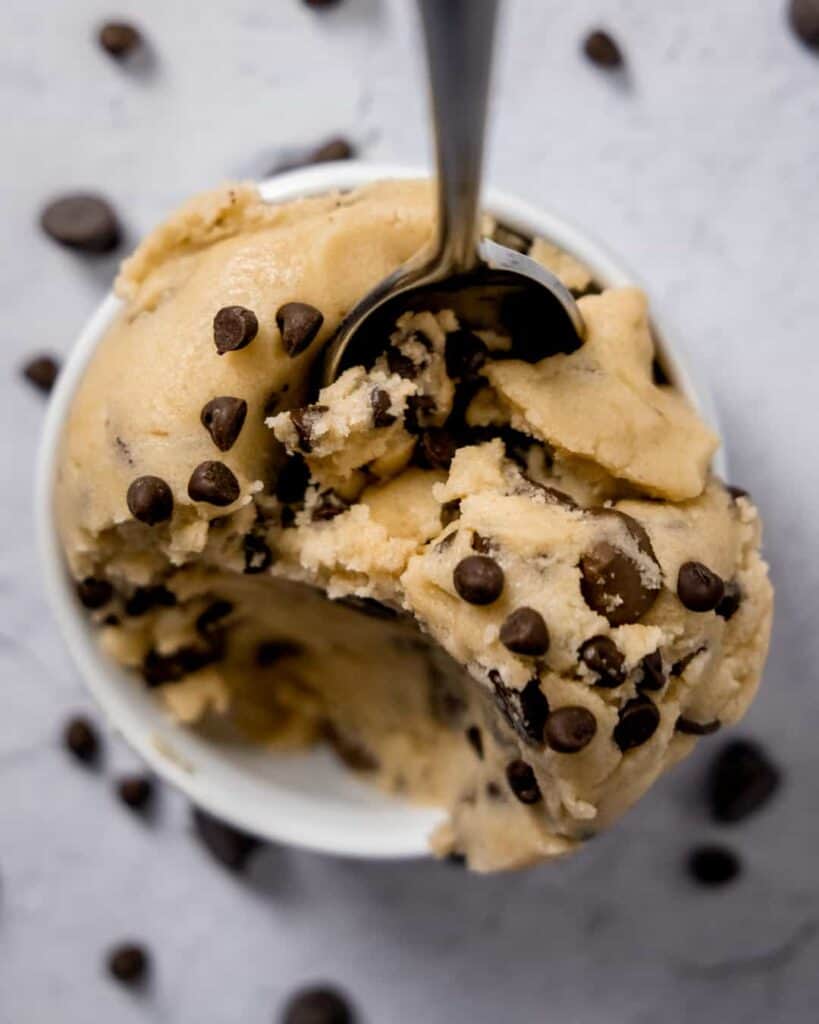 When my sister and I made cookies with my grandma when we were little (and let's be honest, to this day), we would always sneak bits of the raw cookie dough when she wasn't looking. If we were caught, she'd scold us and say we were going to get sick if we ate it before it was baked! I'm sure so many of you can relate to this, and like us, never got sick. I still always sneak a taste of the raw dough when I'm making cookies, but I would never eat the entire batch - unless it's super safe and edible like this recipe!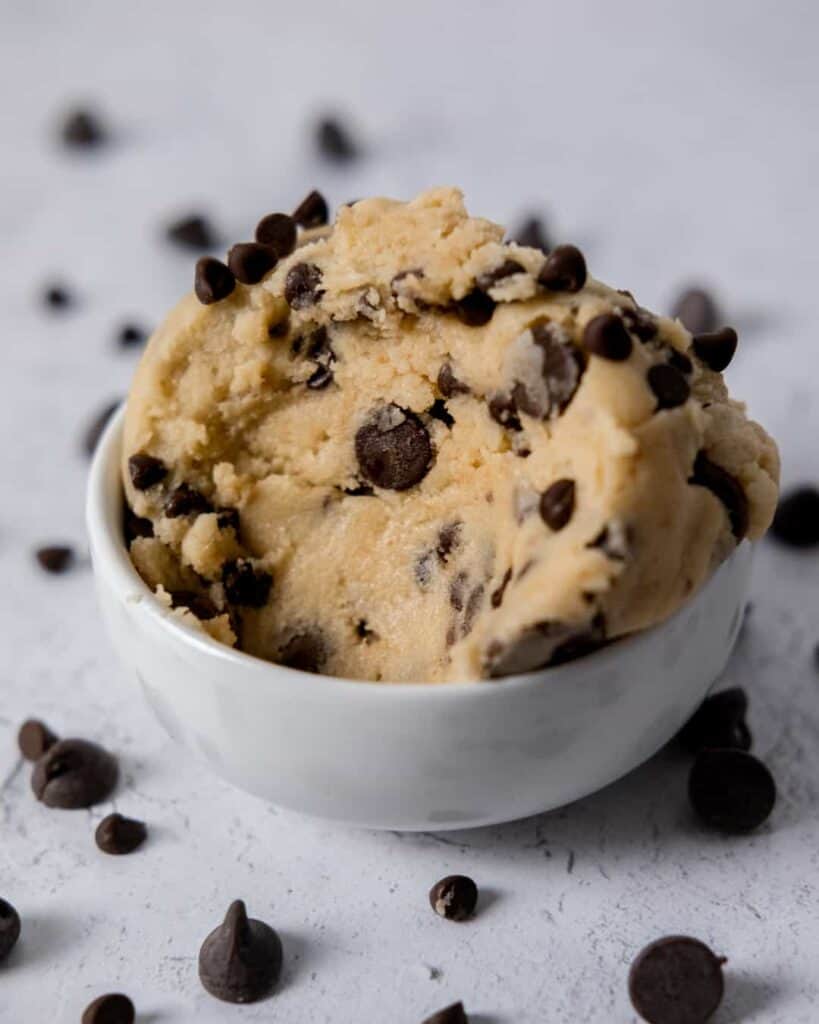 Tips & Storage:
Check the temperature of the flour with a thermometer to make sure it reaches 160F. Heat treating the flour is an important step, since flour is raw and may contain bacteria.
The flour can be heated in the microwave instead of the oven. To do this, heat it in a microwave-safe dish for 1 minute, check the temperature, then stir and continue to heat in 15 second intervals until it reaches 160F.
Feel free to add more/less milk to fit your preferred consistency. The milk can be substituted with water.
This edible cookie dough can be stored in the refrigerator for up to 1 week, or in the freezer for up to 1 month.
The dough will harden in the fridge. I recommend letting it soften at room temperature for ~30 minutes prior to eating.
At no extra cost to you, I may earn from qualifying purchases made through affiliate links on this page.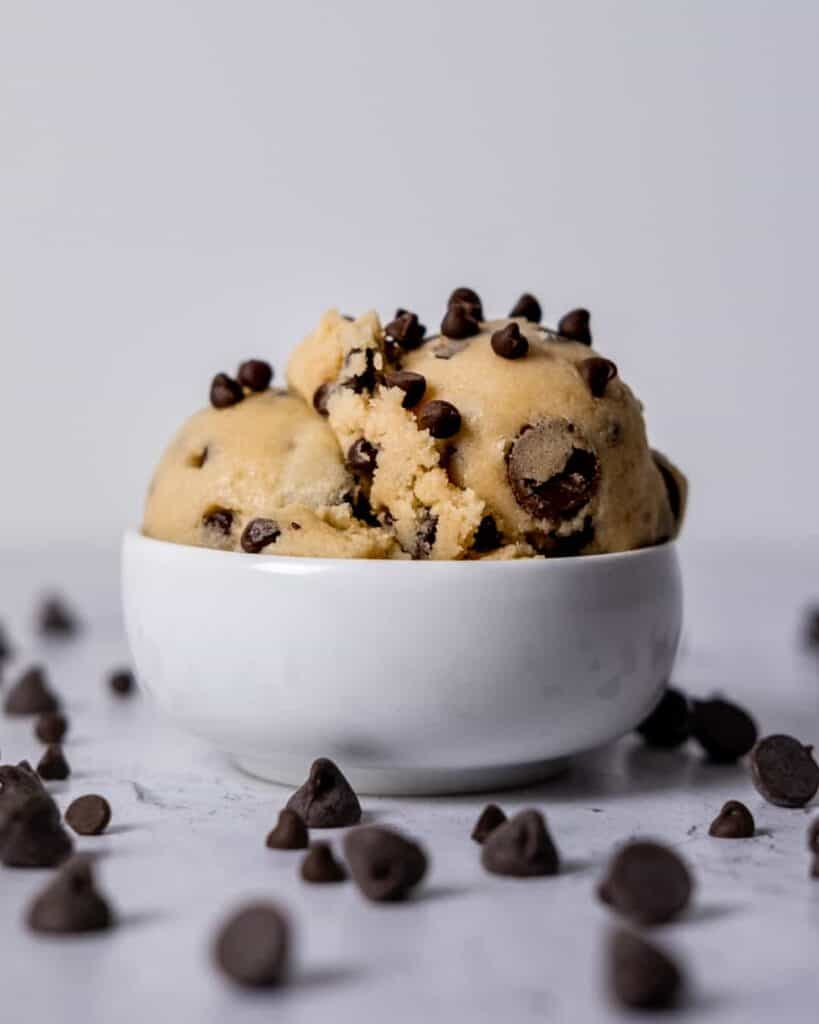 Did you try this recipe?
Tag @brokenovenbaking on Instagram and rate & comment below!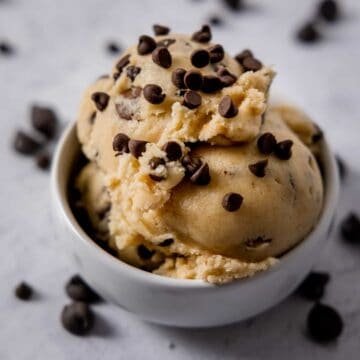 Edible Chocolate Chip Cookie Dough
Can't get through a batch of cookies without eating the dough? Save yourself from the risk of Salmonella and just make this instead!
Ingredients
1½

cups

all-purpose flour

½

cup

granulated sugar

½

cup

light brown sugar

packed

½

cup (1 stick)

unsalted butter

room temperature

½

teaspoon

salt

1

teaspoon

vanilla extract

2-2½

tablespoons

milk

1

cup

chocolate chips
Instructions
Bake the flour at 350°F for about 6 minutes, or until it reaches a temperature of 160°F (check using a thermometer). Let it cool.

Cream together the sugars and butter.

Add salt, vanilla, and milk. Mix well.

Gently break up the flour using the back of a spoon, and sift it into the dough mixture (discard any large flour clumps). Mix until combined.

Put the cookie dough in ice cream, on a cake, or just in your mouth by the spoonful!
Notes
Store cookie dough in the refrigerator or freezer.
The dough will be hard after chilling because the butter will solidify - if you prefer it softer, let it sit out for a bit before eating.
More Easy Recipes You'll Love: